Hey gang,

Hope you all had fantastic Thanksgivings! I'll tell you all about ours below.

But first: this week's Lunch Therapy patient is James Rich, author of APPLE: RECIPES FROM THE ORCHARD.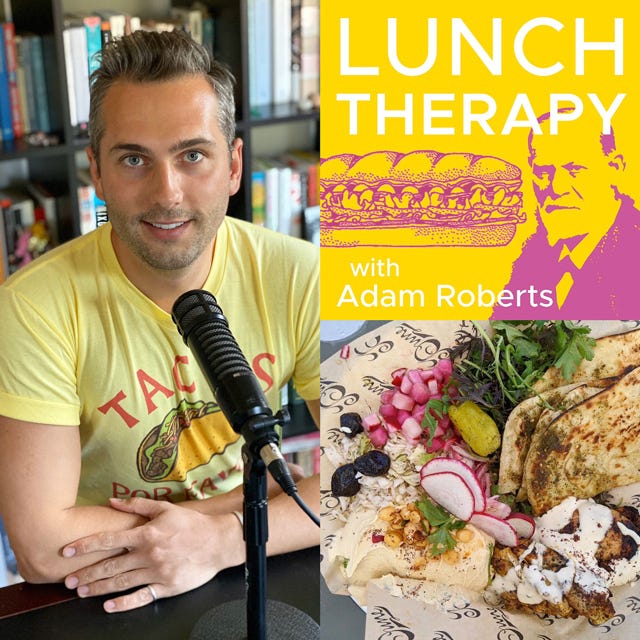 During today's session, we talk about James's childhood on a cider farm in Somerset, England. We also talk about his recent engagement to his fiance Pip (yes, Pip!), how Yotam Ottolenghi was involved in their initial meeting, and why he's not eligible to go on The Great British Baking Show. We also get into the various breeds of apples, how cider is actually made, leaving Somerset for Barcelona and London, and how his feelings have changed regarding where he's from.

CLICK HERE to listen!

And, as always, if you can find it in your heart to leave a nice review, I'll be forever grateful.

[Oh: today's intro also features Craig's revelation that he has HIGH CHOLESTEROL. Make sure to listen... I feel a lot of responsibility.]

Now, on to our annual trip to Florida.

We flew from L.A. to Miami and took a car to Boca and upon our arrival, my mom heated up some chicken soup from TooJay's and fed us tuna sandwiches on rye and my favorite cookie of all time, the rainbow cookie.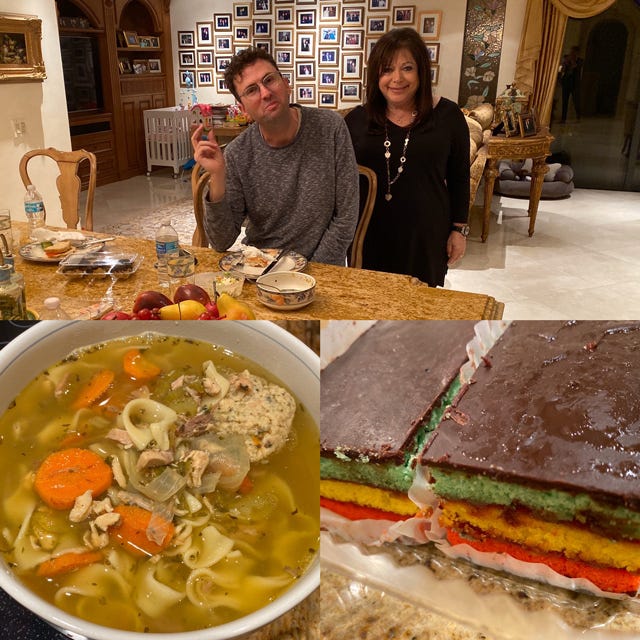 The next day, we went swimming with my niece Ella and had dinner at one of my parents' favorite Boca restaurants: Trattoria Romano. Here's our table spread... I had the veal marsala, it was good!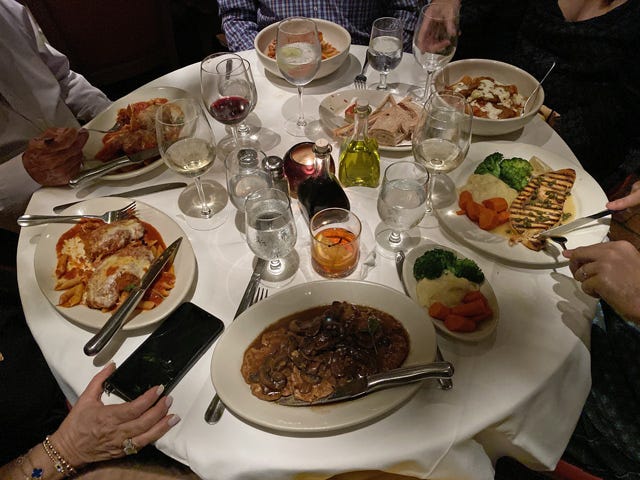 Thanksgiving morning, we engaged in our annual tradition of eating bagels and lox spread and whitefish salad while watching the parade.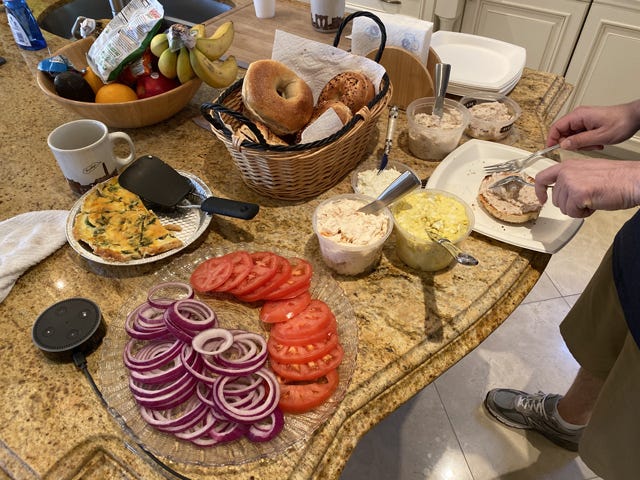 That night, we went to my parents' golf club for Thanksgiving dinner. It's a big buffet and it's actually very plesaant, because no one's stressing over the gravy and the cranberry sauce. Here's my whole family, including my niece Ella: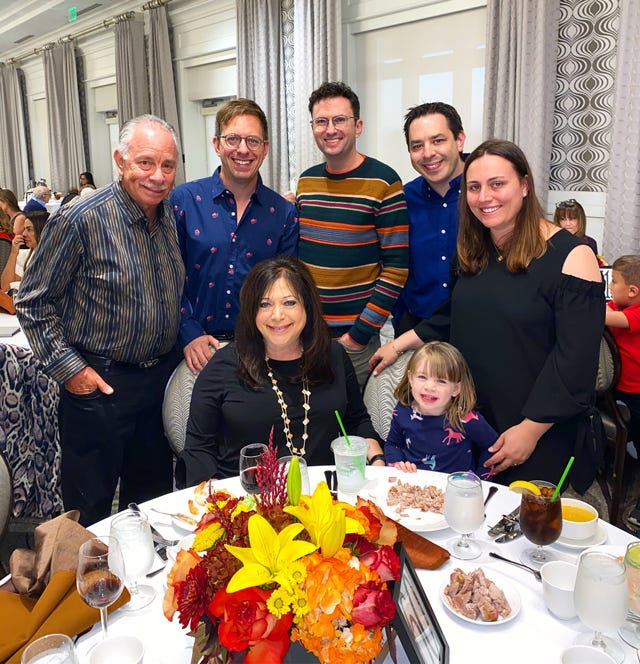 And here's my Thanksgiving plate, which looks a little drab because I didn't color correct it. The stuffed pumpkin is a great idea, I should get the recipe.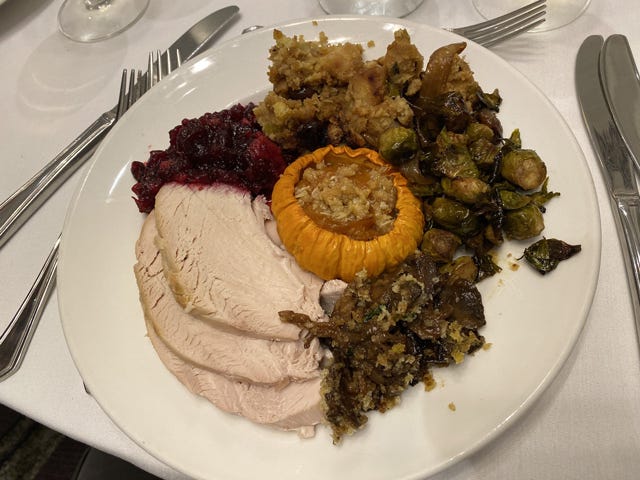 The next day, we journeyed down to Miami for lunch at one of my favorite restaurants: Michael's Genuine.

Everything was great, especially this cranberry tart for dessert.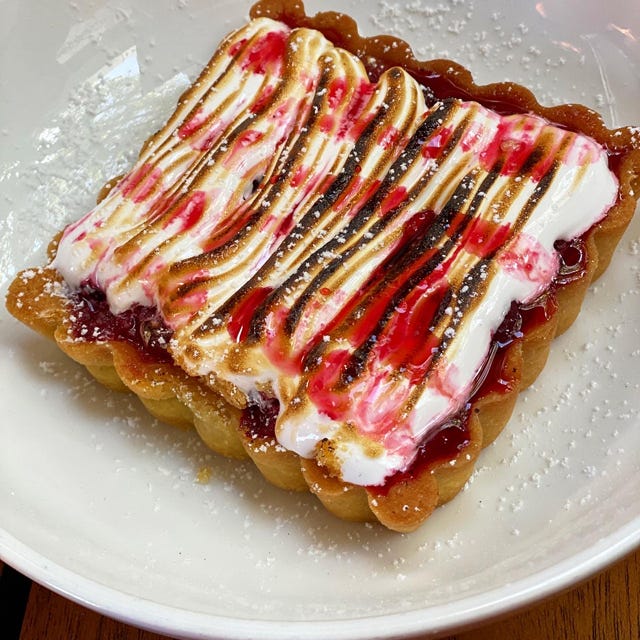 As we were leaving and waiting at the valet, I felt myself get shoved by a photographer. I turned and a huge mob of paparazzi was following someone to their car. That someone turned out to be Justin Bieber, who actually posed for me when I took this picture: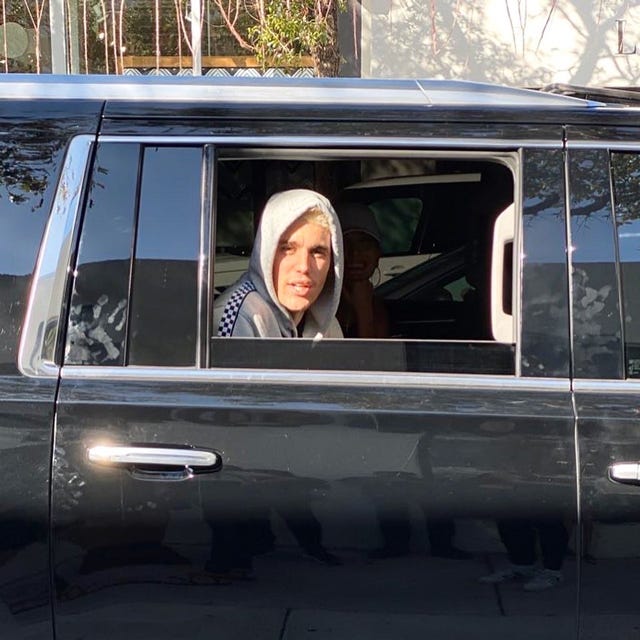 My parents drove Craig and I to our Miami hotel, the Freehand, and we bid them farewell.

We were staying at the Freehand because we had dinner there last year and liked the atmosphere so much, we decided to stay there this time around.

They have a great bar there called Broken Shaker. Here are Craig and I having drinks there: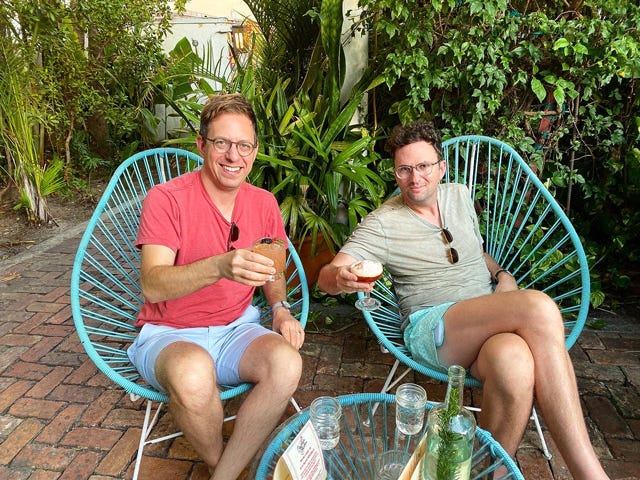 And here are our drinks: Craig's had Campari and some kind of grapefruit foam. I had a punch made with rye and honey and lemon because I was still getting over my flu.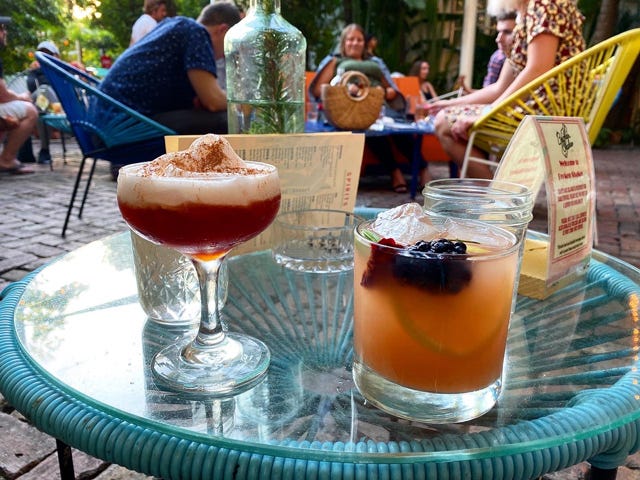 That night, we had dinner at Alter (it's very hard to get into, but I set up Resy alerts on my phone, and sure enough, a spot opened up.)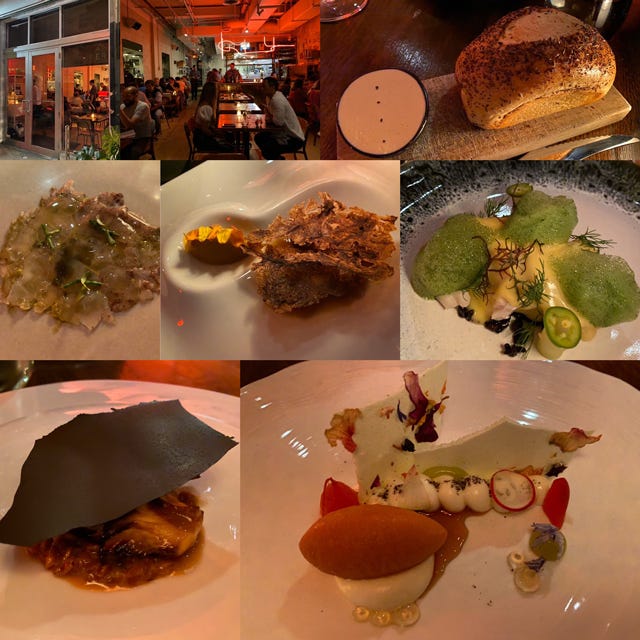 The chef did time at Alinea in Chicago and you can tell by the pictures. Everything was wild and wonderful; highlights were the French apple soup (middle picture) with pumpkin butter and the dessert (lower right) with radishes and strawberries.

I was coughing up a storm, though, during dinner -- still that flu -- and I felt bad for all the people around me.

Ok, folks, that's all for this week!

Until next time....

Your friend,
Adam (the "please review my podcast in iTunes" guy)