Hey everyone,

Welcome to a surprise FRIDAY edition of the Amateur Gourmet newsletter.

Why the break in routine? Well: every year, I like to write about the books that I read over the past twelve months and I usually do that at the very, very end of the year (which gives me time to race through one final novel).

But a thought occurred to me this year: "What if people use this dispatch as a gift guide? Wouldn't they want to have it BEFORE the holidays?"

That thought made sense, and since Hanukkah and Christmas are still a week or two away, I figured I'd get this out to you today instead of two weeks from today.

So, without further ado, here are the books that I read in 2019.

THE BOOKS THAT I READ IN 2019:
* = Highly recommend.

Life After Life by Kate Atkinson.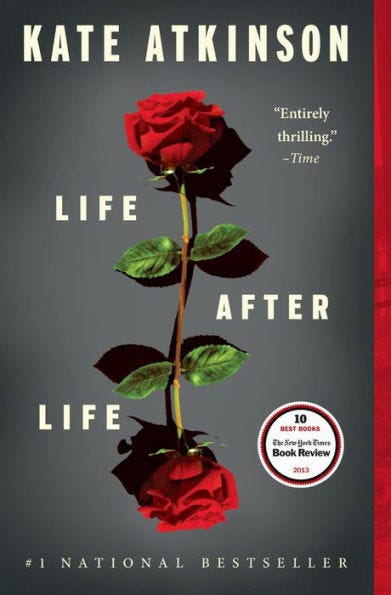 Started the year out with this book, which tickled me at first (it's about a woman who keeps dying and starting her life over again, like a grander Groundhog Day) and I loved the wickedness of the humor, the British countryside setting, and the portrait of a very proper British family. Somewhere along the way, though, the premise started to wear thin. Atkinson takes big risks in the various lives she constructs for her heroine – in one scenario, she befriends Eva Braun during World War II – but, for me, I preferred it when she kept things a bit more grounded with her wild premise. By the end, I was racing to finish.

* Yes, Chef by Marcus Samuelsson (Audible).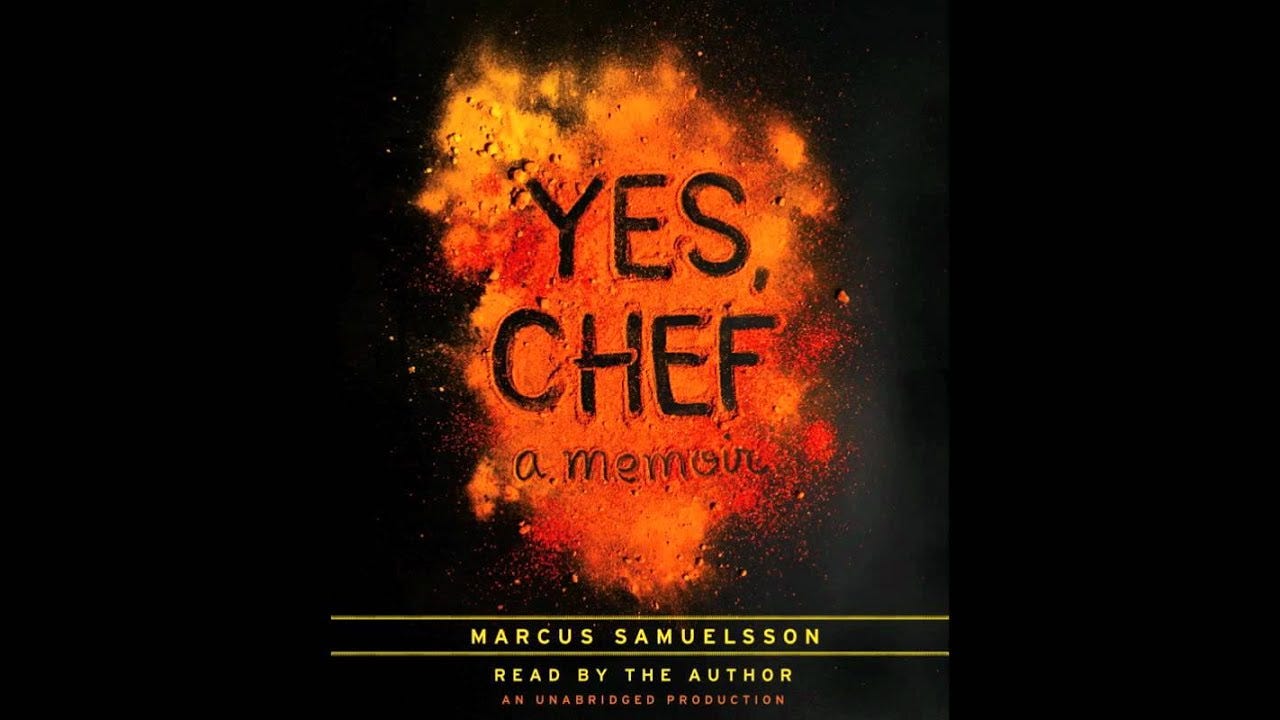 Somehow this book slipped past my radar when it first came out and what a mistake it was not to read it. Marcus Samuelsson has lived an extraordinary life: his mother died of tuberculosis soon after he and his sister were born in Ethopia. They were adopted by a couple in Sweden and it was there that Marcus grew up, adoring Swedish food, and eventually gravitating towards the world of fine dining. What makes this book special is Samuelsson's sweet, wide-eyed, open stance in the face of an extraordinarily hostile world and racist restaurant industry. He goes to stage in Europe and gets turned away because of his color. When he says something about Gordon Ramsay during an interview, Ramsay calls him up and calls him "a black bastard." The book is full of stories galore – I'll never forget the tale of the chef who used a ladle to push the meat through an industrial meat grinder and almost lost his arm – but what keeps you hooked is Samuelsson's voice (I recommend the Audible version; I listened in my car). Truly a great food memoir.

* Tennessee Williams: Mad Pilgrimage of the Flesh by John Lahr.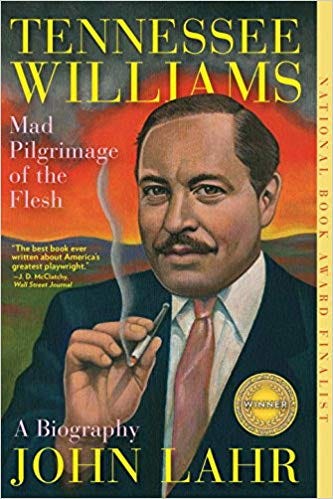 Not to be too dramatic, but I owe a lot of my life to John Lahr. I was a miserable law student when I first started reading his profiles in The New Yorker. Then I bought his book Show and Tell, which included iconic profiles of Roseanne (before she went cuckoo) and Mike Nichols, and that led me to British theater critic Kenneth Tynan's journals (which Lahr edited) and one of his early entries talked about the quality that allows any creative person to succeed, "s'imposer: the ability to impose oneself." The jist being: the people who are the most successful in the arts are the ones who put themselves out there. That led me to write a play which I submitted to NYU's Tisch Dramatic Writing program, I got accepted, and that's where I met my husband (Craig) and also where I started my career as a writer.

So when Lahr published his masterwork on the life of Tennessee Williams, I knew I had to read it. At first I found the book daunting: I started it a few years ago and quickly gave up. But this year, I pushed through and I'm so glad I did. Lahr operates on multiple levels as a chronicler of lives: he covers the important biographical events, but he dramatizes them in a way that makes them delightful to read about. The opening sequence takes place during the Broadway opening of The Glass Menagerie, a night that would change Tennessee Williams' life forever. Lahr renders it like a great playwright himself: the cast of characters, the wicked dialogue, the rising action and the climactic payoff.

But Lahr also goes deep into his subjects' psychologies. And there are very few people out there with psychologies as tortured or as fascinating as that of Tennessee Williams. His life story is both inspirational and a cautionary tale. His early success sent him on a path of self-destruction that just goes deeper and darker until it's almost punishing to read about. But Lahr guides you through it, illuminating how Williams's poor life decisions made way for some of the greatest plays ever written.

Master of Ceremonies by Joel Grey (Audible).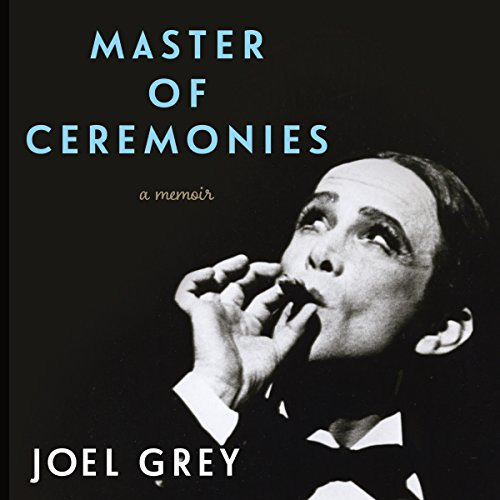 Oh, Joel Grey. This book was a strange experience for me: I started out on board for this journey of the Jewish son of "Borscht Capades" star Mickey Katz, who found his own fame as the star of Cabaret and eventually Chicago and Wicked. There are lots of great anecdotes here – the night Nixon came to see him in "George M" and thereby closed the show – but the real story is about Grey coming to terms with his sexuality. He has early gay experiences (including a memorable one in an elevator), but he waits until he's married and has children before he fully comes out. Here's where he lost me: he has very little pity for his wife, Jo Wilder, who doesn't take the news well, divorces him, and eventually dies. By the end, Grey comes across (at least to me) as a bit petty and selfish; which isn't to say he shouldn't have come out, but more to say that it's understandable why his wife might've felt a bit like she'd wasted a lot of her life with him (though if they hadn't gotten together, there'd be no Jennifer Grey and Dirty Dancing). Still, I admire the fact that Grey put so much of himself out there in this book, and it's a good listen while you're driving – especially if you're a musical theater junkie, like me.

Save Me The Plums by Ruth Reichl (Audible).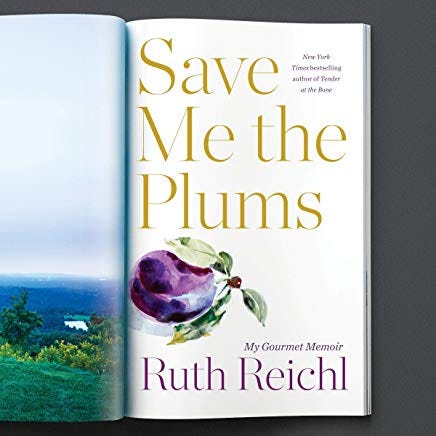 Ruth Reichl has the best voice for Audible. I listened to her Comfort Me with Apples on audiobook last year, and this year I took in her latest, about the final days of Gourmet Magazine. It's a breezy, effortless listen; you'll hear talk of the Gourmet test kitchen, Reichl's dealings with Si Newhouse, how she commissioned David Foster Wallace to write his famous "Consider The Lobster" essay. There's a lot of good inside baseball about the food world and how it all works. That said, I felt like this book kind of goes out with a whimper. You already know what happens before it starts, so it's like watching a balloon at the Macy's Thanksgiving Parade slowly deflate. I much prefer her other books, especially Garlic and Sapphires. But if you're a Reichl fan, this is a perfectly pleasant listen.

* Trust Exercise by Susan Choi.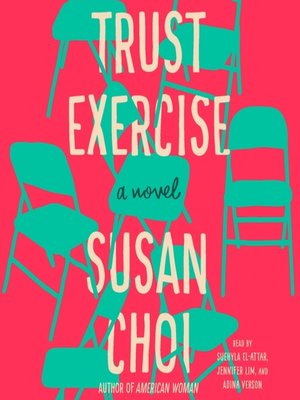 This book just won the National Book Award (and fun food trivia: Choi used to be married to New York Times food critic Pete Wells) and it was one of the more thrilling books that I read this year. Again, as a theater-y person, I tend to gravitate towards books about theater people and this book delivers an Ethel Merman-sized theatrical meal: the title comes from the trust exercises many of you may remember from your Drama Club days. But this book isn't a funny, nostalgic look at putting on plays with your friends. It's more of a devastating account of how vulnerable you are when you're sensitive, creative, and young and how people can take advantage of that vulnerability. I don't want to spoil anything, but the portrait of a vindictive, empowered, theater teacher who enjoys messing with his pupil's minds rang more than true for me (I experienced some of that at NYU). And the place the story eventually goes will take you completely by surprise and also make a ton of sense. Surprising and inevitable: I remember that from theater school too.

Digital Minimalism by Cal Newport (Audible).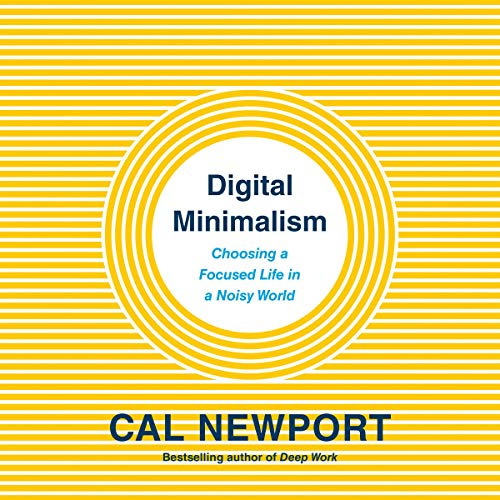 I bought this book to help me get over my internet addiction, to help me curb my Instagram use, my worries about Twitter, my need to check my phone every thirty seconds. Instead – and this speaks to my own self-destructive nature, I suppose – I went in the complete opposite direction: when I finished this book, I started Tweeting more, Instagramming more, just diving in whole hog. How come? Well for starters, and I know this is a weird thing to blame, the actor's voice who read this book instead of Cal Newport was so robotic, and infuriatingly banal, I just didn't want to listen to it. I felt like I was being educated by an Android on how to be more human. It was a terrible choice for Newport not to read it himself (he does the intro and sounds so much more relatable). But the other thing that irked me about this book was that he lumps Netflix movies and TV shows in with Tweets and Instagram posts and wants you to cut those out along with everything else when you go on your social media break (which he advocates). Excuse me, but as a creator and consumer of culture, I think there's a world of difference between a Netflix movie and TV show and a Tweet. And ultimately, cutting out social media as a writer and burgeoning podcaster felt even more self-destructive, professionally speaking, than just doing it more. So here I am writing a newsletter which I'm going to Tweet and Instagram and put on Facebook. Come @ me!

* The Great Believers by Rebecca Makai.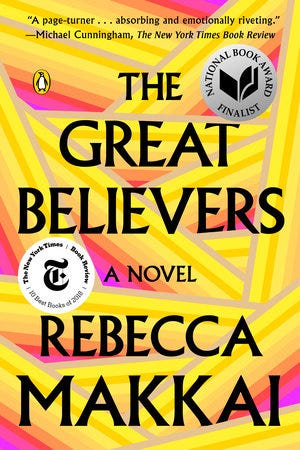 This was probably my favorite book that I read this year. Having seen Angels in America several times, and having read several books that addressed the AIDS crisis of the 80s and 90s, I wasn't sure I needed to go through the slog again. But this book's ingenious structure -- jumping back and forth in time -- propelled me through the heartbreaking story of a group of gay friends in San Francisco in the 80s who are brutally killed off by this devastating disease. That sounds unreadably bleak, but what makes the book work is Makkai's characters, who are instantly lovable and recognizable. It felt like I was reading about my own group of friends, which I suppose is the point; had I been born a generation earlier, I probably wouldn't be writing these words today. The storytelling here is top-notch, especially the final pages... I was genuinely on the edge of my seat by the end and when it's over, you'll feel gut-punched in a good way. Highly recommend.

* Out of Line by Barbara Lynch.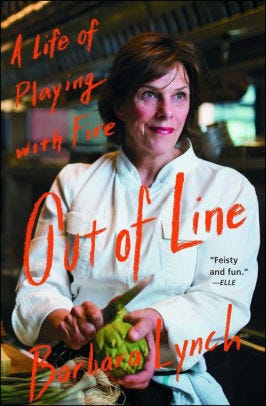 I picked this up at East End Books in Provincetown knowing very little about Barbara Lynch, except that she's one of Boston's most celebrated chefs and that she's had a few scandals (a DUI that made it on to Eater). Well this book instantly put me in my place: Lynch is a force to be reckoned with in the food world and her story, much like Marcus Samuelsson's, is one of triumph over adversity. Lynch grew up in Southie, in a poor, violent community where Whitey Bulger roamed the streets (Lynch had her own encounters with him) and Lynch's childhood was one filled with violent crime (she was brutally raped at a very young age), drug abuse, and abject hopelessness. How she got from that to running Boston's most revered restaurant empire is a story anyone would find fascinating, especially people interested in food. I especially enjoyed her education; how she went from being a terrible student to teaching herself everything she could about Italian food (with the help of Waverly Root's The Food of Italy, which maybe I should put on MY wish list this year). This is a great food memoir.

Autumn by Ali Smith.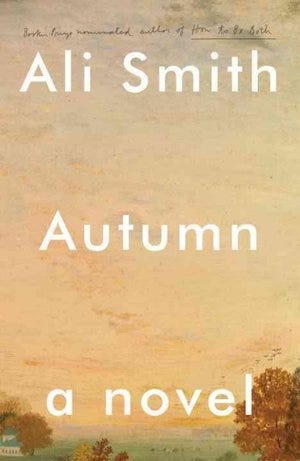 I'm not sure what to make of this book, which I picked up at a used book store in Boca after my grandmother's funeral, and which appealed to me because of its cover, its blurbs, and its summary. It's basically a book that's trying to deal with our fractured modern times by telling the story of one woman's friendship with an older man who was her neighbor? I put a question mark there because the book sort of fragments and fractures and goes in weird directions, which I sometimes appreciated, sometimes didn't. I made it through the whole thing -- I enjoyed the writing and Smith's voice -- but there were definitely parts where I wondered: "What am I even reading here?" It's apparently part of a four-part series, but not sure I'll be reading the other parts.

* The Underground Railroad by Colson Whitehead.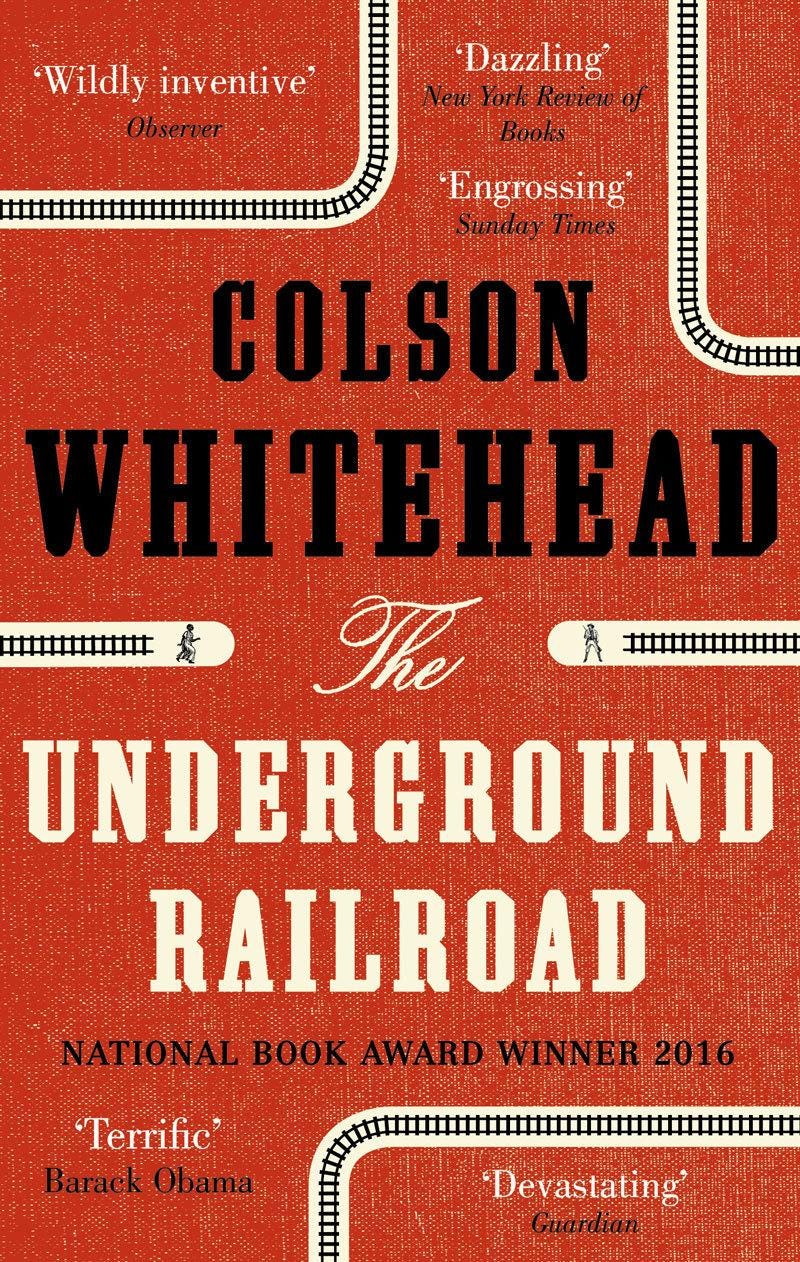 If The Great Believers was a gut-punch, this book was a brutal assault. I truly felt broken by the book's end, and yet I'm so glad I read it: it really hammers home the dehumanization of slavery, the insidiousness of it, how it's not just about having to work involuntarily -- it's about being systematically broken down until there's nothing of you left. There were so many memorable parts of this book -- and I don't want to make it seem like a miserable read, it's highly entertaining: Whitehead knows how to tell a great story -- and there's genuine horror here too, images I'll never get out of my head. They're apparently turning it into a mini-series, which I'm very curious to see: I don't know how audiences will handle some of the turns from the book. Sorry for being so cryptic, I just don't want to spoil this for you if you decide to read it. It's best to go in knowing nothing.

* The Year of Magical Thinking by Joan Didion.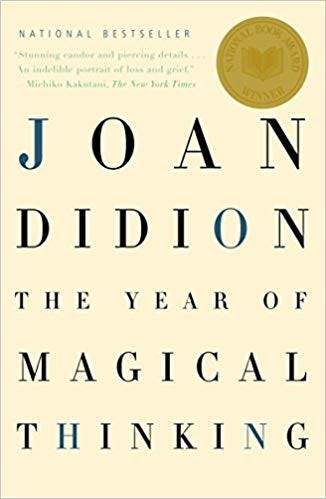 Corrected a great wrong in my life this year which is that I'd never read anything by Joan Didion. I have The White Album, but haven't found myself in a mood to read it. This book, though, called out to me at a used book store in Atwater Village (where I live) and I was instantly taken by the crispness of the prose, the sharp, clear-eyed storytelling as Didion recounts the most horrible year in her life. In case you don't know: after visiting their very ill daughter, Quintana, in the hospital, Didion's husband, John Dunne, died of a heart attack right in front of her at the kitchen table.

The way Didion recounts that moment -- how, at first, she thought he was making a terrible joke -- and everything that happened after, methodically working it over and over, is a huge window into the mind of a brilliant writer. She's trying to make sense out of something that maybe doesn't make sense; which is to say, our own mortality. The bleakness that follows (I'm realizing that bleak books were a theme this year!) is tempered by Didion's wit and wisdom. In losing her husband and eventually losing her daughter (that's not a spoiler, this book doesn't cover that, it happened later), Didion offers a roadmap for surviving the unimaginable. As a supplement, I watched the Didion documentary on Netflix which was great to see after hearing her voice in my head for a few weeks. In this age of "fake news," our truth-tellers are becoming more and more important. Didion is one of the greats.

I Like To Watch by Emily Nussbaum.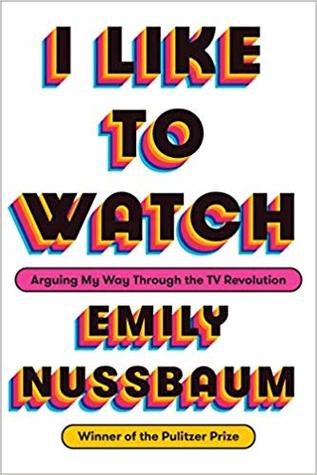 Emily Nussbaum isn't just my favorite TV critic, she's one of my favorite critics period. I think the reason that I like her so much is that she's hardly a critic at all, she's more of a champion of the under-sung, the unfairly dismissed, and the cruelly ignored. Her love for Buffy the Vampire Slayer led me to watch seasons one and two this year, and now I'm thoroughly hooked. And her stance on Sex and the City justifies the years of my life that I devoted to that show. So why didn't I star this review? Because this book of her collected essays from The New Yorker were mostly essays that I'd read before. I read most of them again, which speaks to the quality of the writing. You shouldn't miss her essay about Joan Rivers, which examines the way Rivers navigated a misogynistic world and then absorbed some of that same misogyny into her own act. And her piece about Sex and the City is an important reminder of the ways that male critics quickly dismiss anything perceived as too feminine. The book's central essay, where Nussbaum grapples with loving the art vs. the artist in the "me too" era, is new material and a riveting read. I related so much to Nussbaum's early love for Woody Allen, how he colored her worldview, and how difficult it is to remake your own psyche when you learn terrible things about your former hero. If you love TV and you've never read Nussbaum, this is the book for you.

Well that's it for this year!

Hope you got some good ideas for your own reading in 2020.

Until next time...

Your friend,
Adam