Rachel Shukert's Other Half of the Bagel
Hey everyone,

Happy Hanukkah!

I'm writing to you from the top floor of Village Books in Bellingham, Washington, where Craig and I come every year to visit his family for Christmas. I know I wasn't sure if I'd get another newsletter out this week, but I have a little time before Star Wars, which Craig is as excited to see as I was excited to see Cats last Friday.

And speaking of Cats, I wrote this essay for Jezebel called "Growing Up Jellicle" that you may enjoy. It's kinda personal and Jellicle too.

I'm writing you today, though, because we have a most excellent Lunch Therapy guest: Rachel Shukert, showrunner for the upcoming Babysitter's Club on Netflix, as well as a writer for GLOW and many other awesome things that you love.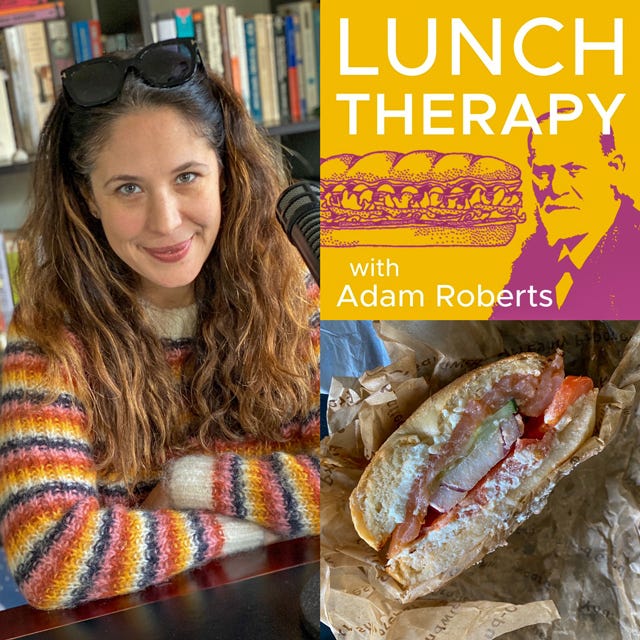 Today's session (which came after her real therapy session) covers Rachel's ambivalence towards cooking, her butcher grandfather and vegetarian parents, her two year-old's attitude towards food ("Eating, yuck!"), and what it was like growing up Jewish in Omaha, Nebraska. We also talk about her eating disorder in college, how meat helped her overcome it, what she craved when she was pregnant (a sandwich from DaVinci's in Lincoln), her Lithuanian grandmother, and how she makes her savory kugel.

CLICK HERE to listen!

And last week you guys really came through with the five-star reviews; you bumped me back up from a 4.5 to a 4.8, so thank you thank you thank you. No pressure this week! Unless you're really bored with your family and feel like reviewing something in which case, I'd really appreciate some more 5-stars. I mean, it is Hanukkah. Consider it a mitzvah!

Ok, some stuff I made this past week...

I bought a Delicata squash from Cookbook in Echo Park and didn't know what to do with it. Eventually, I found a recipe that tells you to slice it into half moons, toss with olive oil, salt, and pepper, and to roast in a 450 oven, flipping halfway through, which is exactly what I did.

Then, to serve, I made a salad with the squash, some arugula, raisins that I soaked in white wine vinegar, toasted pistachios, Feta cheese, and a dressing made with mustard, more white wine vinegar, and olive oil. It was DE-LISH.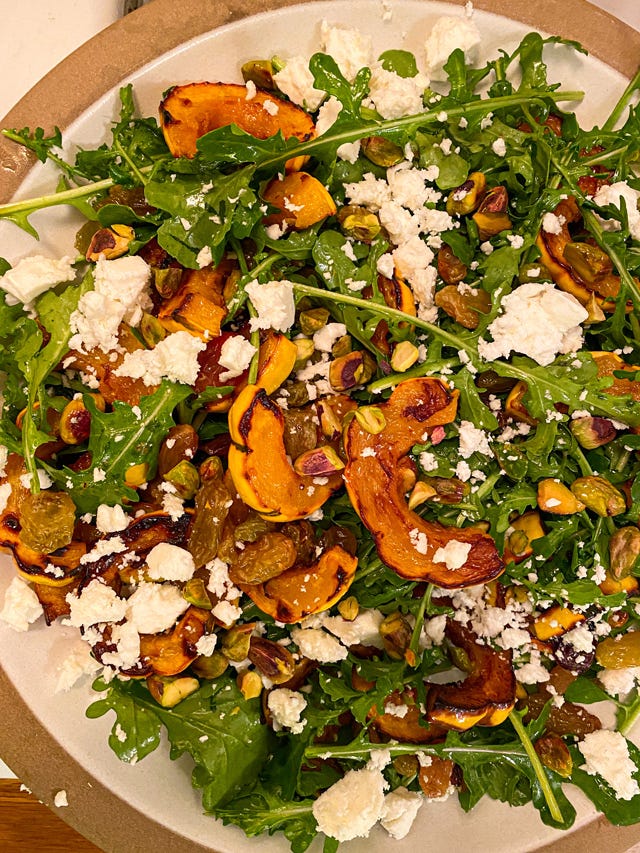 Then, on Tuesday night, I had a dinner date at the home of my friends Kevin and Conor, so I decided to make a cake.

I had a bowlful of persimmons and Googled "persimmon cake" and hit upon this one by Ben Mims.

It's basically a winter version of Marion Burros' famous plum torte. You make the simplest cake batter (though Ben doctors his with turmeric and ground ginger), then lay in persimmon wedges.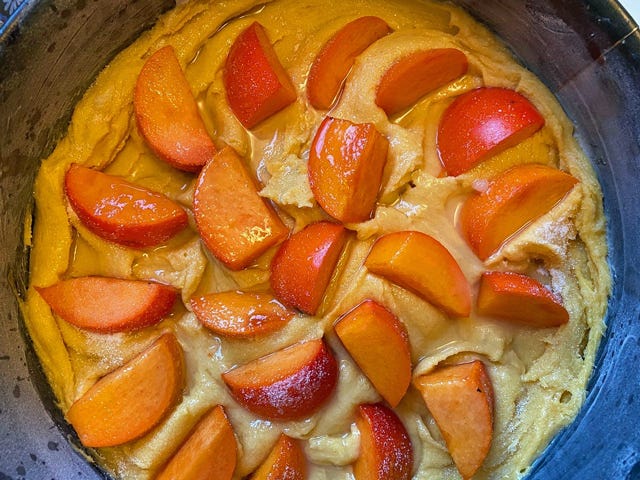 Then you bake at 350 until it's golden brown and a cake tester comes out clean.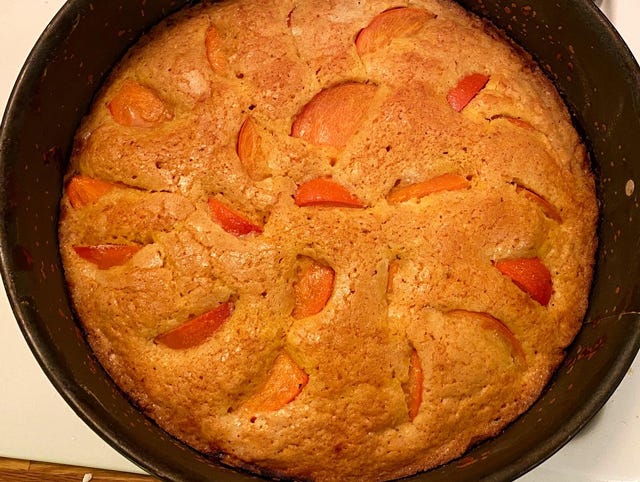 It was a truly gorgeous cake; not just to look at, but also to eat!

Nice recipe, Ben Mims.

And speaking of Ben Mims, next week there won't be a newsletter (I'll be in JAPAN), but there WILL be another podcast... and Ben Mims is my guest!

So be sure to SUBSCRIBE to Lunch Therapy in Apple podcasts so you don't miss it.

Ok, that's all for this week...

Have lovely holidays and happy new years and I'll see you back here in 2020.

Your friend,
Adam (the "don't forget to SUBSCRIBE to my podcast" guy)