Tokyo and Kyoto: A New Year's Eating Adventure
Hey everyone,

Wow: do I feel weird! We flew back from Tokyo yesterday morning (Sunday) which was actually our second Sunday morning; we started the Sunday in Shibuya, eating at our hotel, and doing some last minute shopping at our favorite store there, Loft. Then we flew nine hours and landed back in L.A. on... Sunday morning. Who needs a time machine when you have international travel?

Before I tell you all about our trip, I have to alert you to two fantastic LUNCH THERAPY sessions that are now live.

The first is with Ben Mims, a recipe editor for the L.A. Times, as well as an accomplished cookbook author and former recipe developer for Lucky Peach.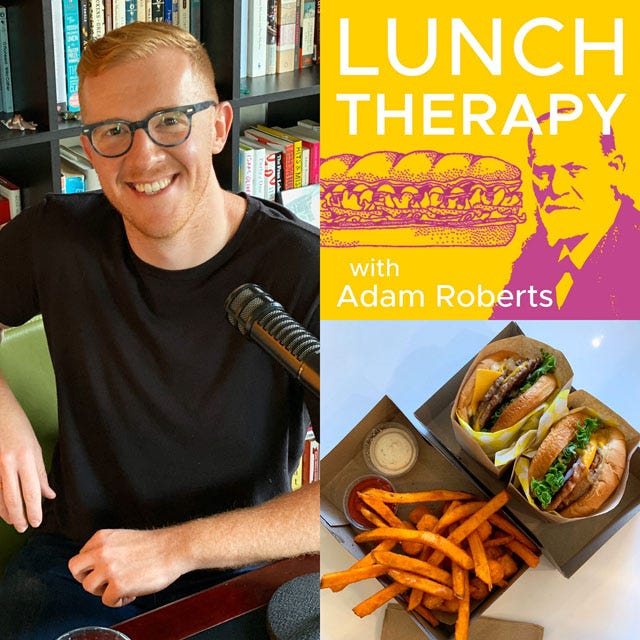 We talk about his growing up in Mississippi, how he went to culinary school to become a food writer, and his experiences getting hazed in restaurant kitchens (including at Jean-Georges and Perry Street).

CLICK HERE to listen.

But wait, there's more!

My friend Luke Matheny won the Academy Award in 2011 for Best Short Film. (Do you remember? He had big, poofy hair and said: "Maybe I should've gotten a haircut.")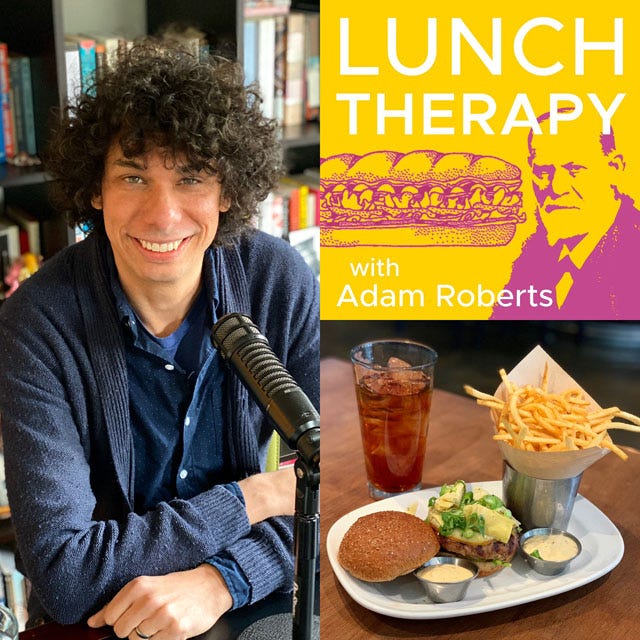 Today's session gets surprisingly emotional: Luke talks all about winning the Oscar, his love for pancakes growing up, rushing his son to the emergency room after giving him peanut butter, and his grandmother's Pennsylvania Dutch Pot Pie.

CLICK HERE to listen.

As always, if you can find it in your heart to write a review, I'd really, really appreciate it... especially as we start the new year and need to accelerate Lunch Therapy back to the top of the charts! Think of all the work I'm about to put into this newsletter about Japan, and think about how little work it would be just to click "five stars." I don't charge you for this and it would really mean the world to me. Ok? Ok!

Here we go:

JAPAN.

A few months ago, Craig and I were talking about the fact that the only time of year that we know for sure we can travel is around New Year's. Planning a trip for the spring or summer is a big risk in our fields; if one of us gets a job, we'd have to cancel it. So as we were talking about it, Craig said: "What about Tokyo?" I pointed out that we'd saved up a lot of miles over the past few years and that we could probably fly there for free. Before I knew it, the plane tickets were booked and it was time to plan the trip.

The catch? After we bought the tickets, I learned that EVERYTHING shuts down in Japan around New Year's. It's a religious holiday there and all of the hotels and restaurants that had been recommended were closed. We were on the verge of cancelling the whole trip, when we decided just to go anyway... and boy am I glad that we did.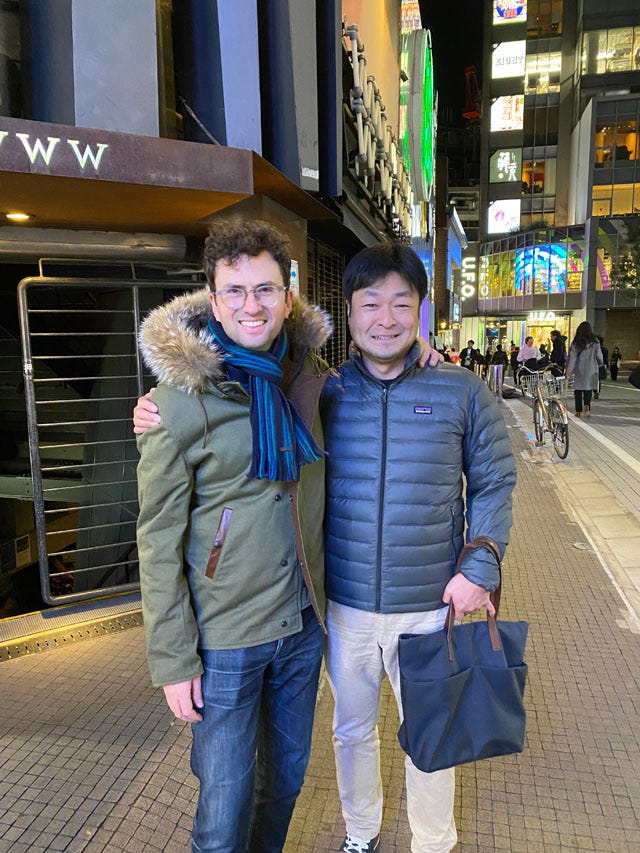 We arrived on Saturday December 28th and immediately met up with Craig's old film school roommate, Genjiro, who lives in Tokyo.

Genjiro was a real savior to us on this trip: not only did he make reservations at some local places we'd never have known about, he worked as a translator AND a guide. We are forever indebted to Genjiro.

That first night, I asked if he could take us to a Yakitori restaurant and he brought us to Daraku, where there were just a few stools at a counter surrounding a chef who worked diligently over hot coals.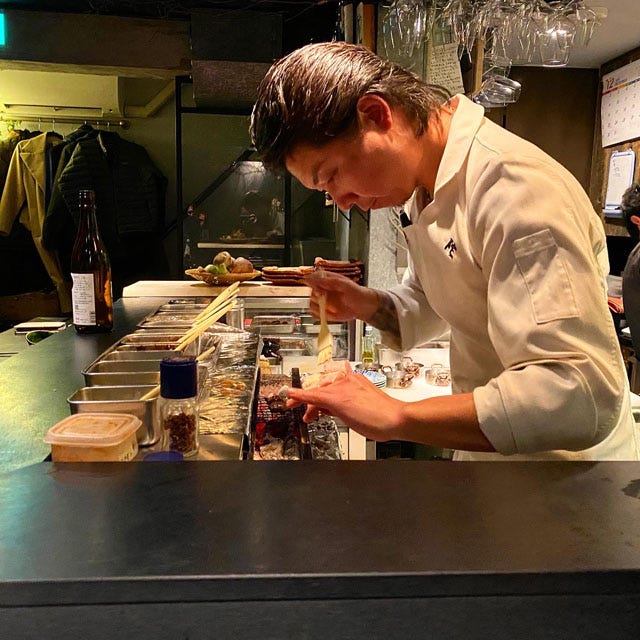 Our very first bite in Japan was one that startled us: raw ostrich sashimi served over bread. We were nervous at first, but the chef encouraged us to try it, and once we did we realized it was more like beef tartare than eating raw chicken. After that, we ate various pieces of chicken expertly cooked over the hot coals.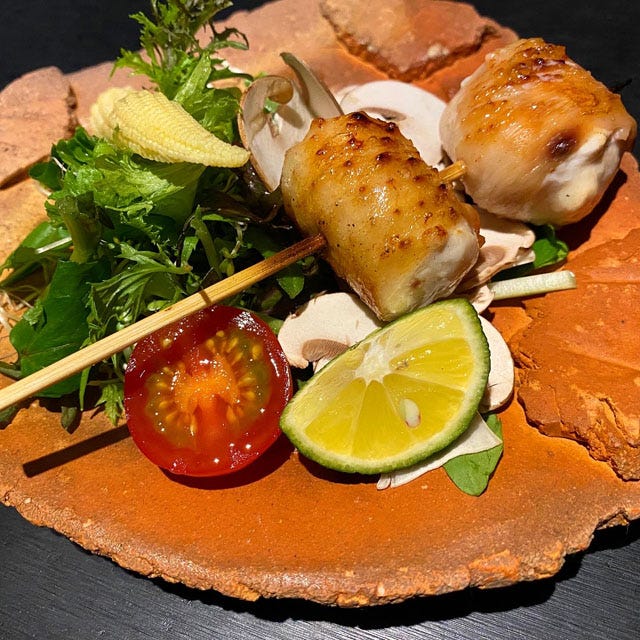 Yakitori was something that I knew I wanted to try while we were in Japan and I'm so glad Genjiro took us to such an accomplished place. (The last course, one that Genjiro requested, kind of freaked us out; it was called "the lantern" and I'll let you click over to my Instagram to see for yourselves what that was. I'm glad we tried it!)

Next day, Genjiro took us all over Tokyo -- a temple, a market, a store that sold replicas of food made with plastic -- then, that night, Craig and I went to our fancy sushi dinner at Sushi Ginza Onodera.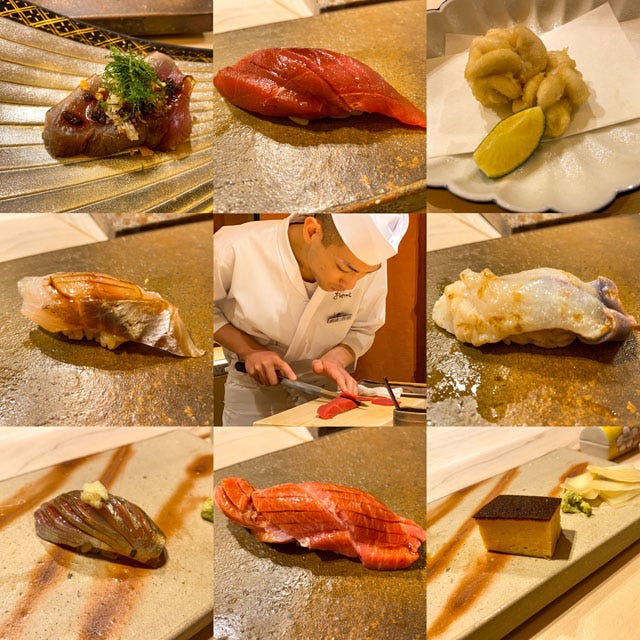 Choosing a place to eat sushi in Tokyo was one of the most daunting aspects of the trip. EVERY place that had been suggested -- from Sujita to Jiro -- was either impossible to book or closed. I asked a certain food writer who writes a lot about Japan where to get sushi, and she responded: "The only places worth going to are ones where you need to know somebody who can get you in."

Hmph!

At some point, I read about Sushi Ginza Ondera (which has Michelin-starred outposts in New York and L.A.) and figured if people pay a fortune to have the fish shipped in from Tokyo at those highly-awarded offshoots, the one in Japan proper would have to be pretty great.

And it was! As you can see from the picture, the sushi was absolutely stunning. Most stunning of all were the live shrimp that the chef had crawling all over our plates (again: see my Instagram, swipe right on that post) before boiling them, chopping the head meat into a paste, folding it into the shrimp, and crafting a perfect bite of sushi.

The lesson: don't let anyone psych you out about "the best places to eat in Japan." After a week there I can tell you, with great confidence, that almost ANY place you eat in Japan will be stellar; the combination of focus, passion, and discipline that went into every meal we had there (including random hotel breakfasts) far surpassed most meals you'll have in other countries.

We only had one bad meal in Japan and it turned out to be the most expensive. On New Year's Eve, we met up with our friends Jimmy and Raef (who were also traveling through Japan) at the Park Hyatt Toyko, which you may remember from Lost in Translation.

We chose it because they took reservations (most places were closed on New Year's Eve as locals ate soba and traveled to shrines and temples) and seemed kind of glamorous.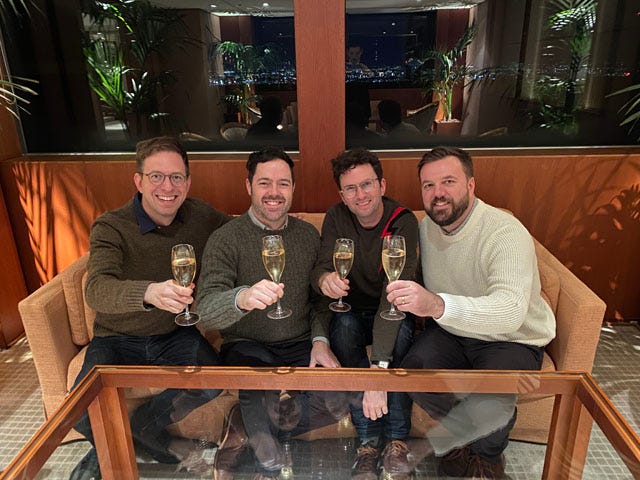 The room was indeed lovely, but the food often missed the mark. It was supposed to be a kaiseki-style meal, but after eating real kaiseki in Kyoto (more on that in a sec), I can tell you that the ingredients here weren't fresh enough. A few dishes had us wincing.

But we had a grand old time anyway and finished the night at the Tokyo Eagle (an outpost of the popular gay bar).

On Wednesday, Craig and I took the bullet train to Kyoto. At first I questioned the idea of going to Kyoto with only one week in Japan, it just seemed like a lot and I thought maybe we'd have a better time just exploring Tokyo. But I'm so glad Craig pushed on the Kyoto thing because Kyoto turned out to be the highlight of the whole trip (and we loved Tokyo).

On our first night there, we ate curry udon at a place recommended by the hotel called Mimikou.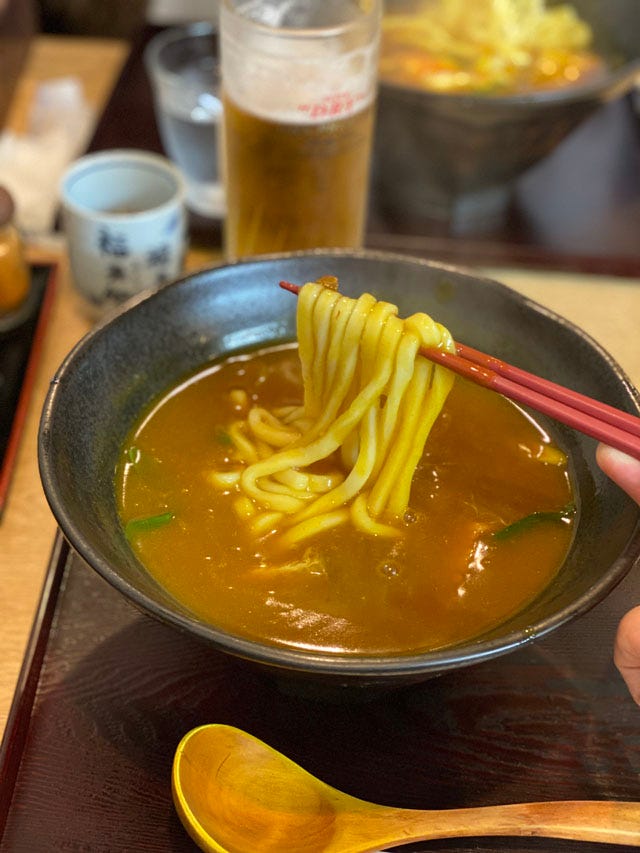 That night, we stumbled upon festivities around a temple, where people were dropping coins into boxes and clapping their hands in prayer.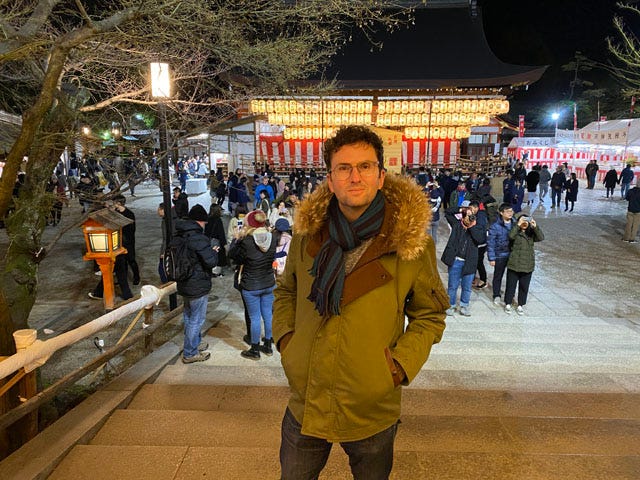 The next day, we did the Philosopher's Path, which leads from one temple to another temple along a beautiful street.

If Tokyo -- with its giant buildings and huge projections straight out of Blade Runner -- is a ride into the future, Kyoto is a ride into the past.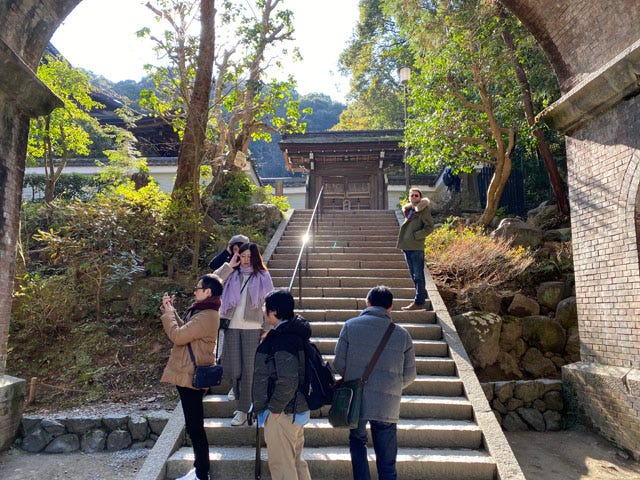 Just physically being there puts you into a meditative frame of mind. One of the best things about going at New Year's is that there's almost no tourists, a fact that abruptly changes when the flowers start to bloom and the hordes descend in the spring.

Going at New Year's also lets you observe the local religious customs. When we were on the Philosopher's Path, we stumbled upon an enormous line for a particular shrine. We found tents where food was being prepared and ended up purchasing a lunch that turned out to be one of the best meals of the trip: soba with smoked fish on top.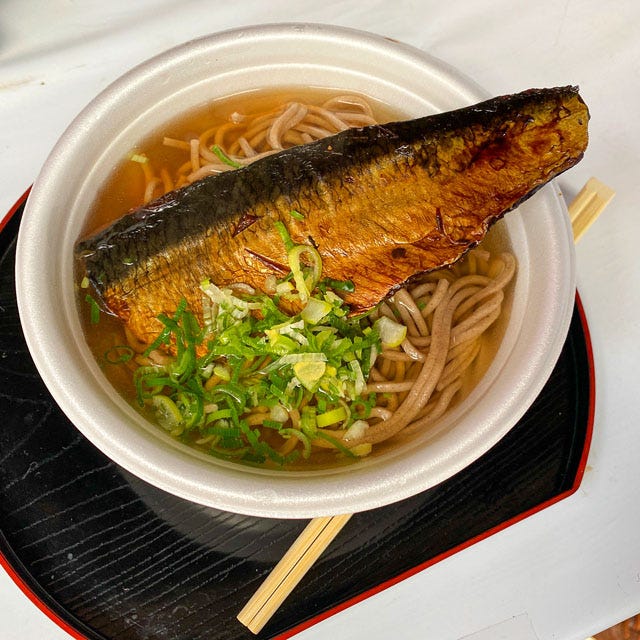 Our hotel in Kyoto was the Celestine Kyoto Gion and I can't recommend it enough. It may not look like much from the outside, but inside they treat you like absolute royalty and there's a bath in there that mimics the onsens people go to great lengths to visit in the Japanese countryside. When we arrived, a man dressed as a dragon bit our heads for good luck in the new year.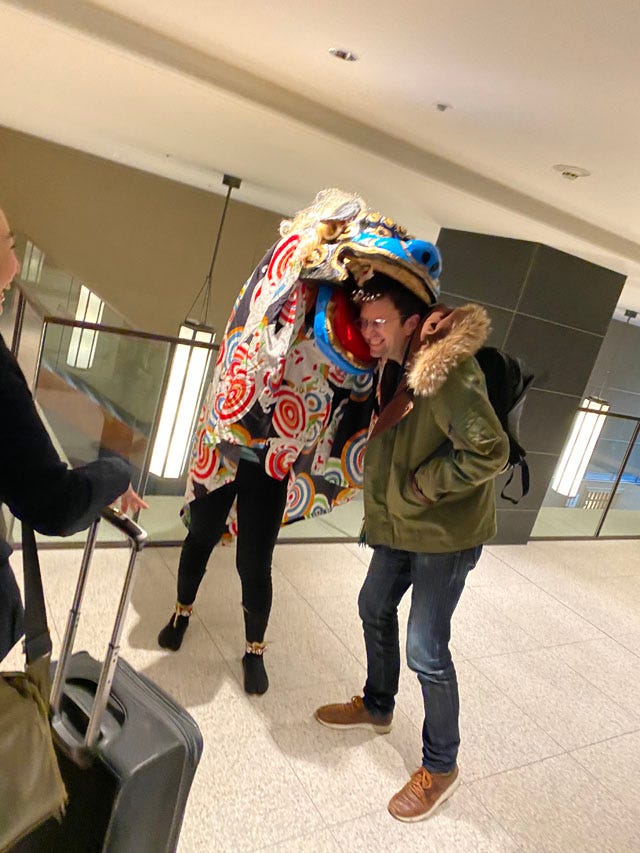 One of the culinary highlights of our trip was the breakfast buffet featuring mostly Japanese breakfast foods. (As far as we could tell, we were the only non-Japanese people staying at our hotel.)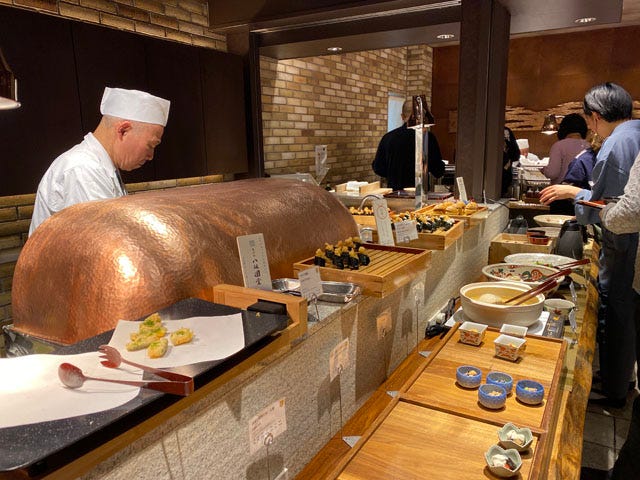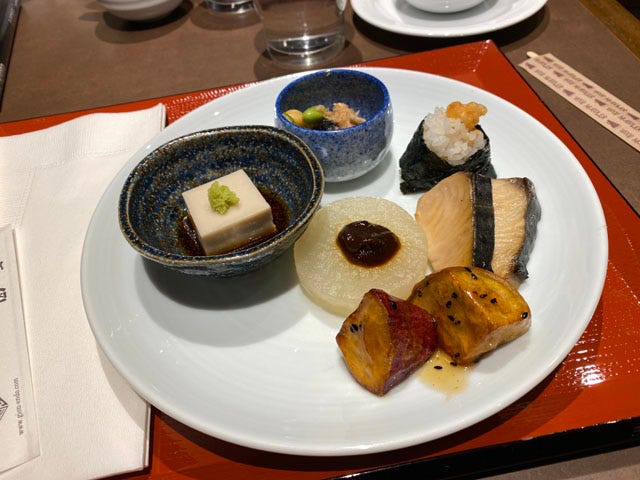 We went up multiple times, but on that plate you can see the freshly-made tofu, the boiled daikon radish with miso sauce, smoked fish, tempura sushi, and candied sweet potatoes. Everything was so fresh and healthy; why can't I eat like this every day?

The first night in Kyoto, we ate a lovely kaiseki dinner at Gion Namba (which I read about in The New York Times).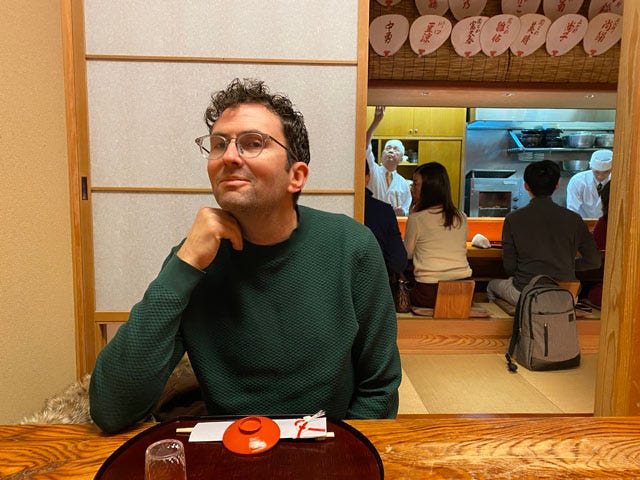 That's our little room with a sliding door where we were doted on by the most attentive waitress.

Everything was gorgeously made here (again, it was the good version of the meal they tried to serve us at the Park Hyatt), but the most stunning dish was this array served only at New Year's.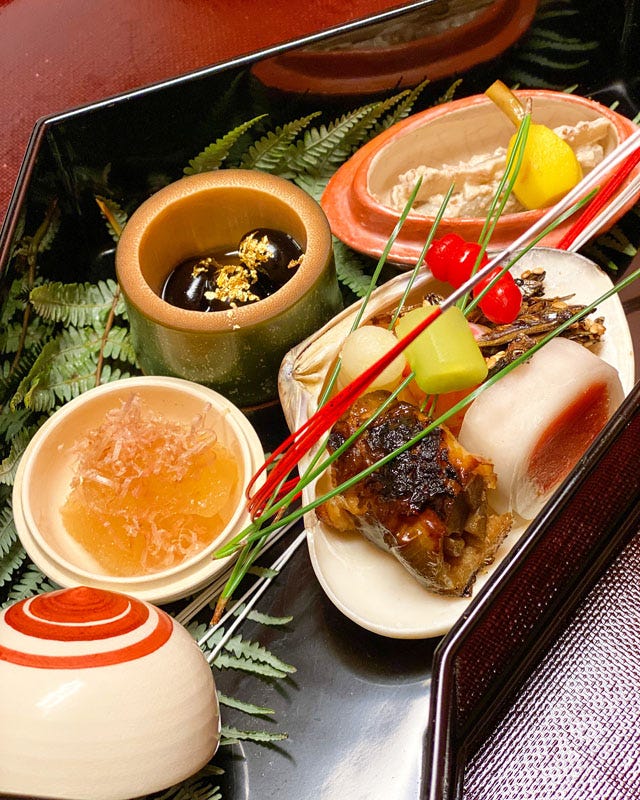 There was fish roe, sweet beans, vegetables coated in sesame, salmon wrapped in turnip and eel wrapped around burdock root.

The next day, we explored Nishiki market and then finally had ramen (I was scared I'd get arrested in L.A. if we didn't eat ramen in Japan); this is burnt miso ramen at Gogoya.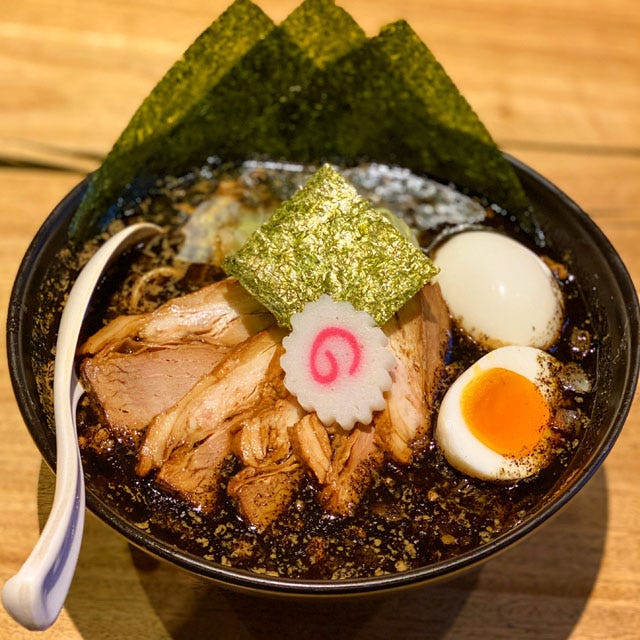 This was the perfect ramen experience because it was different enough (the burnt miso leant it a sharp edge) but traditional enough that we could relish the rich, creaminess of the broth which was easily the best ramen we've ever had.

That night, we met up with Jimmy and Raef again (they followed us to Kyoto), this time for tempura at Tempura Endo Yasaka.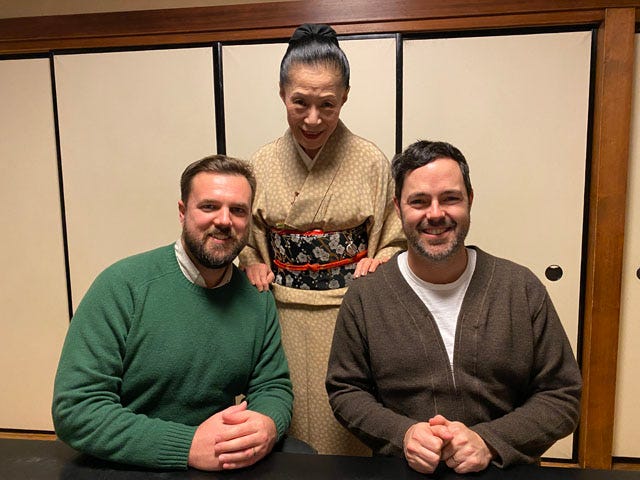 All of our meals in Japan were impressive but this may have been the meal that impressed me the most. The food was fried lovingly -- the batter was light and hot and crispy -- and arrived at our table seemingly straight of the fryer. This carrot, with the carrot greens, blew me away.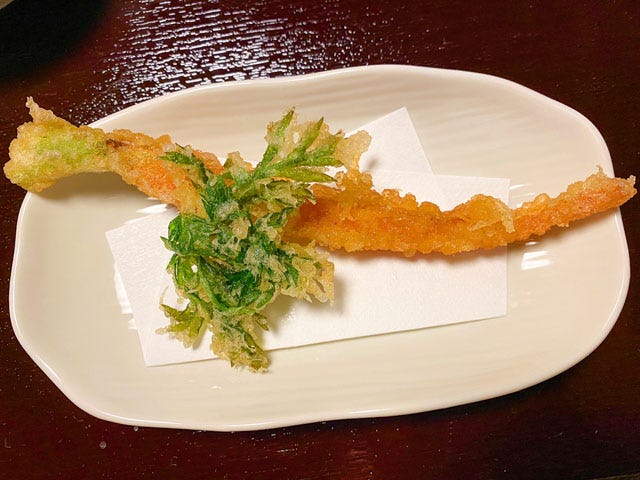 It wasn't just a master class in technique but also timing. How did we all get such beautifully fried carrots at exactly the same time, served piping hot?

Same for the fried shrimp and their heads, which were deliciously crunchy.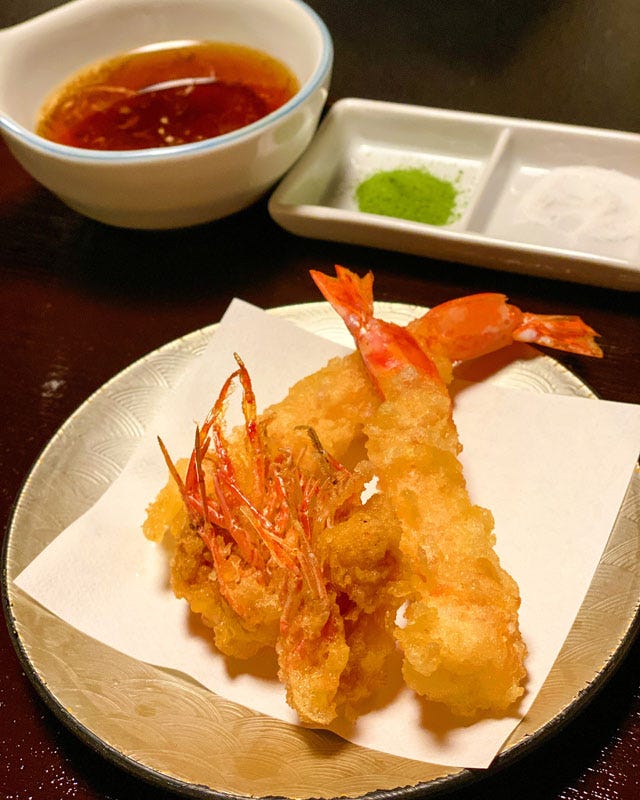 The next day, we traveled back to Tokyo and met up with Genjiro and his friend Yuka for one last meal.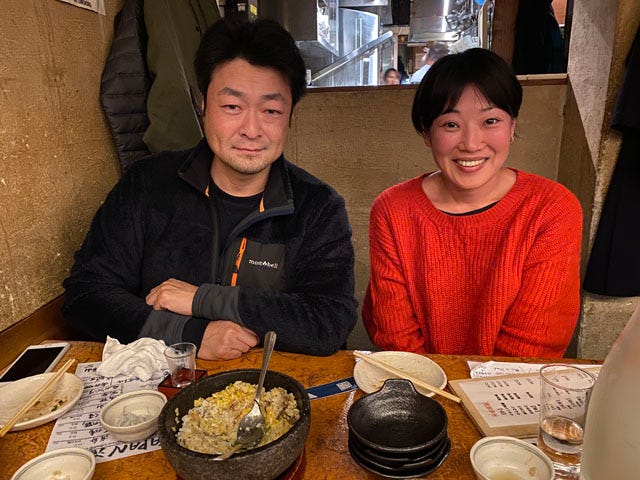 I asked if Genjiro could take us to an Izakaya (the one category we hadn't hit on the trip) and, once again, he delivered; this time he brought us to Iwao in Shibuya.

Everything was excellent -- including the fried rice you can see in the picture above -- but the highlight was this gyoza pizza, which was like the inside of a dumpling served on top of the crispest cracker.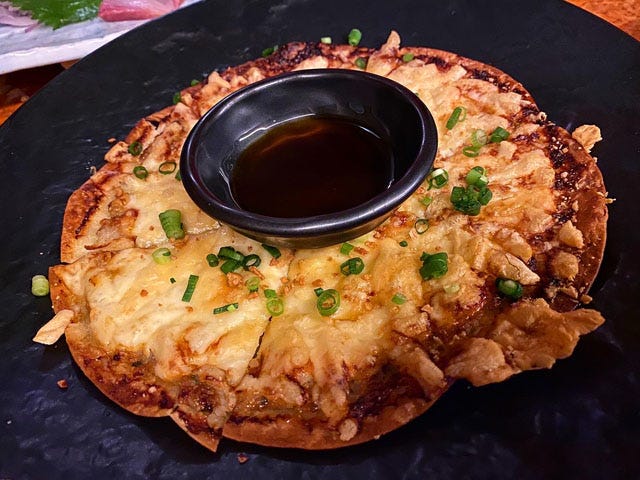 And that was pretty much our trip, folks!

Other highlights: pizza at Serinkan, pastries for lunch at 365 Days, mochi and tea at the Tsutaya bookstore cafe in Daikinyama (one of the highlights of our whole trip, the room is incredible), and breakfast at the Hotel Koe, where we stayed our first few nights in Tokyo. (Highly recommend: it's centrally located but not touristy.)

Hope this helps you plan your trip to Japan! Another great resource was the Monocle guides: Monocole Tokyo and Monocle Kyoto.

Ok, now to try to stay awake so I can get back on a normal schedule....

Until next time.

Your friend,
Adam (the "please review me on Apple Podcasts!" guy)