The Tables Have Turned!

Hey gang,

Have I caught your attention with my attention-grabbing subject line?

Good!

On today's LUNCH THERAPY, the tables have turned: instead of me analyzing somebody else's lunch, I have my lunch professionally analyzed by Dr. Deanie Eichenstein.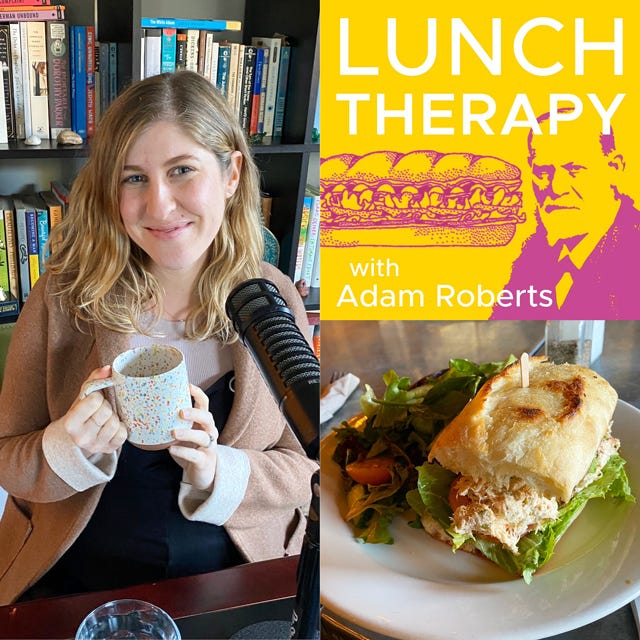 Find out what my tuna sandwich says about me (a lot more than you might think), how I went from pre-med to law school to a writing career (and how I met Craig in the process), and how choosing my lunch is often a question of shifting identities. We also cover how smell plays an important role for me, my fear of pooping in coffee shops, and how my people-pleasing instincts make it hard not to go overboard at dinner parties.

CLICK HERE to listen.

And I know I ask this every week, but this week somebody wrote a MEAN REVIEW OF ME AND GAVE ME ONE STAR. Isn't that awful? So if you would please head over to the Lunch Therapy page on Apple Podcasts and write something nice, that'd mean the world to me. Help reject the tyranny of lyzzardwyzzard and his or her claim that I should ignore my dog rustling around. That's just real life and it makes the podcast authentic!

OK, so I ate the most incredible dinner on Friday night.

Ben Mims -- who was on Lunch Therapy two weeks ago -- had us over for dinner and made THE. MOST. INCREDIBLE. LASAGNA. WE. HAVE. EVER. EATEN.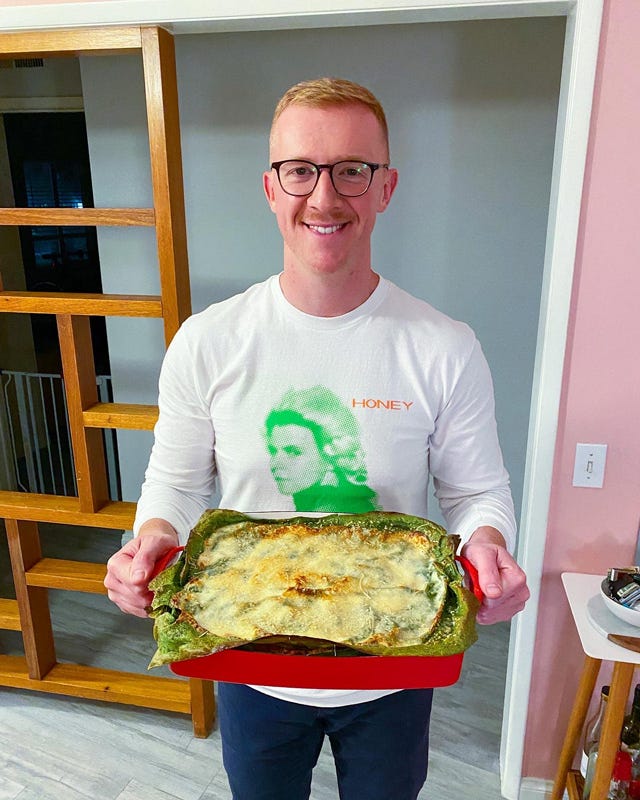 It took him THREE DAYS to make it. He rolled the spinach pasta dough himself; he made a bolognese with all kind of meats; he held it all together with a homemade Bechamel. Look closer.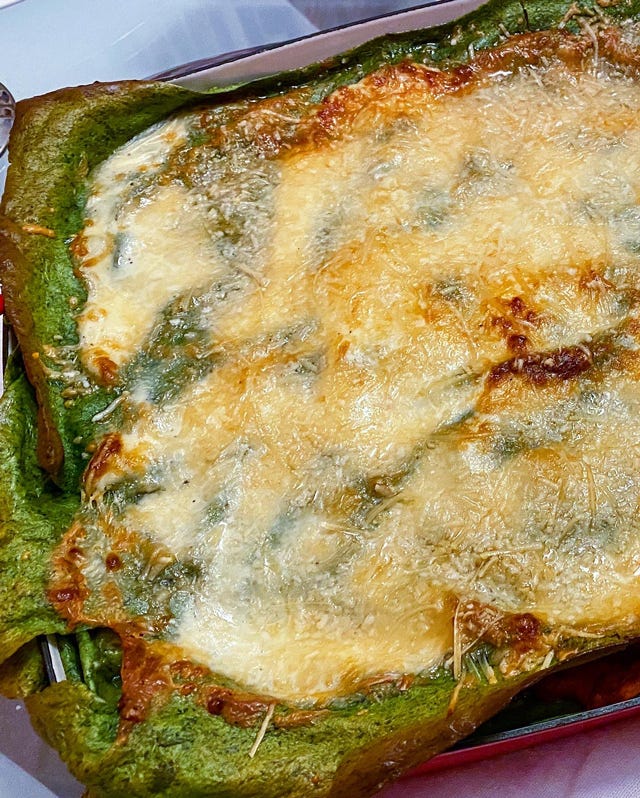 Look what it looks like when we cut into it.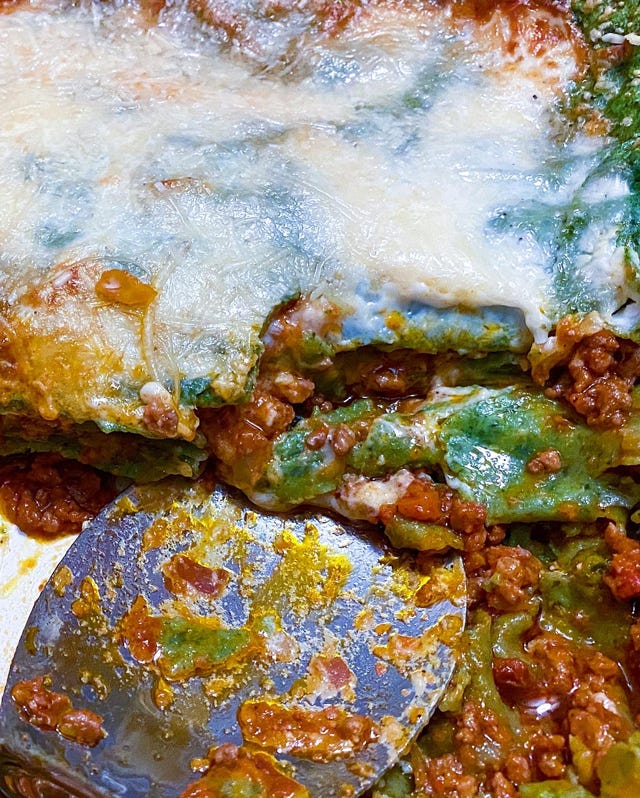 He said the recipe is from an old issue of Saveur; if you want more specifics, you should follow him on Instagram and see if he'll tell you.

Thank you Ben and J. (also a consummate host) for an incredible meal.

Last Wednesday, I met my friend Diana at the Grand Central Market for lunch and we paid a visit to Nicole Rucker (also a Lunch Therapy alumn) at her new bakery, Fat & Flour.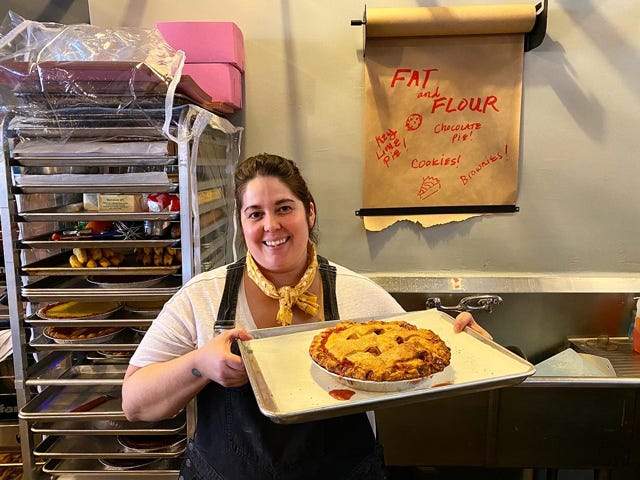 Nicole's pies are otherworldly, they're so good; and it was a real treat to watch her baking in such a small space. She does everything herself and produces the BEST. KEY. LIME. PIE. YOU. WILL. EVER. HAVE. (And her chocolate chess pie is pretty incredible too!)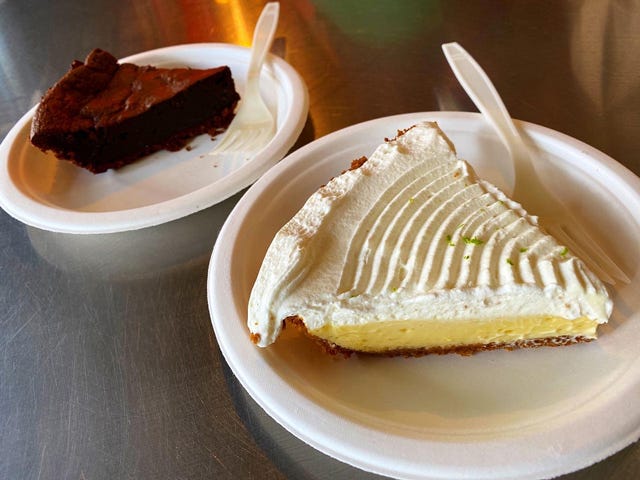 We brought home brownies too; you can hear Craig eating one (and me yelling at him for doing so) on this week's podcast.

Ok, that's all for this week, folks!

Hope your 2020 is off to a great start.

Until next time...

Your friend,
Adam (the "please write something nice about my podcast on Apple podcasts!" guy)