One Hot Tamale

Hey folks,

Today we have a true legend on Lunch Therapy: Chef Susan Feniger!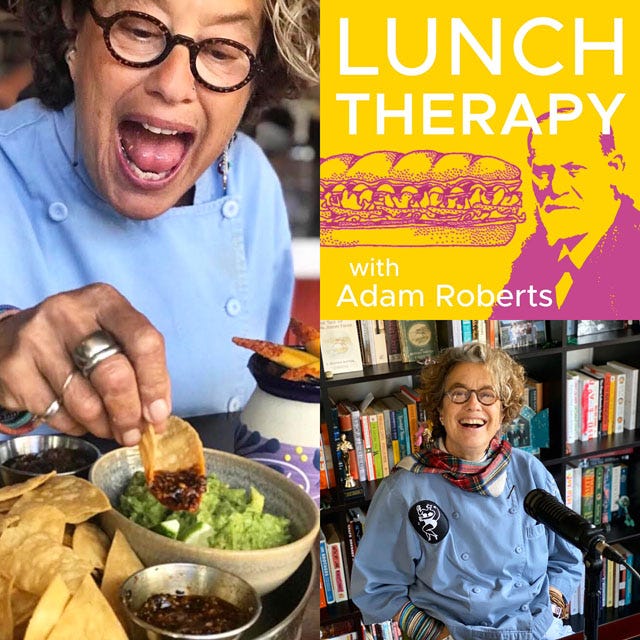 Susan Feniger is a force to be reckoned with in the food world. Along with her business partner Mary Sue Milliken, Feniger has received countless awards (including the prestigious Julia Child Award and the Jonathan Gold Award), opened several legendary restaurants (including The Border Grill), co-hosted one of the first Food Network shows (Too Hot Tamales), appeared on Top Chef Masters, and authored countless cookbooks. I'm so thrilled to have her as my patient on today's Lunch Therapy and our-hour session covers her early years in Ohio, her mother's midwestern Jewish cooking, her living in a teepee that she sewed for herself in Vermont, meeting her first husband there, realizing she was gay, separating from him and then setting him up with her business partner (Mary Sue) who's still married to him today (!!!). We talk about working for Wolfgang Puck at Ma Maison (where she'd see Orson Welles on the regular), working for a closeted gay chef in Chicago, working at a Michelin three-star restaurant in La Napoule, France (where she learned a killer salad dressing), and how she began to gravitate to Indian food and Mexican food through her travels. We also cover her brand new restaurant, Socalo, where she works the line (sometimes fifteen hours a day) and still finds the time to do meaningful charity work (she's helped raise $48 million dollars for scleroderma research).

CLICK HERE to listen!

This is one of my favorite interviews that I've done so if you have similar feelings about it, would love it if you could say so on the Apple Podcasts Lunch Therapy page. Your reviews mean the world to me (and help the podcast stay on Apple's radar).

OK...

So this week, we had our friend Justin over for dinner and I made seared salmon with a gingery cabbage and carrot stir-fry: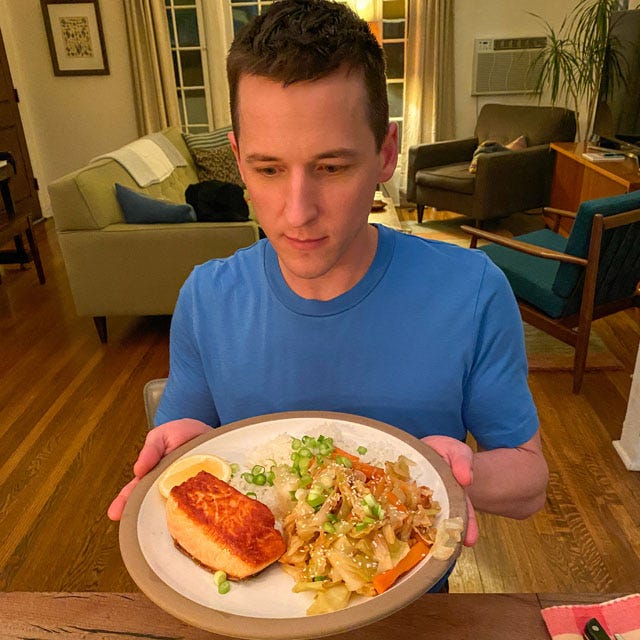 And here's that plate up close: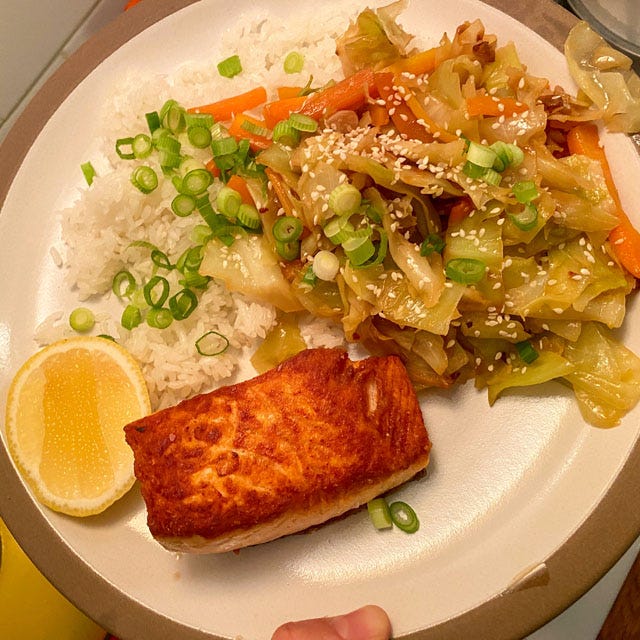 The key to the salmon is to buy a good, thick filet, season it on all sides with salt and pepper, then heat a neutral oil (I use grapeseed) in a non-stick skillet until it's very hot, then start the salmon flesh-side down. That seems counterintuitive because you want the skin crispy, but what it really does is buy you time. Once the flesh side is golden brown, flip to so the skin-side is down and then just cook cook cook until a thermometer gives you a temp of 120 or 125.

As for the cabbage, I stir-fried some garlic and ginger in grapeseed oil and then added a whole shredded cabbage and some thinly sliced carrots. Once those got nice and brown (you have to let them sit in that hot oil, stirring every so often), I added a splash of soy sauce, some rice vinegar, and sesame seeds. It was a hit!

Then on Thursday night, our friends Harry & Cris came to dinner, I made pork chops, and then for dessert I made Dorie Greenspan's Apple Cake: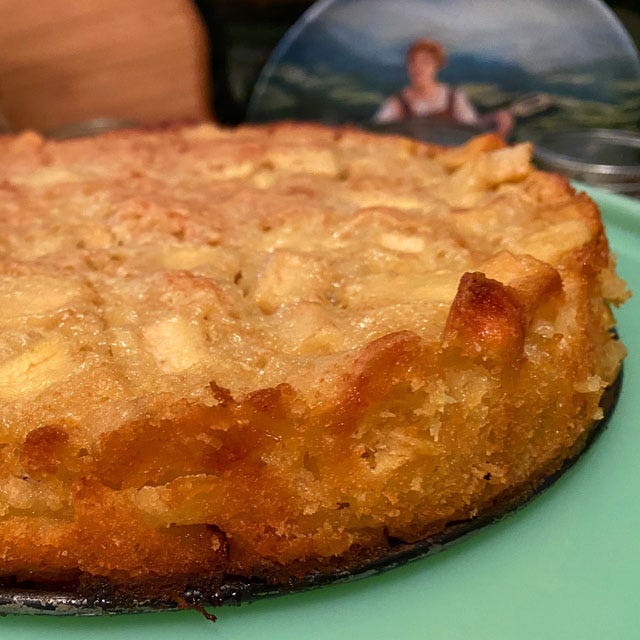 I'm sure I talked about this before in the newsletter, but it's pretty much my go-to dessert these days. It's just a lot of apples, a pancake-like batter, and a ton of booze. The key is to heavily butter the pan beforehand so the outside gets nice and brown. (You can find the recipe online or in one of Dorie's books, I think it's Around My French Table.)

On Saturday, Craig and I had lunch at Burgers Never Say Die, a relatively new spot in Silverlake that has an undeniably good burger: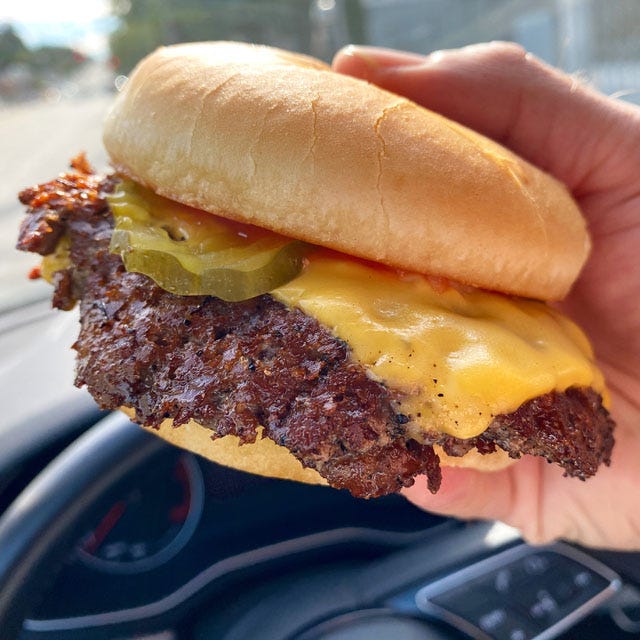 Craig likened it to the burger he used to get at the County Fair growing up. I just really liked how caramelized it got with how they smashed it (I guess you could say it's a smash burger; I still need to try to make one of those at home).

On Sunday we grabbed brunch at Bar Ama after selling a bunch of our old books and cookbooks at The Last Bookstore.

I had the huevos rancheros which came with fresh corn tortillas and "Bus Driver" hot sauce on top: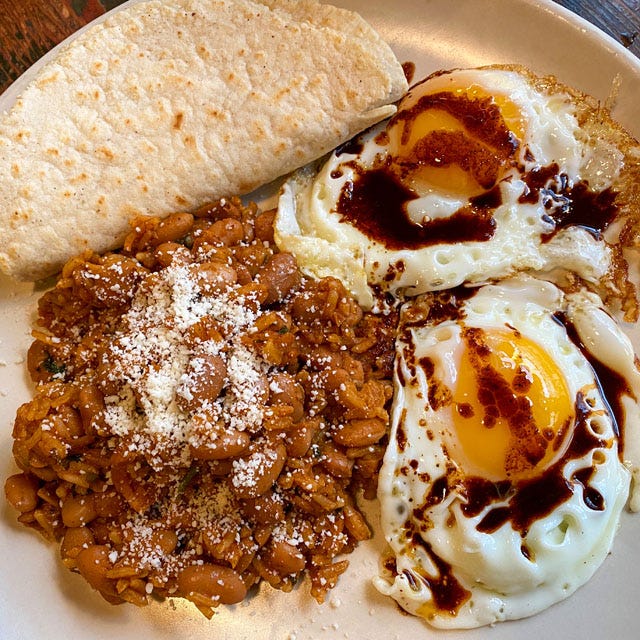 As far as huevos rancheros go, these may have been the best I've ever had.

Oh, and forgot to mention: my friend Luke Matheny, who talked about his grandmother's Pennsylvania Dutch Chicken Pot Pie when he was on Lunch Therapy, invited us over to have some and it was just as warming and comforting as he promised.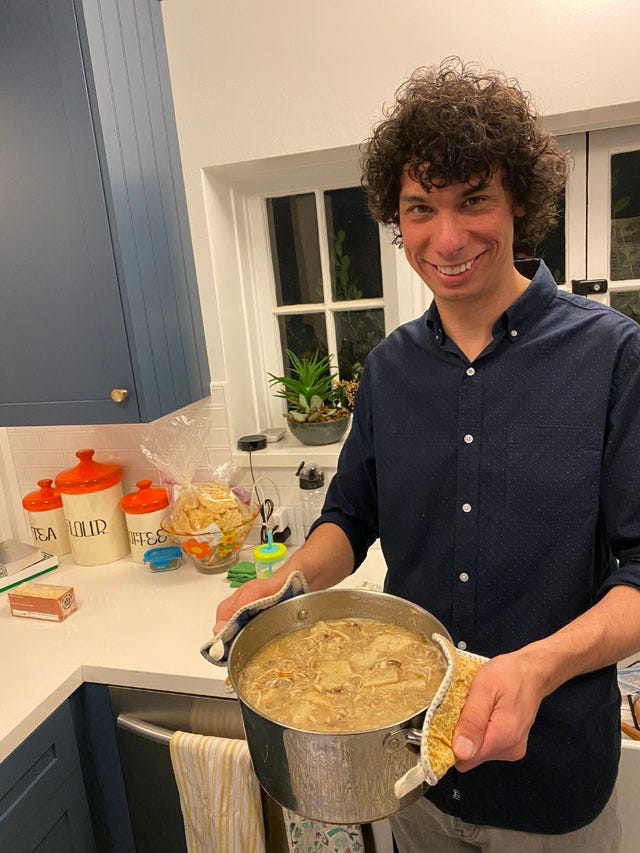 And that's all for this week, folks!

Until next time....

Your friend,
Adam (the "please review my podcast!" guy)