Hey gang,

Today's Lunch Therapy patient is one of the stars of NCIS: Los Angeles, Barrett Foa!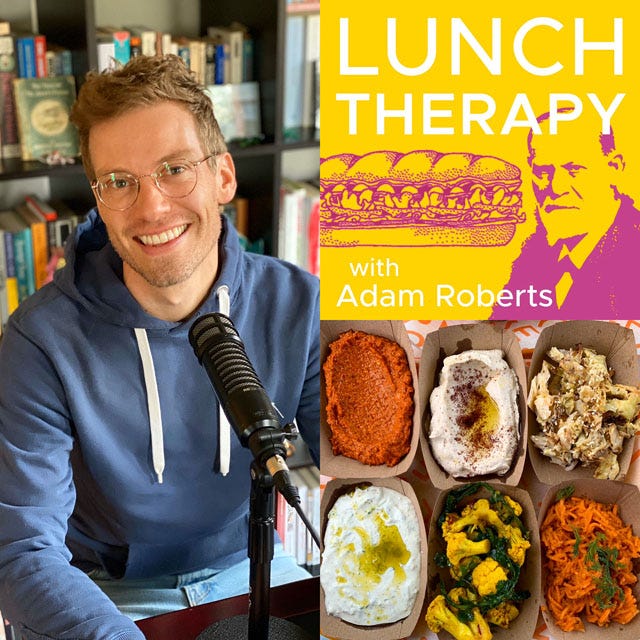 In addition to TV, Barrett's also been on Broadway (Avenue Q! Spelling Bee!) and he most recently played Prior Walter in Angels in America at the St. Louis Rep. In today's session, Barrett describes "The Foa Philosophy," talks about growing up in New York City, learning etiquette at fancy restaurants, his pet peeves on dates, and why it wasn't such a stretch for him to enjoy Burning Man. We also talk about him losing his mom four years ago, her own involvement in the food world (she's in the Le Cirque documentary), bulking up and losing weight for various parts, why he enjoys planning trips, and whether or not this podcast will get him a boyfriend.

CLICK HERE to listen.

And this week, for the first time, I'm not going to ask you to find it in your hearts to review the podcast on Apple Podcasts! I'll let you decide for yourselves as to whether you want to help your favorite newsletter writer grow his podcast so he can keep doing it week after week. Does he get paid to do it? No he doesn't. The only payment he gets is your reviews. But I'm not going to guilt you this week, nosirree!

Ok, what did I cook this last week?

On Monday night, I made Ottolenghi's Moroccan carrot salad where you basically slice carrots (the carrots from the farmer's market are so sweet right now), boil them in salted water, drain them while they're still crunchy, and then add them to a pan with onions and all kinds of spices (cumin, cloves, cinnamon). You also add green chili, preserved lemon, and lots and lots of cilantro. I served it with swordfish.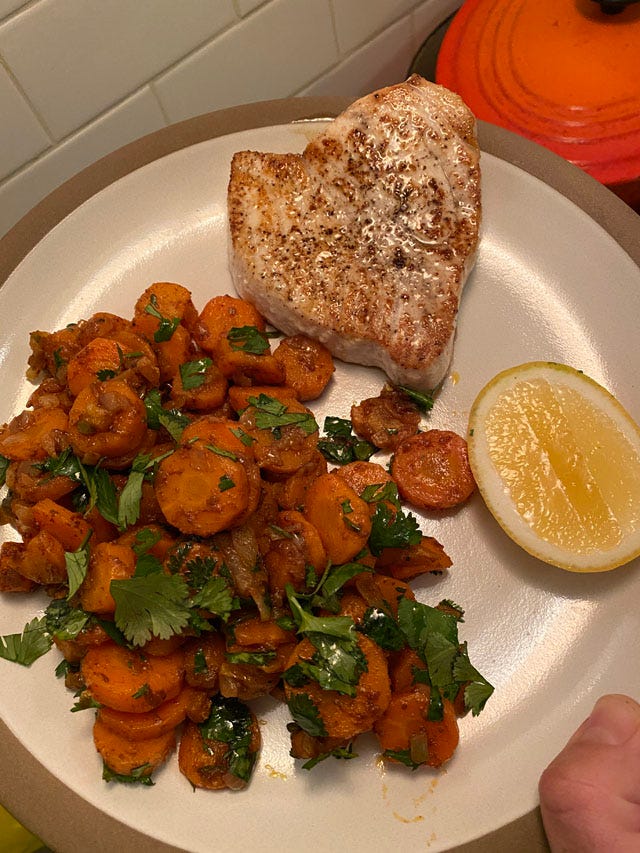 The carrots were such a hit, and I made so many, that the next night -- when Craig had dinner plans -- I cooked up some couscous, stirred the couscous into the remaining carrots, added another browned onion with the same spices, more preserved lemon, and more cilantro. A great quick dinner for moi.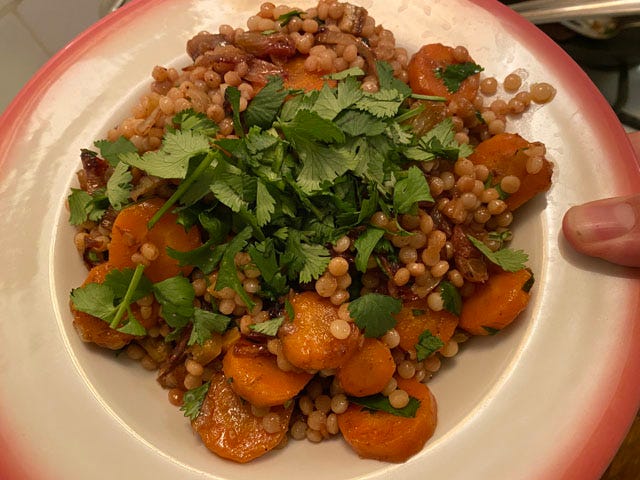 Otherwise, a lot of friends cooked for us this week!

On Saturday night, our friends Brian and Chris hosted us for dinner. Brian made a hangar steak from Bon Appetit that came topped with walnuts and scallions in a Dijon dressing; he also made a salad, Alison Roman's cauliflower gratin AND gougeres AND a compound butter for the bread. It was a very impressive meal.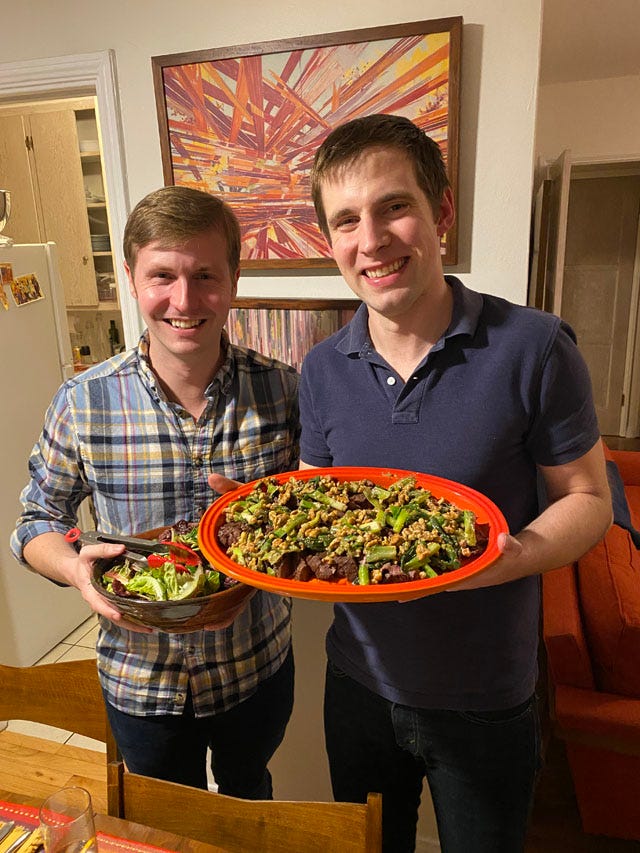 Then, last night (Sunday), our friend Ethan also made us dinner. (It's nice to have friends who cook!) Ethan made a kale salad, a beef stew, and an olive oil cake for dessert.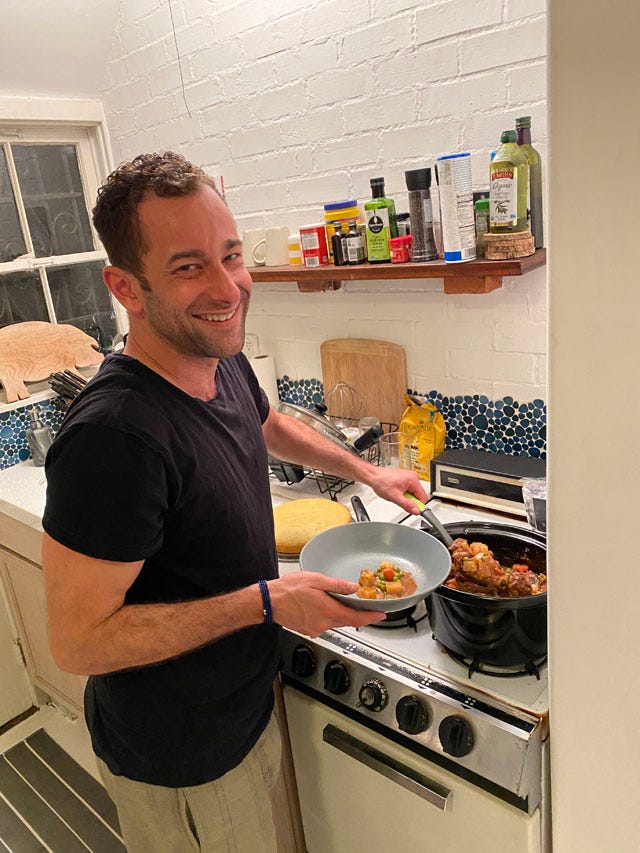 Here's that beef stew up close.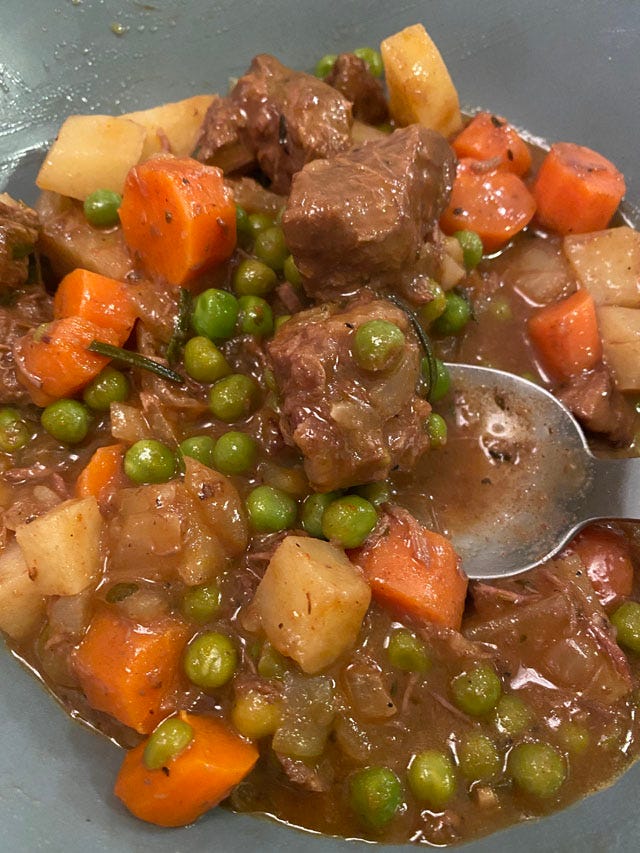 it was so cozy and comforting. His secret ingredient? Balsamic vinegar. It rounded everything out and gave it a fruity, acidic edge.

That's all for this week folks!

Until next time....

Your friend,
Adam (the "not asking you to please review my podcast on iTunes guy")