Hey everyone,

This week's Lunch Therapy guest is an actual ROCK STAR. He was the lead singer of Grizzly Bear and gave it all up to become a therapist, which makes him an ideal guest for a lunch psychology podcast. Say hello to Ed Droste: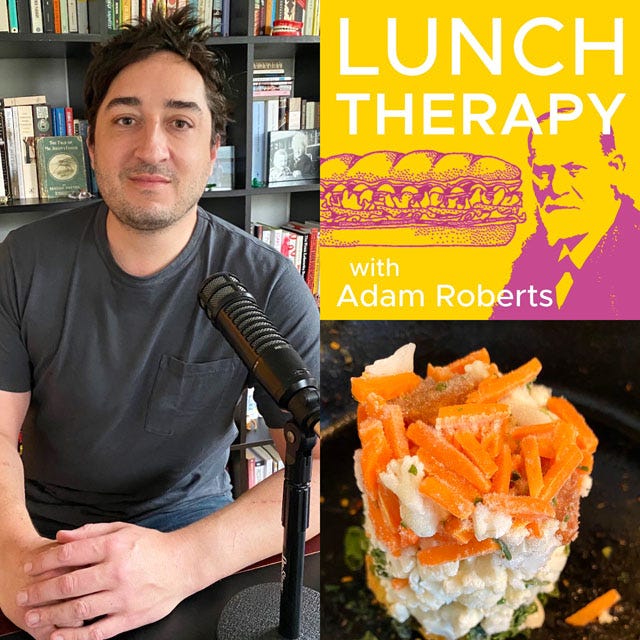 Learn why Ed decided to give up the not-so-glamorous life of a musician, the kind of food he ate on the road, how he dealt with reviews and Tweets, how he got over his stage fright, and the role therapy played in his life. We also talk about Ed's parents' adventurous eating, loving lobster but hating the "juicy explosions," how he makes a salad, Postematesing from Sqirl, his obsession with candles, and how his neighbor roasts a chicken.

CLICK HERE to listen.

And, as always, if you can leave a nice review, I'd really appreciate it.

Okay, on to newsletter stuff...

Last night, I had Ben Mims (L.A. Times recipe editor) and his partner J. over for dinner and after the lasagna he made for me last time (which got over 800 likes on Instagram, it was so epic) I was a little flummoxed about what to make.

Finally, after rifling through cookbooks all day Saturday, I came up with a menu that involved onion dip as a starter, an entree of Dorie Greenspan's stuffed cabbage rolls, and then these chocolate cherry oatmeal cookies for dessert (I'd made some earlier in the week and froze half the dough for a later date, which paid off).

The onion dip came from a Donald Link cookbook; you basically saute two chopped yellow onions in a few tablespoons of olive oil until soft (on low heat, for thirty minutes); you don't brown the onion, which I found strange, but I guess it's to keep it mellow? Which doesn't make sense, because then you add a TON of cayenne (he called for two teaspoons; I only used one, which was plenty), thyme, garlic powder, salt and pepper. You let that cool and stir that into a mixture of mayo, mascarpone cheese, and sour cream, then doctor with lemon juice and Brandy. I served it with potato chips (Kettle Brand, my fave) and carrots and kohlrabi from the farmer's market.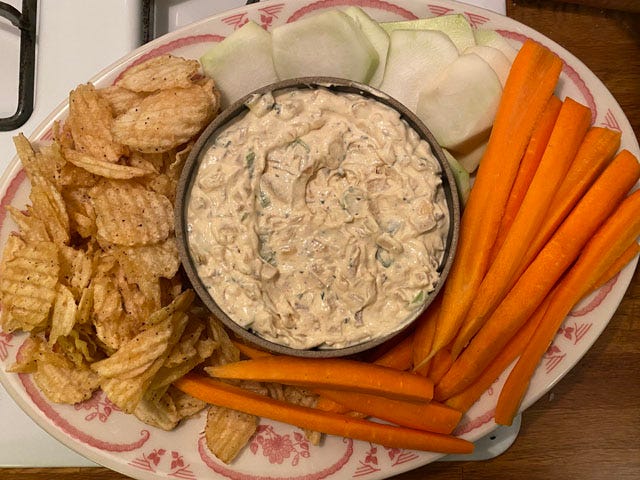 It was a tasty dip!

As for the cabbage rolls, it's a classic recipe with some Dorie Greenspan twists: apple juice in with the tomatoes (along with some grated apple), soy sauce and ketchup in with the ground meat and rice, and apple cider vinegar to give everything a little acid. It was a lot of work to assemble them -- and don't make the mistake I made; I bought two smallish Napa cabbages which had cool exteriors, but didn't yield enough large leaves. Next time, I'm going for a bigger cabbage.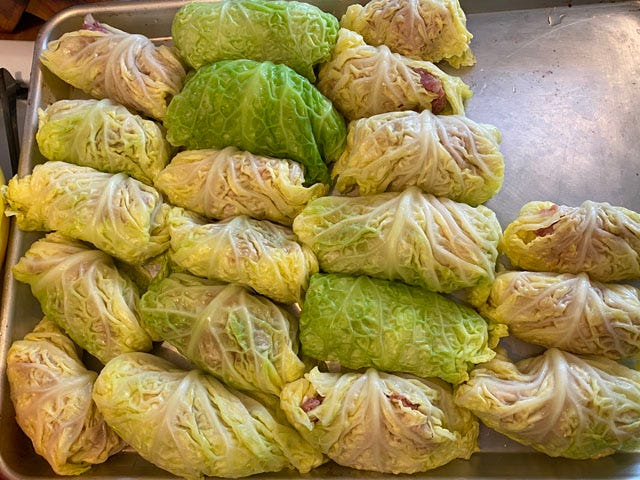 Here's the stuffed cabbage after spending three hours in a 350 oven: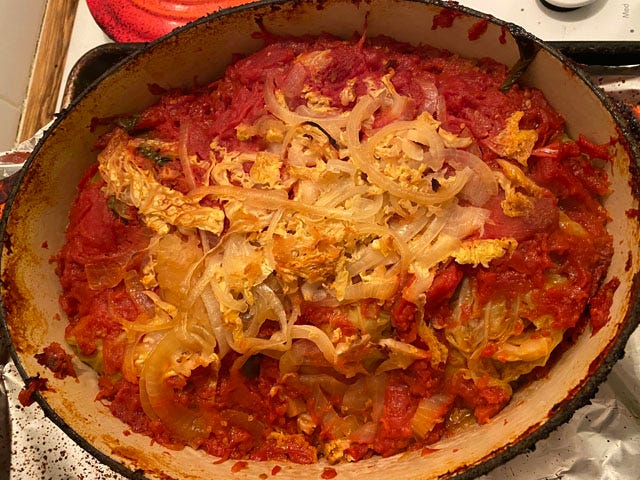 It made the apartment smell amazing and tasted pretty sublime.

I think Ben and J. were very happy: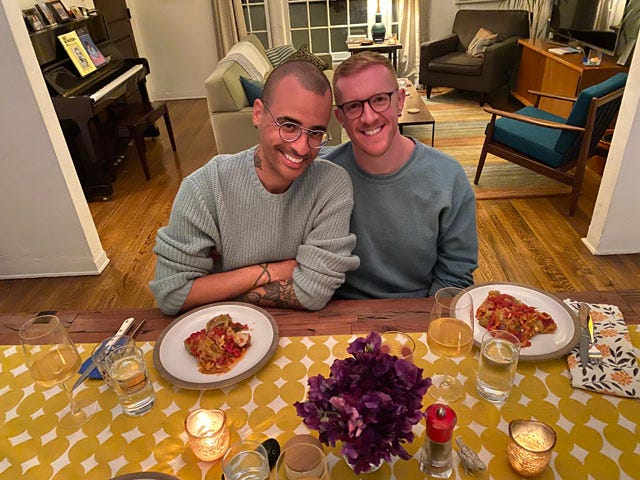 In other food news, I finally hit up two restaurants I'd been meaning to patronize for a while.

The first was Ronan, where I went with my friend Jonathan on Thursday night. The pizza there was out-of-this-world; this one had zucchini, zucchini flowers, Stracciatella, and thinly sliced lemon.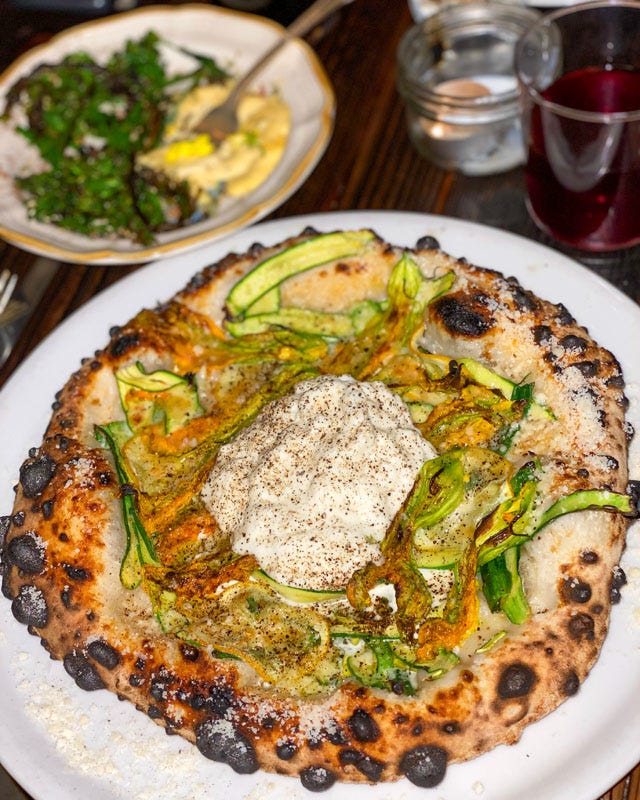 The ultimate hack was tearing off pieces of the crust and dipping it in the Meyer lemon aioli that came with the broccolini.

I actually brought some of the aforementioned cookies for Jonathan and then Caitlyn, one of Ronan's owners and the general manager, came over to say hi and I gave her one of Jonathan's cookies (sorry Jonathan) and she praised it and said she "liked the salt."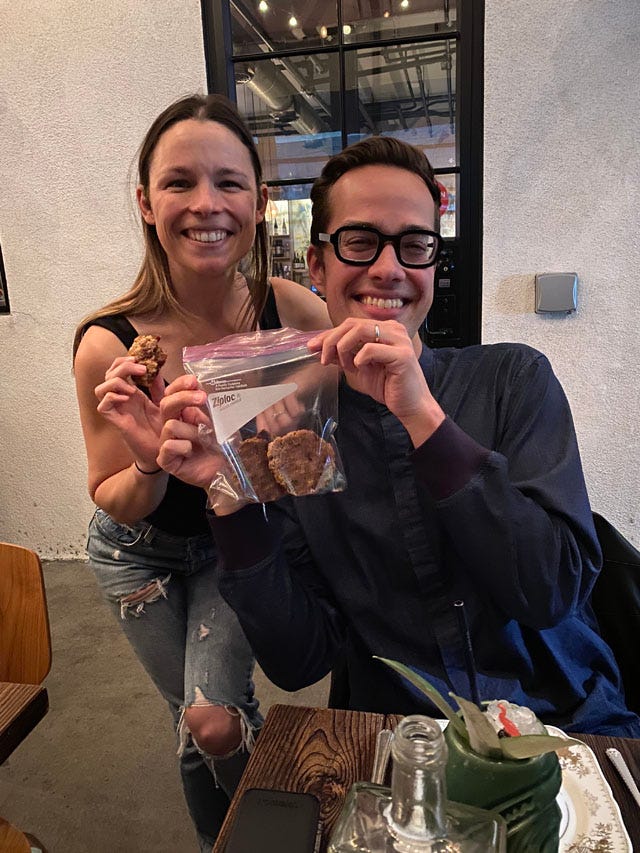 On Friday, I met my friend Diana for lunch at All Day Baby -- which is a diner from the people who brought us Here's Looking At You.

We shared this iceberg wedge salad, which was pretty photogenic.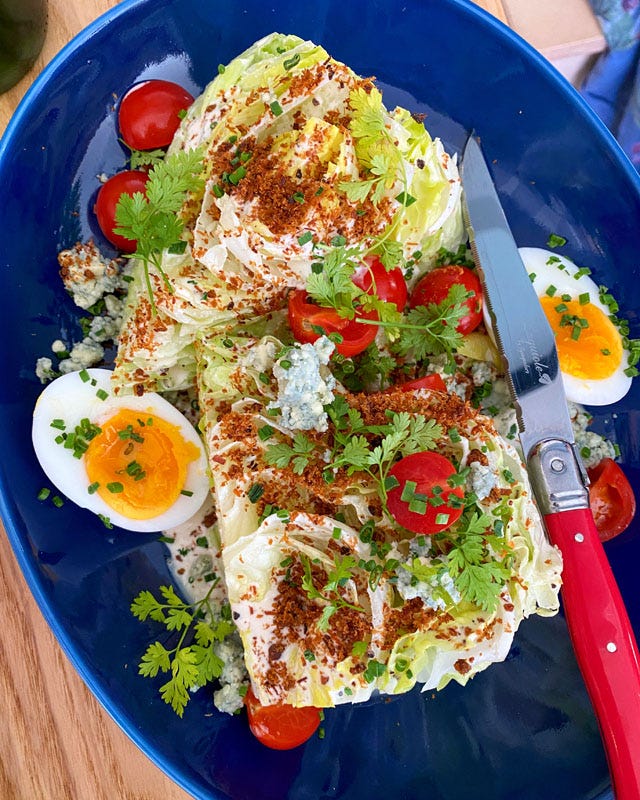 Then Diana had the patty melt and I had the BBQ cauliflower and some fries, to balance out the healthfulness.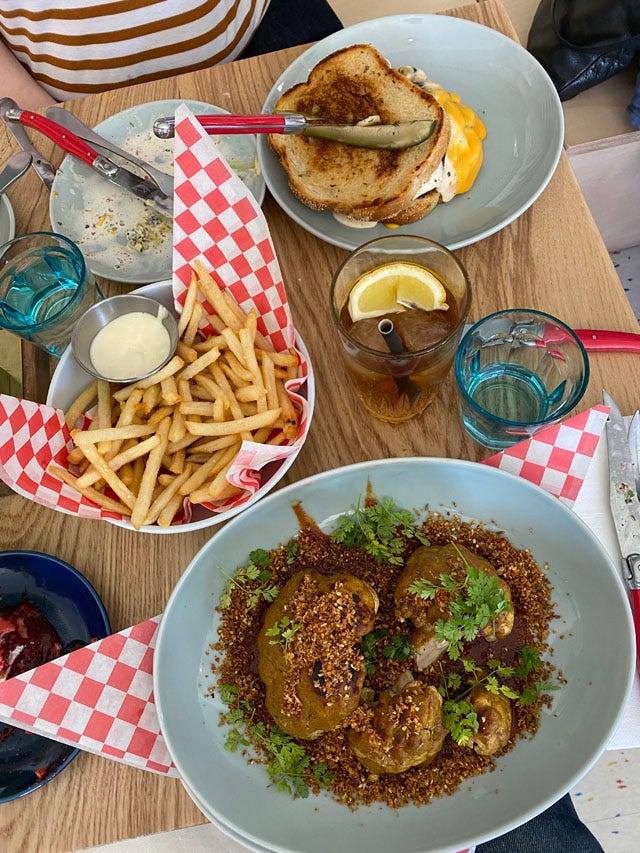 Craig was so jealous of this meal that the next day, we went back for brunch.

This time I had the buckwheat waffle with country ham and smoked maple: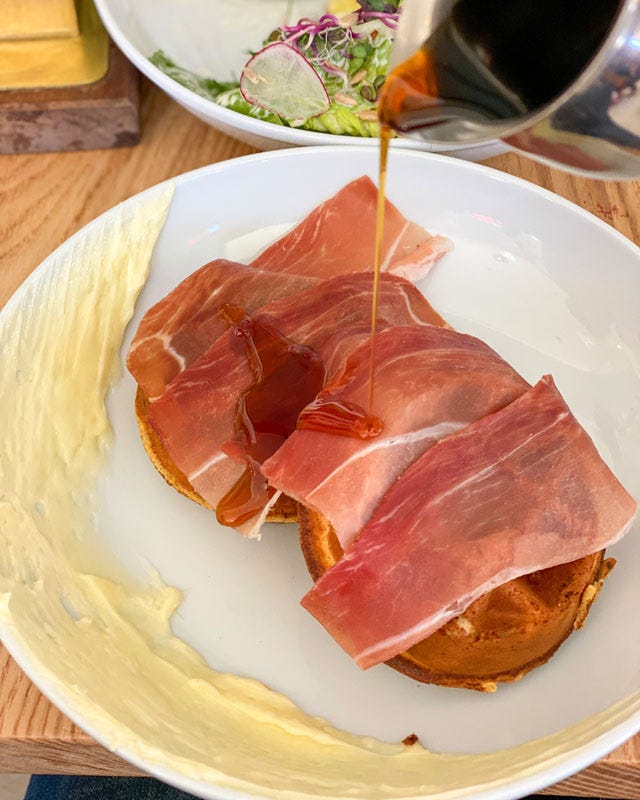 And Craig had the fried chicken sandwich with pimento cheese: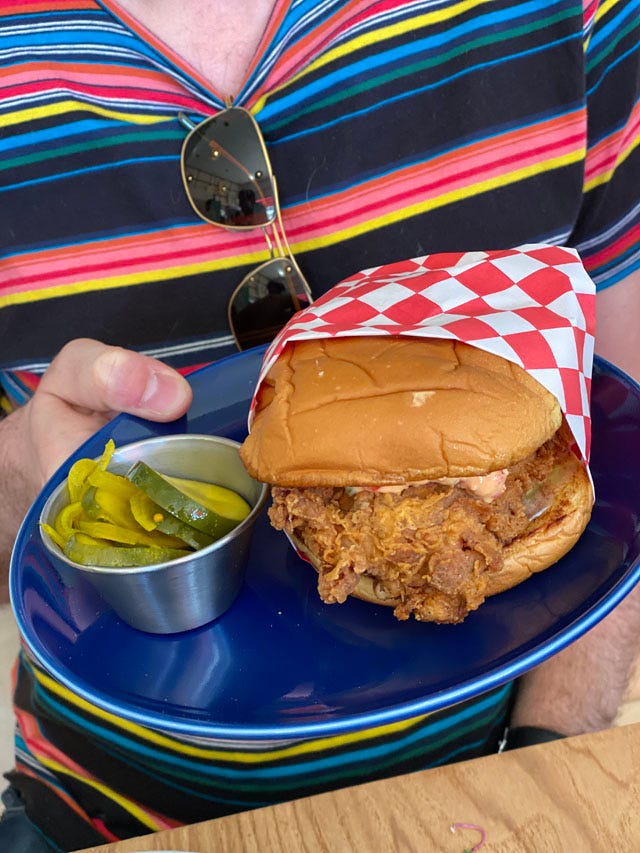 All in all, it was a pretty indulgent week of eating, but I have no regrets.

Until next time!

Your friend,
Adam