Fergus Henderson on Lunch Therapy
Hey everyone,

I genuinely hope you're all doing ok and that you're healthy. What a strange moment we're living through; I went to Gelson's (my regular grocery store) today for a final haul, and this is what I saw: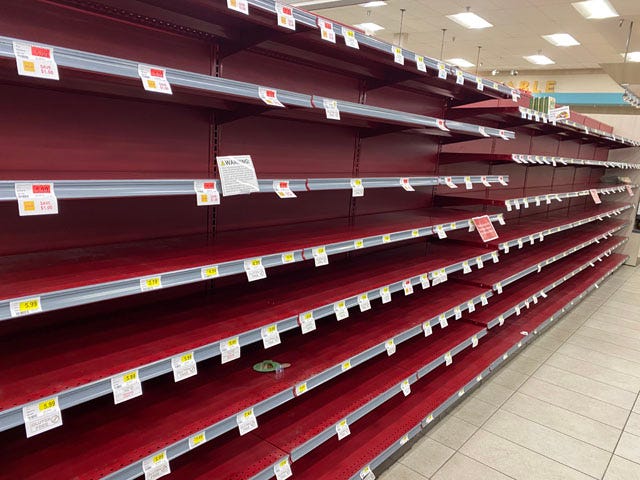 Luckily, I'm stocked up on chickens (three of them), lamb necks (the only red meat they had), beans, rice, and pasta. If you want to follow along with what I've been cooking (and I've been cooking like mad these past few days), follow me on Instagram.

In happier news, one of the world's greatest chefs -- Fergus Henderson -- who Anthony Bourdain called "the most influential chef of the last twenty years" came to my apartment (!!) with his business partner, Trevor Gulliver, to talk about the hippie sandwich that they ate for lunch.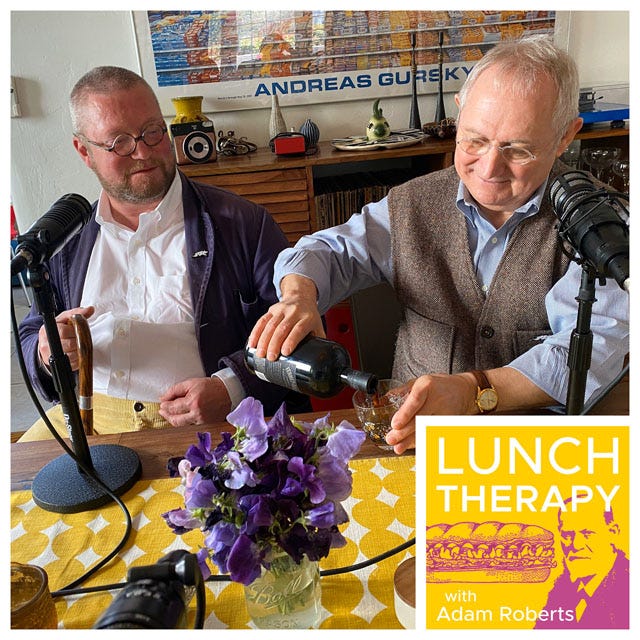 Our conversation runs the gambit from why Fergus loves offal ("I was drawn into a world of innards and extremities"), what Trevor thinks of natural wine, the link between Fergus's father being an architect and the architecture of the dishes he serves at St. John in London. We also talk about Fergus's Parkinson's diagnosis in 1997, the sense of loss in having to leave the kitchen, how his marriage works with his wife, Margo Henderson (also a celebrated chef), how he feels about their son becoming a chef, and whether or not he and Trevor are opening a restaurant in L.A. As a lunch therapist, I should apologize for one aspect of this conversation: booze may have been imbibed during the recording of this podcast. To my colleagues in the lunch therapy community, my humblest apologies. *burp*

CLICK HERE to listen.

And, as always, if you can find it in your heart to leave a nice review, I'd really appreciate it.

Okay, on to what I've been cooking...

Last Tuesday, I decided to make Marcella Hazan's three-hour Bolognese: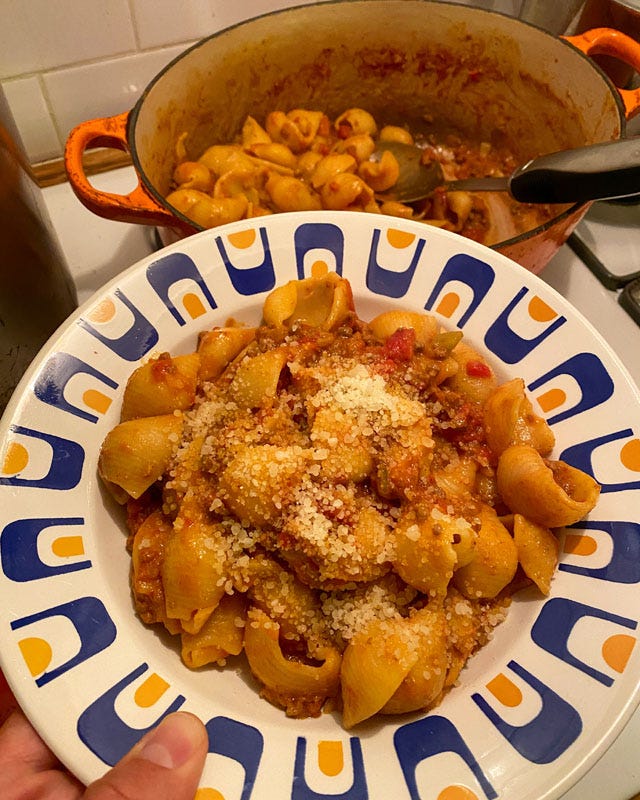 It's a pretty remarkable recipe. You just saute onions, carrots, and celery in butter, add ground beef, add milk (yes, milk), let that cook away, add white wine, let that cook away, then add tomatoes and let it go, at a gentle simmer, for three hours.

The resulting sauce has so much flavor and so much depth. Ideally, I would've served it with rigatoni, but these large shells worked well.

On Thursday, I made Thomas Keller's roast chicken with root vegetables (one of my favorite things to make and a smart dish for now because you get so many leftovers).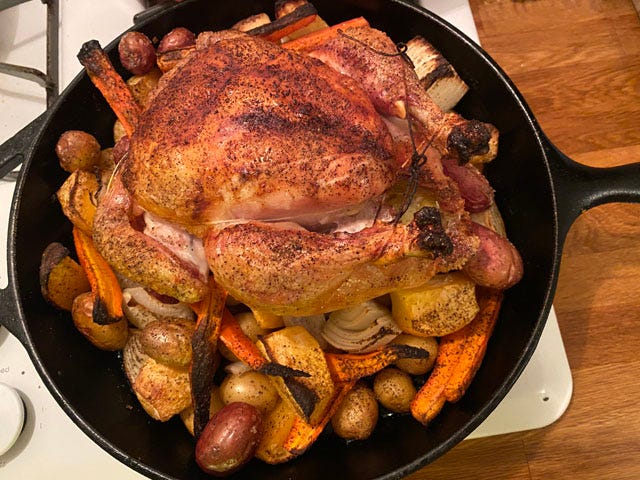 In fact, we only ate the dark meat that night, and then I used the breast the next day to make a dinner using onion, fennel, and garlic that I cooked in olive oil, adding canned tomatoes, reducing until thick, then stirring in the chopped-up leftover white meat. I served over very buttery, very cheesy polenta.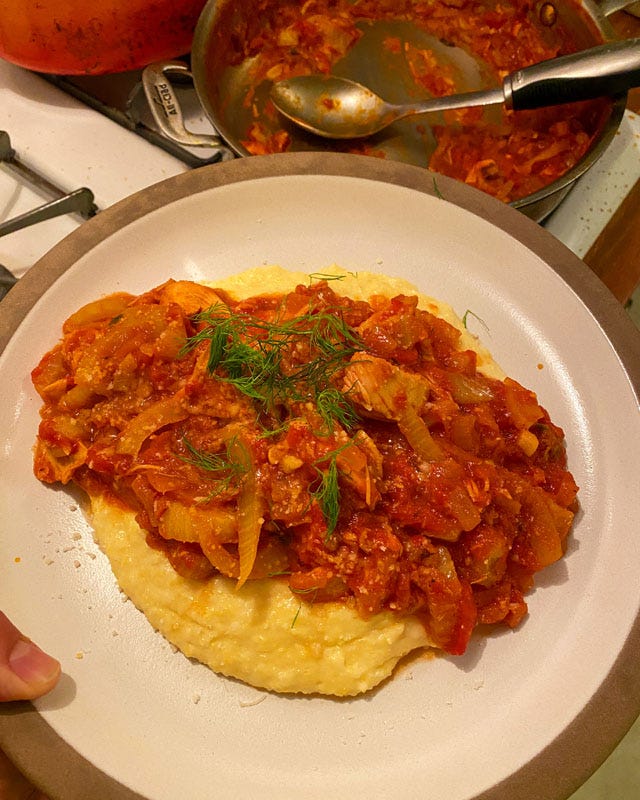 Of course, this is a good time to break out the Rancho Gordo beans I've been hanging on to for a while. On Saturday night, I made the Scarlett Runner beans -- simmering them with an onion, carrot, celery, garlic, and dried chiles (guajillo, etc) until tender -- then I finished them in a skillet with bacon, more mirepoix, and some of the cooking liquid. I served over rice and topped with quick-pickled onions, sour cream, and Cotija cheese.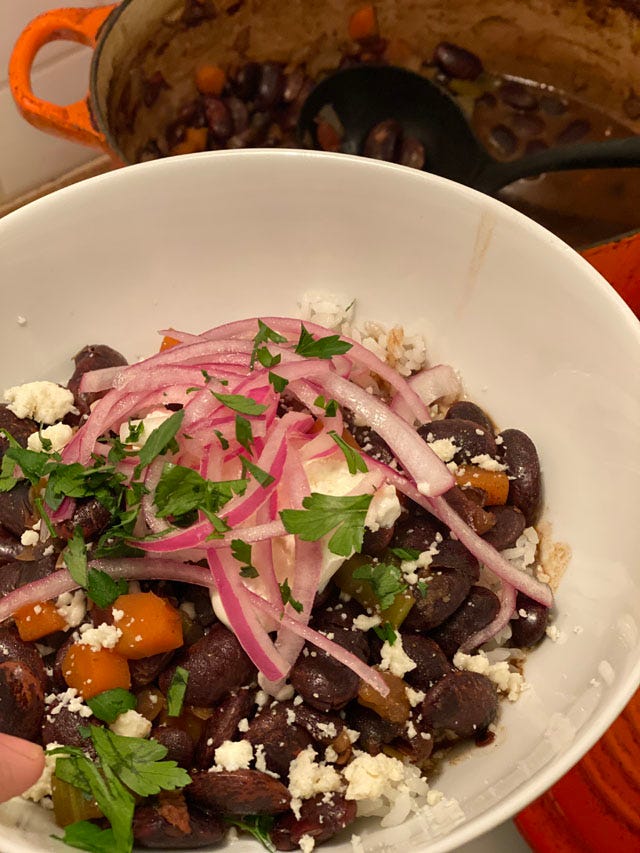 Our friend and neighbor Ryan White (who directed "The Keepers" and the Dr. Ruth documentary and the new, wonderful, "Visible") dropped by with his dog, Betty White, before we were more firmly practicing social distancing. (Now everyone is banned.)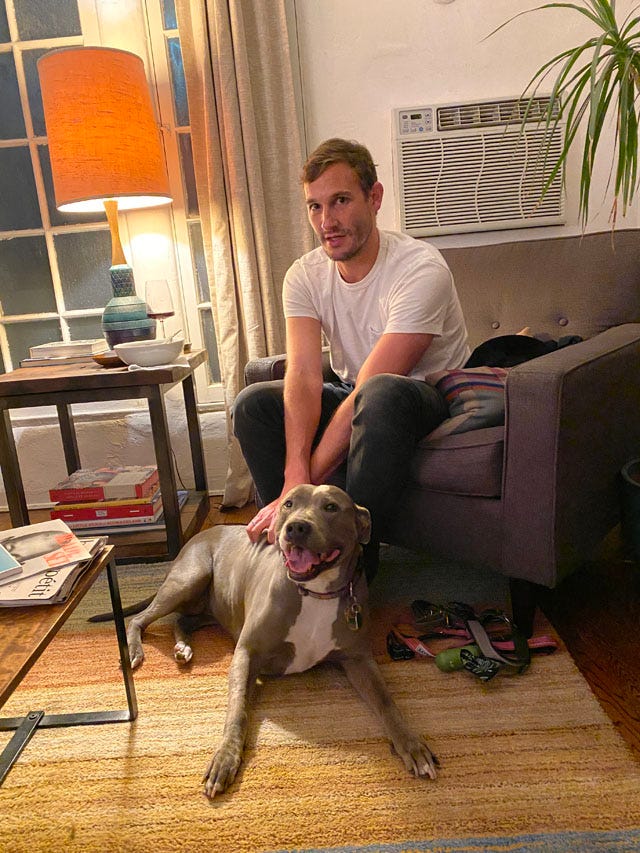 On Saturday morning, I made good old-fashioned French toast with bacon because the news was freaking us out and this was comforting.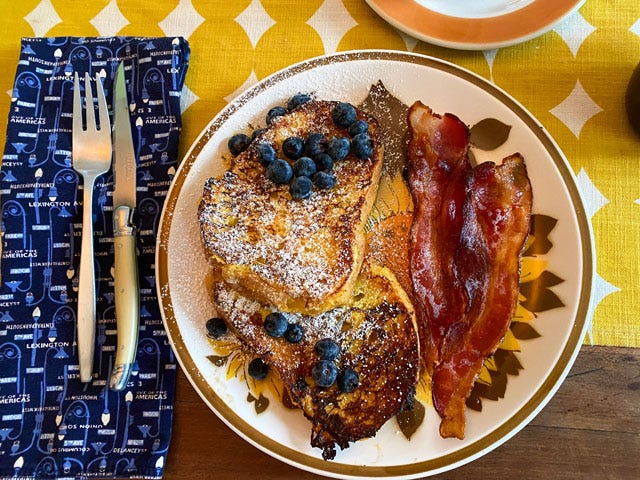 Then, yesterday, I made penne alla vodka for dinner (we really are craving comfort food these days):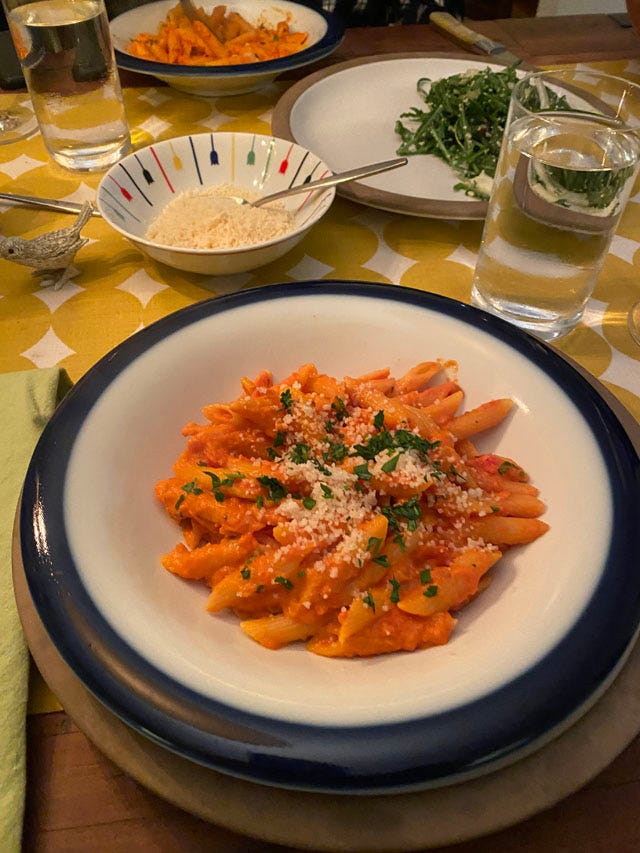 And Julia Moskin's Supernatural Brownies for dessert. If you haven't made them, they're my new favorite recipe (I used toasted hazelnuts instead of walnuts).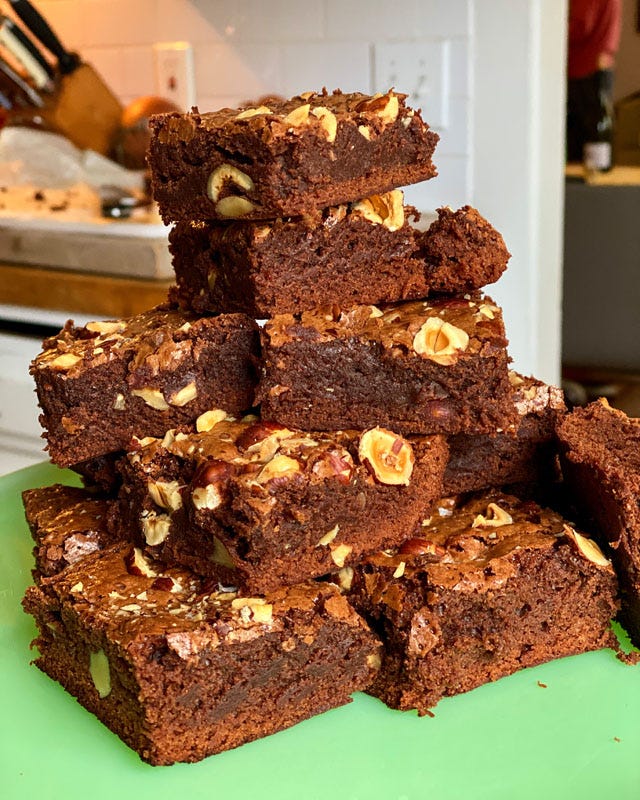 So, yes, I've been cooking up a storm. My hunch is that many of you have been too.

Sending lots of love your way: I know this is a stressful time for many.

Your friend,
Adam