Cooking in Quarantine!
Hey folks,

Here we are in week two of our quarantine. (Yes, I know it's voluntary social distancing and not quarantining if you're not sick, but quarantining sounds more official).

Before we get to all the cooking I've been doing, I'm excited to share this week's Lunch Therapy (recorded two weeks ago) with Bricia Lopez, co-owner of Guelagueta (one of the late, great Jonathan Gold's favorite Oaxacan restuarants in L.A.) and co-author of Oaxaca: Home Cooking from the Heart of Mexico.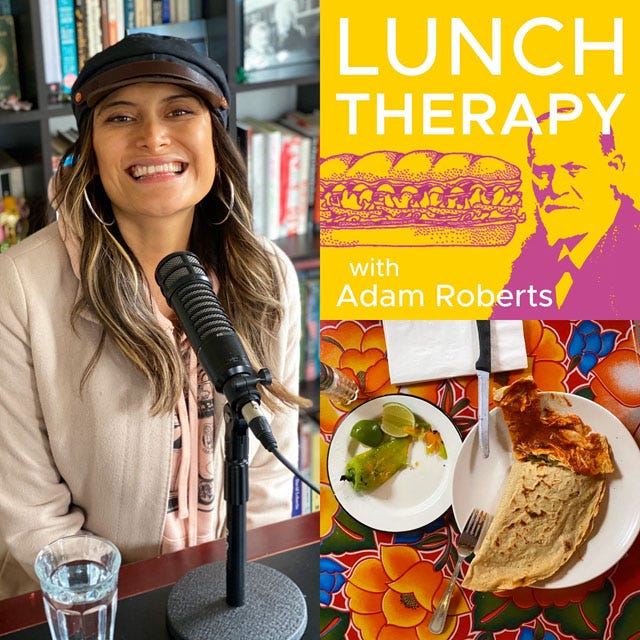 In today's session, Lopez talks about growing up in a restaurant, her family's journey from Oaxaca to L.A., sharing a single bedroom in her aunt's house with six of her family members (her parents and her three siblings), and why that was ultimately a positive experience. We also cover her obsession with Saved By The Bell and Full House, meeting Mario Lopez in real life, not being allowed to get sick as a kid, how McDonald's was the ultimate status symbol, and why yellow mole holds a special place in her heart.

CLICK HERE to listen.

And it's been a while since I've gotten any reviews on my Apple Podcasts page, so if you can take some of this free time and write one, I'd really appreciate it.

Ok... now on to quarantine cookery.

The best thing that I've made so far -- Craig said it was one of the best things I've ever made period -- was also one of the cheapest: braised lamb necks. Yes, lamb necks (I guess my Fergus Henderson episode really got to me).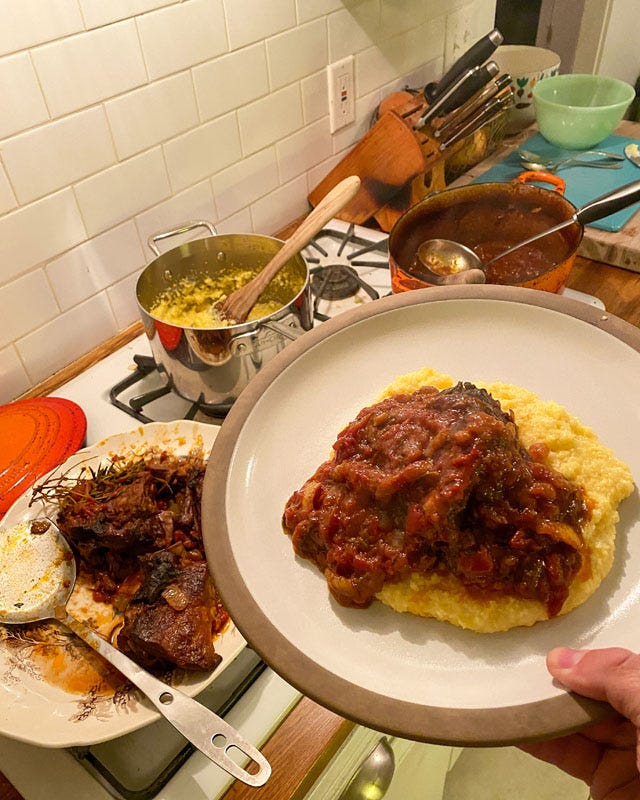 The lamb necks were the only meat left at Gelson's last week and they were $5 for a package of two. That's so cheap! But the secret is they have so much more flavor than a $50 rack of lamb. It's all about knowing what to do with them.

So here's what you do: season them well with salt and pepper and sear them in olive oil in a Dutch Oven until golden brown on all sides. (It's the most important step.) Take them out, pour out some of the oil, and then throw in all your aromatics: chopped onion, carrot, and celery (I didn't have carrot, but if you do, use it), a bunch of garlic cloves, the peel of a whole orange, a dried Arbol chile, and the real kicker: a few anchovies. (Anchovies pair well with lamb.) Cook until the onions are softened; then pour in half a bottle of red wine, a can of whole tomatoes that you crush yourself, and enough chicken stock to cover the lamb 3/4ths of the way when you put the lamb back in (put the lamb back in). Put the lid on, pop into a 350 oven, and in 2 1/2 hours, you'll have the most succulent, delicious lamb dinner of your life. Serve over buttery polenta.

What else have I been making? Well, I made the no-knead bread, only I subbed 1/2 rye flour for AP and it didn't rise as much. Still tasted good!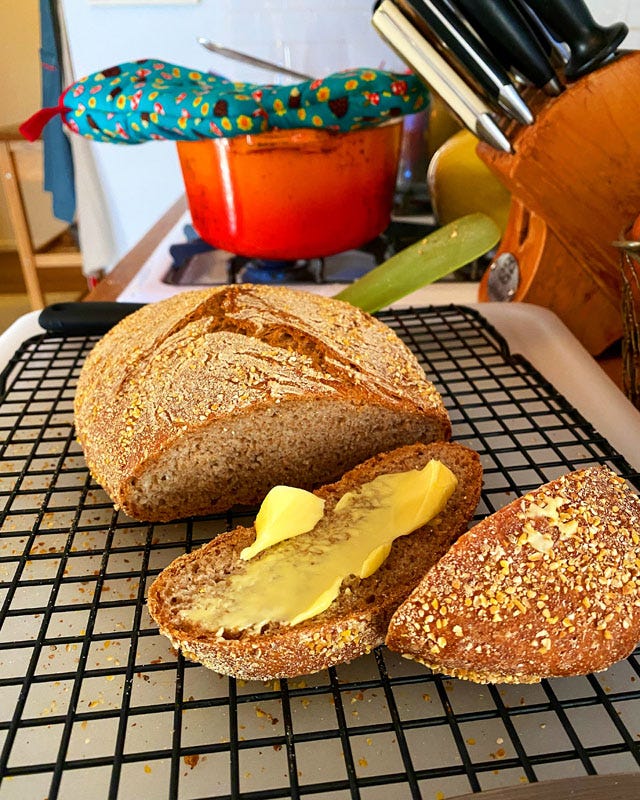 Oh! The other best thing that I've made so far was this super simple pasta of ricotta, lemon zest, lemon juice, Parmesan, and pasta cooking water.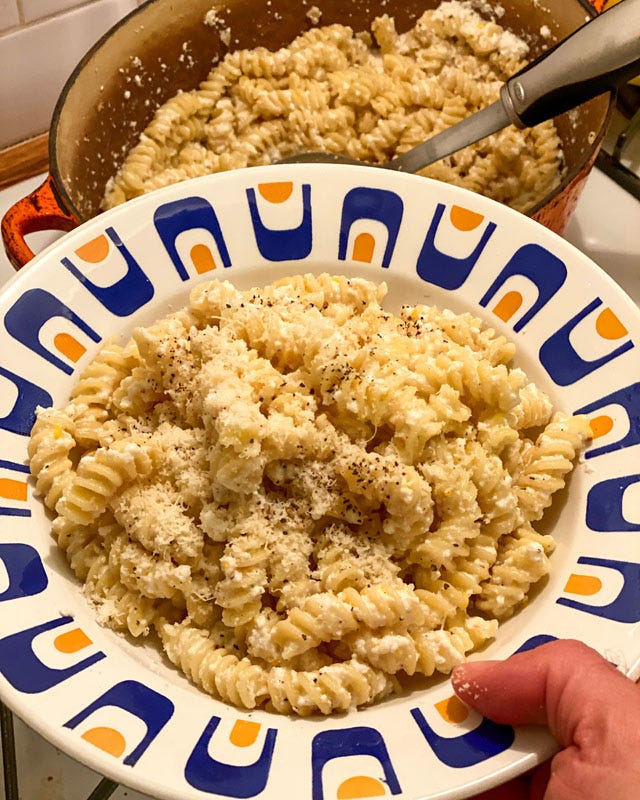 Listen how easy: boil fusilli in salted water. Conserve 1 cup of the pasta cooking water and drain the pasta (but don't rinse it). In that same pot, now add 1 cup of good ricotta cheese (make it yourself if you can't find it, it's easy), 1 cup of Parmesan cheese, the zest of a lemon, the juice of a lemon, and half a cup of the pasta cooking water, stirring all around to make a creamy sauce. Put the pasta in, stir rapidly, until everything is coated. Taste and adjust with more lemon, more cheese, and black pepper to finish. It's incredible. (The recipe's from the NYT.)

Yesterday, Craig asked me to make him his favorite grilled cheese. That involves slicing an onion and cooking it in a few tablespoons of butter until it's deep, dark, and profoundly caramelized. You put that on bread that you've coated in whole grain mustard and then pile on lots of grated white cheddar. Put butter in a skillet and make the grilled cheese like you'd make a normal grilled cheese (Craig taught me to do it on medium/low heat with the lid on to melt the cheese).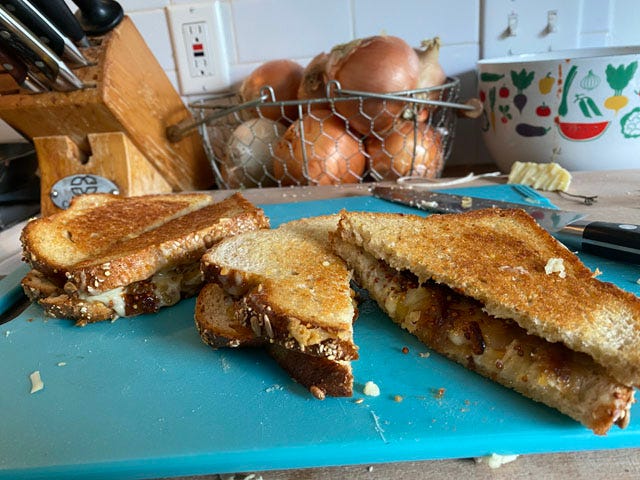 Finally, if you haven't made David Lebovitz's Kitchen Sink cookies yet, they're wonderful: not only because they require very little precious flour (I can't find AP flour anywhere), but because they're choc full of kinda healthy things like nuts and oats and coconut and dried cherries, so you don't have to feel that guilty eating them. (We ate all of them in two days.)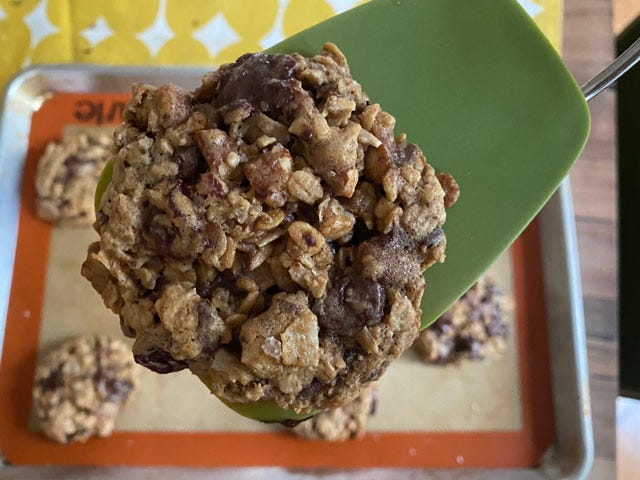 Ok, that's all for this week folks!

Until next time....

Your friend,
Adam (the "please review my podcast on Apple Podcasts because you've got so much free time!" guy)