One Chicken, Three Meals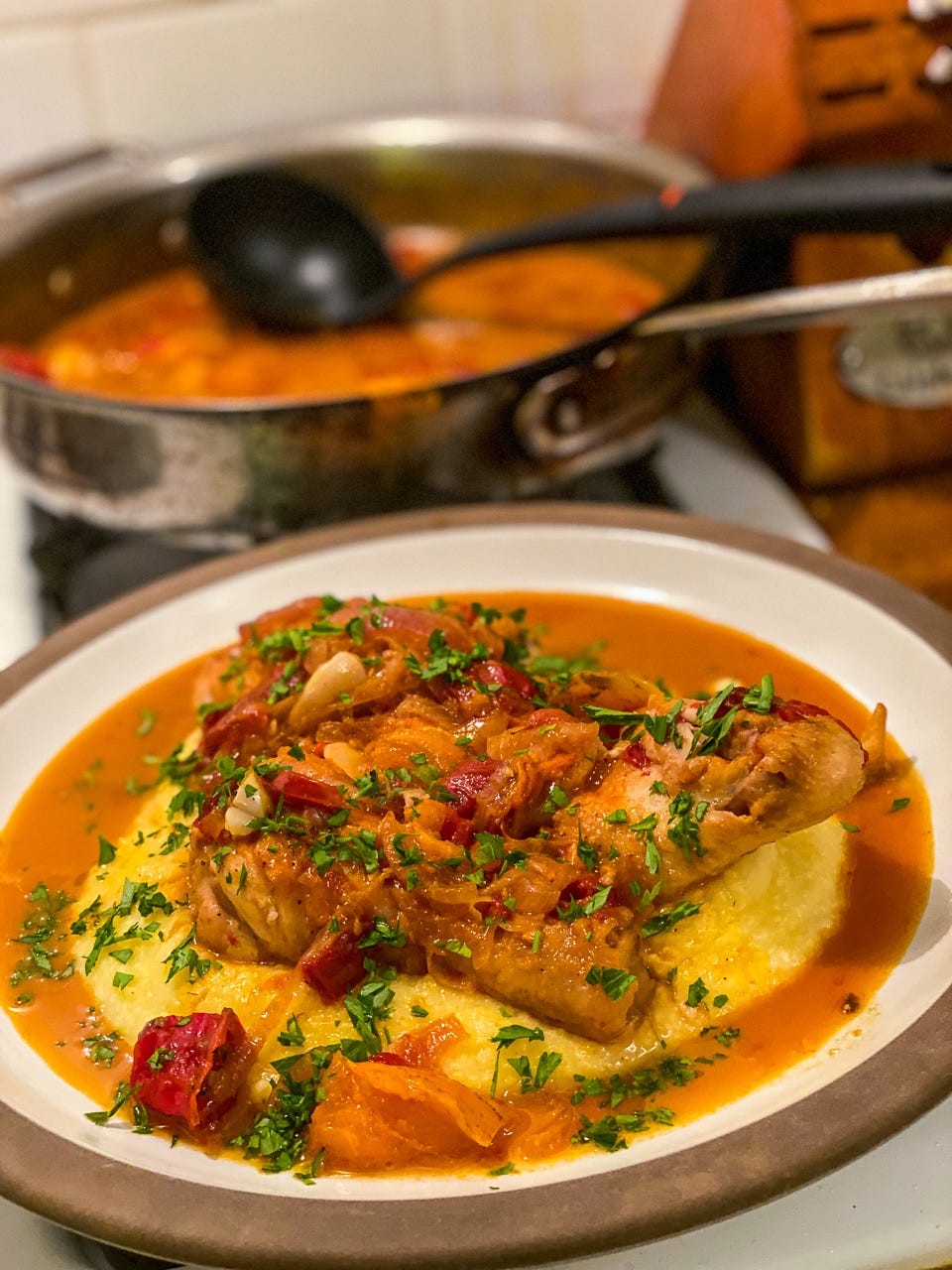 Hey gang,

I made a pretty dreamy braised chicken dish the other night using heirloom tomatoes (I'm buying as many tomatoes as I can before I have to accept that it's fall), which I then turned into the next day's lunch AND that night's amazing pasta dinner. You can click the image above or the link below to read all about it.

Here's some stuff that caught my interest on the web this week:
Besides the stuff I've been blogging about, I dug out a favorite biscuit recipe the other day -- this one -- and made biscuits with the leftover buttermilk from my fried chicken.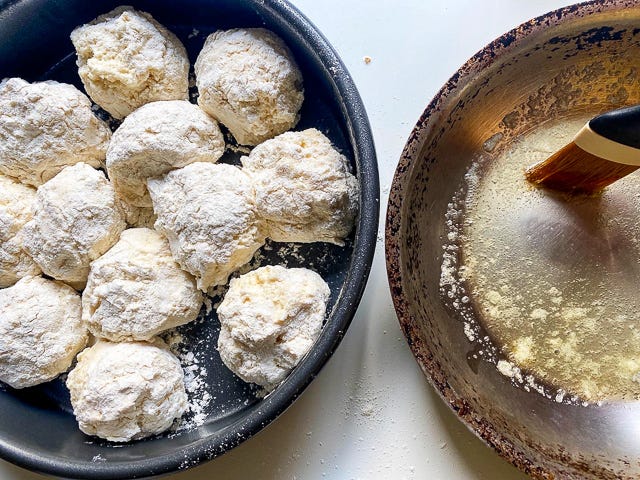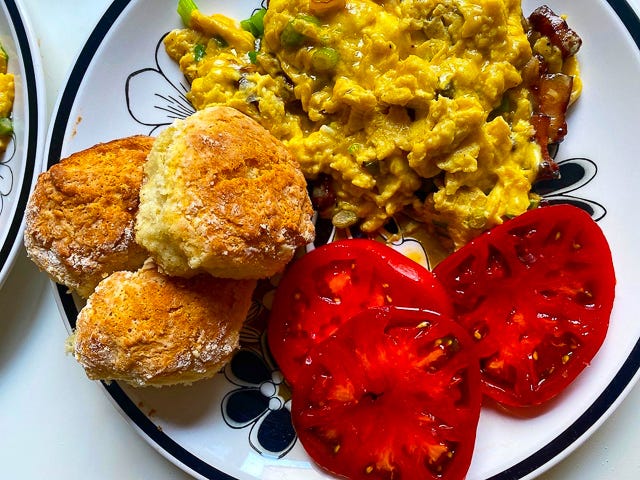 It's a great beginner recipe if you've never made biscuits before. You mix everything in one big bowl, use an ice cream scoop to lift the biscuits into a bowl of flour, and then lift them into a cake pan sprayed with cooking spray. You brush them with melted butter and into a very hot oven they go. They're so great and so easy.

Otherwise, I used one of those tomatoes I've been hoarding to make a quick salsa the other day. I chopped them and added them to a bowl with a minced Fresno chili, red onion, lots of lime juice, and cilantro. Then I scrambled eggs with cheddar cheese, warmed some corn tortillas directly on the gas burners until they were charred, and served up some breakfast tacos. (Here's a post from 2017 that walks you through it.)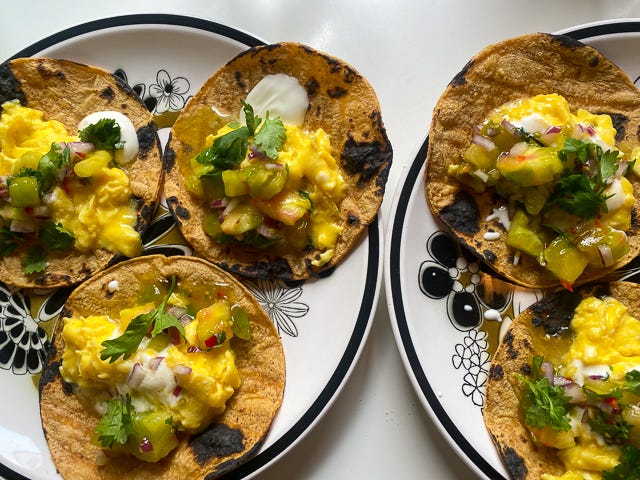 And that's about it cooking-wise!

In case you haven't been reading the news, there've been awful fires raging all over the west coast. The air quality in L.A. right now is terrible -- the sun was literally red when we walked Winston earlier -- so I hope everyone is staying safe with everything going on. We're going through some bleak times which is why cooking is such a necessary relief. Hope you'll treat yourself to some good food this week. We got donuts delivered today from Colorado Donuts and it was a wonderful decision.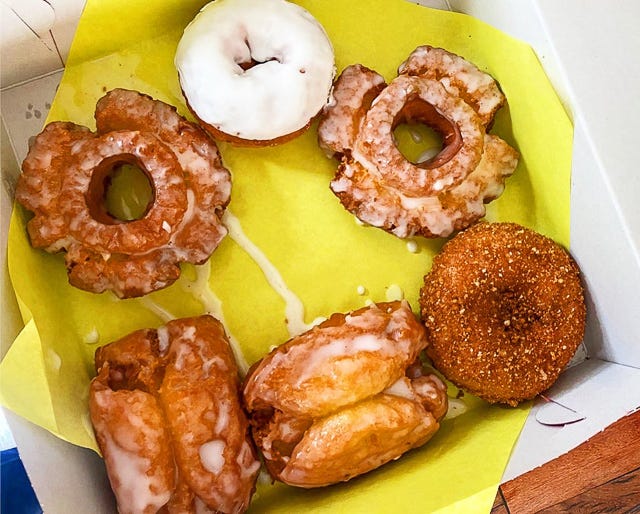 Until next time....

Your friend,
Adam (The Amateur Gourmet)
NEW ON THE BLOG!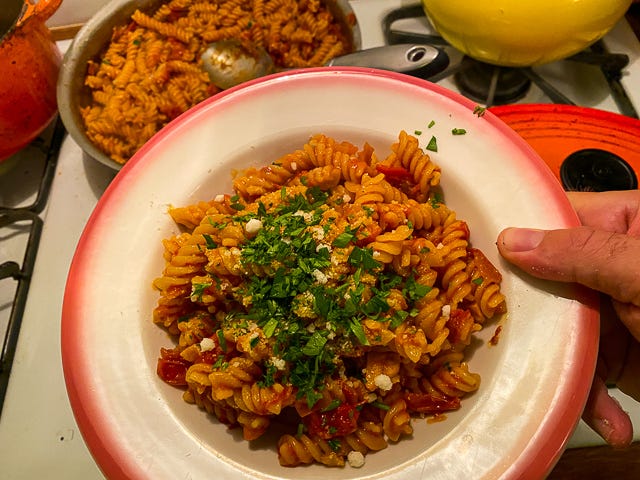 It's one of my favorite ways to cook: you cook one thing, turn the leftovers into another thing, and turn those leftovers into another thing. In this case, I braised a whole chicken with garlic, onion, white wine, and heirloom tomatoes, turned the breast meat into a delicious salad with crunchy cabbage, pistachios, and cherry tomatoes, and then turned the braising liquid into a wildly delicious pasta sauce. Click here to learn all about it.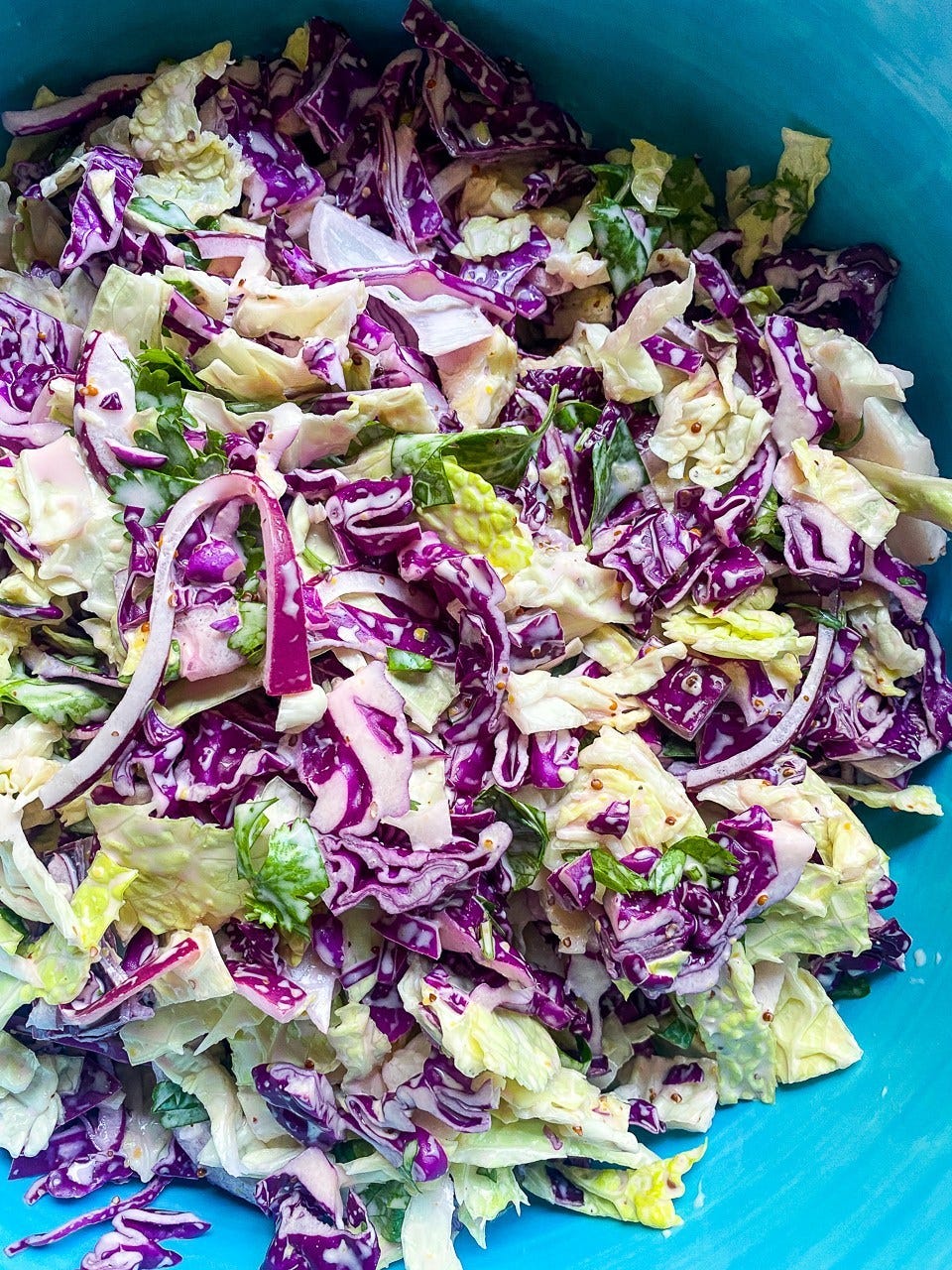 DON'T ASK ME ABOUT MY COLESLAW

No, seriously, don't ask me about my coleslaw. I know there's a link above this and I'm presumably asking you to ask me about my coleslaw, but you're being too psychological about it. Best to skip this whole section and move on to the next recipe.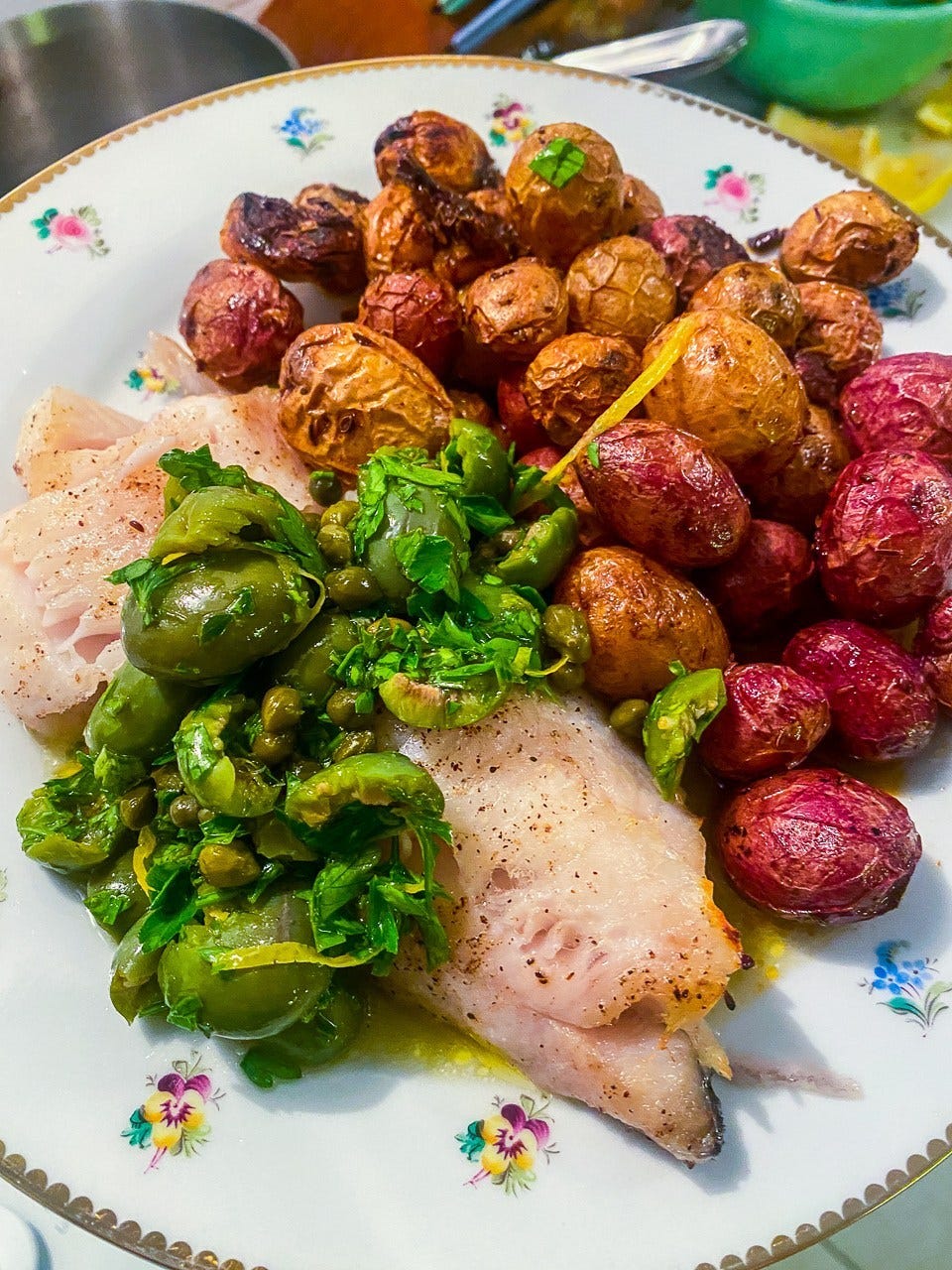 ONE-PAN COD AND POTATOES WITH AN OLIVE GREMOLATA

Maybe this isn't the kind of recipe that sets the internet on fire, but for me it was a revelation to learn that you can roast potatoes in a cast iron skillet and then lay some fish on top and finish the whole thing under the broiler. It makes clean-up a cinch and then you can top the whole thing with a zesty sauce made with olives, capers, parsley, lemon juice, lemon zest, and olive oil.
FALLING INTO FALL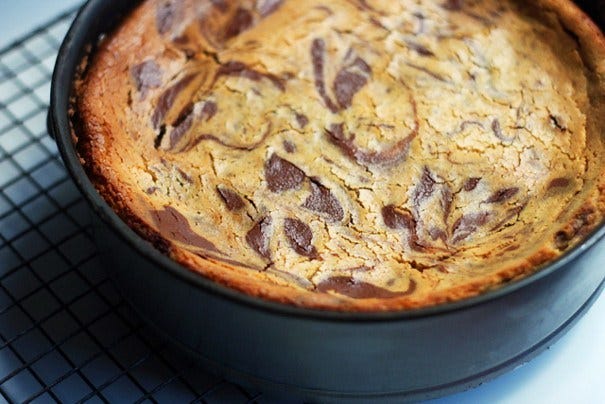 Okay, are we doing this? Ready to say that summer's over? I mean, L.A.'s on fire, we're not going swimming any time soon. We're ordering donuts on Postmates. So why not make a cheesecake? This one's a great one to have up your sleeve: great for a fall dinner party, great for Halloween, great for Thanksgiving. And, I won't tell anyone, but you can skip the water bath if you really want to.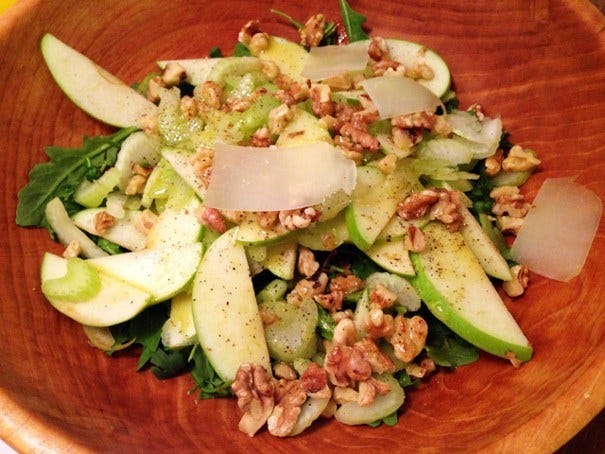 This is a refreshing, crunchy combination of autumn salad ingredients: goodbye tomatoes, hello apples, celery, fennel. With some toasted walnuts you get even more crunch and that nuttiness that balances things out. Garlic in the salad dressing. Some slivers of cheese on top. What could be bad?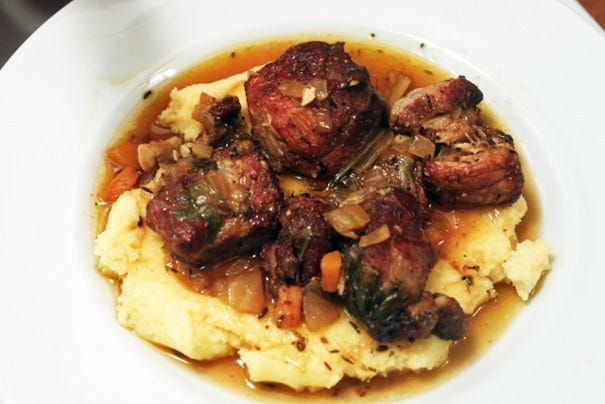 SPICED PORK STEW WITH POLENTA
Here's a lovely braised pork dish that I once screwed up by putting plastic wrap on top (it's a long story) but this is a hearty, nourishing pork stew from none other than Suzanne Goin, one of my favorite chefs. We started this newsletter with braised chicken over polenta and ended with braised pork over polenta. Your pick!