How To Cook Fingerling Potatoes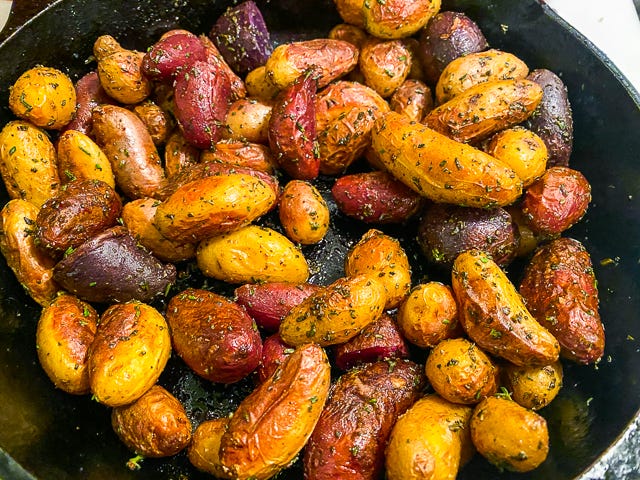 Hey everyone,

I hope you had a restful weekend!

Me? As usual, I was cooking up a storm. In fact, I cooked so many things, I don't think I can write about everything in my blog or newsletter. But don't worry: I'll write about the highlights.

For example, the fingerling potatoes you see above. I was watching America's Test Kitchen, as I'm wont to do on a Saturday, and Chef Elle Simone (my favorite guest chef) revealed a technique for roasting fingerlings that changed the game for me forever. What is it?

You'll have to CLICK HERE to find out.

On Friday, I was craving banana bread because I had some very ripe bananas. So I whipped one up with Comice pears, pistachios, and cardamom.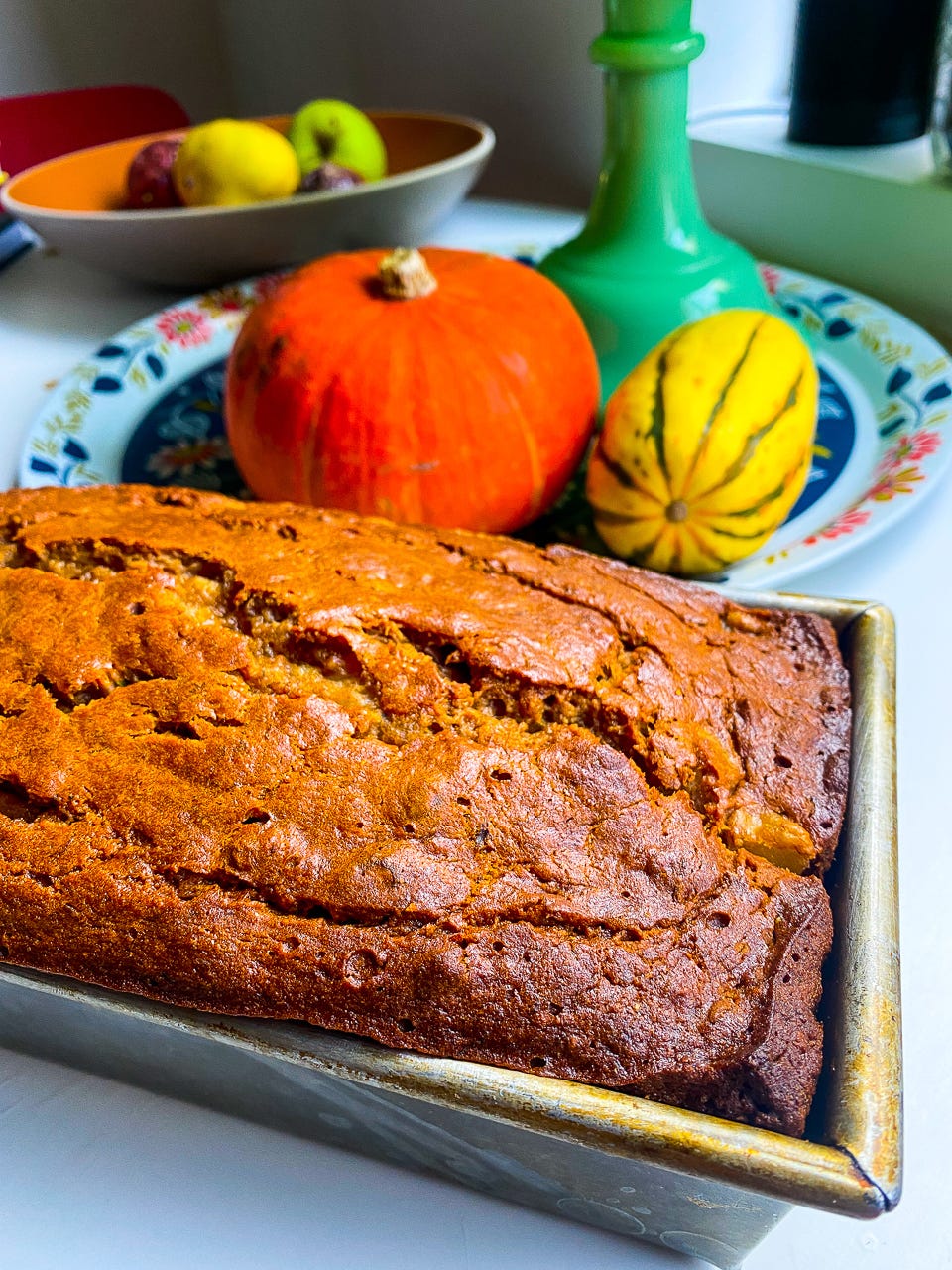 Click the picture or CLICK HERE to learn how to add flair to your banana bread.

Last week, I blogged about my Spiced Pork Chops with Delicata Squash and Apple Chutney.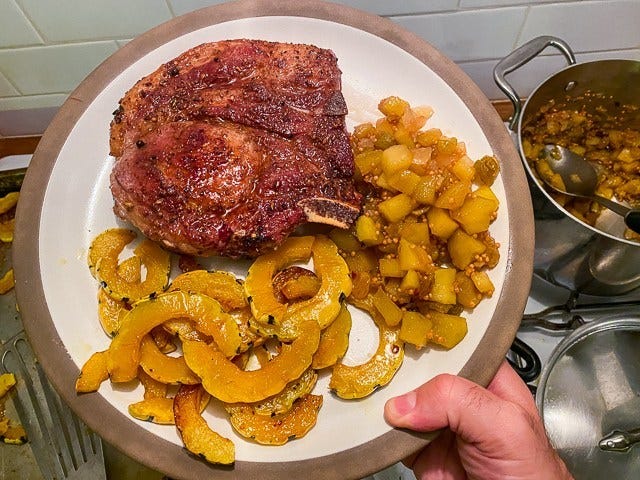 It was a dinner so good -- featuring a pork chop from Peads & Barnett's at the Hollywood Farmer's Market -- I made it again last night, subbing the squash for the previously mentioned fingerlings, and using leftover chutney from last week. Click that picture or HERE for the recipe.

Finally, I improvised a semi-healthy dinner last week of French Green Lentils with Bacon, Red Wine, and Mushrooms.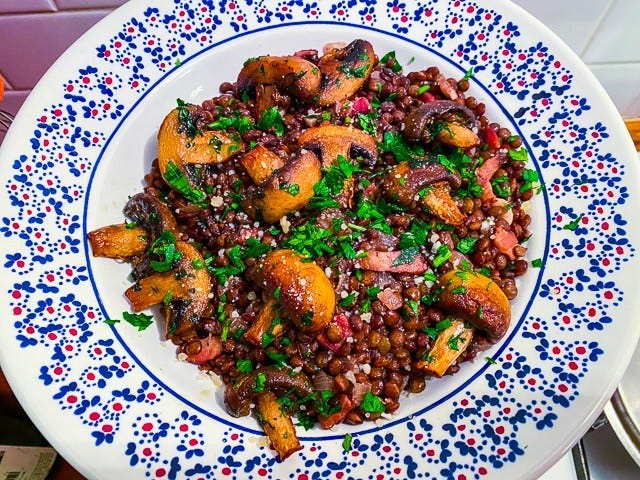 It's a dinner that feels nourishing, because of the lentils (a superfood), but gestures ever-so-slightly towards the naughty side, with the bacon and the meaty-tasting mushrooms. It's a dinner I'll definitely make again. (Click HERE or the picture for the recipe.)

Like that bowl? I got it from Replacements.com after realizing that the beloved bowl that I broke a few weeks ago was by Richard Ginori. So I found two colorful flower bowls: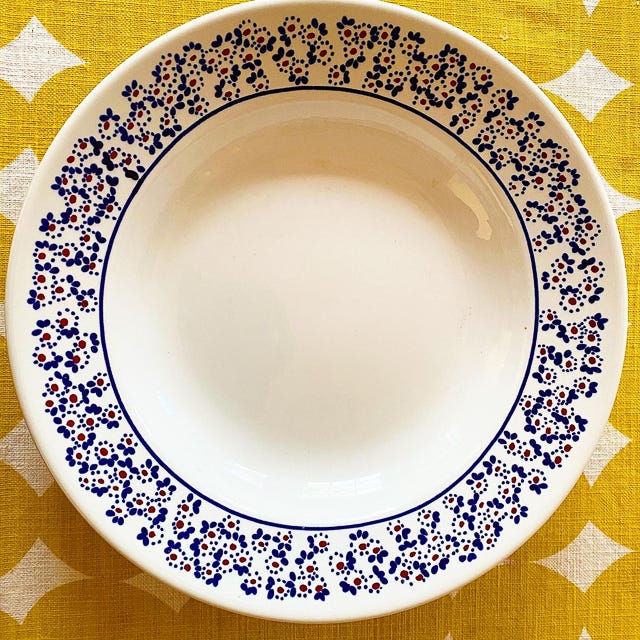 And this really cool Pinocchio bowl that's a little small for pasta, but would be great for cereal.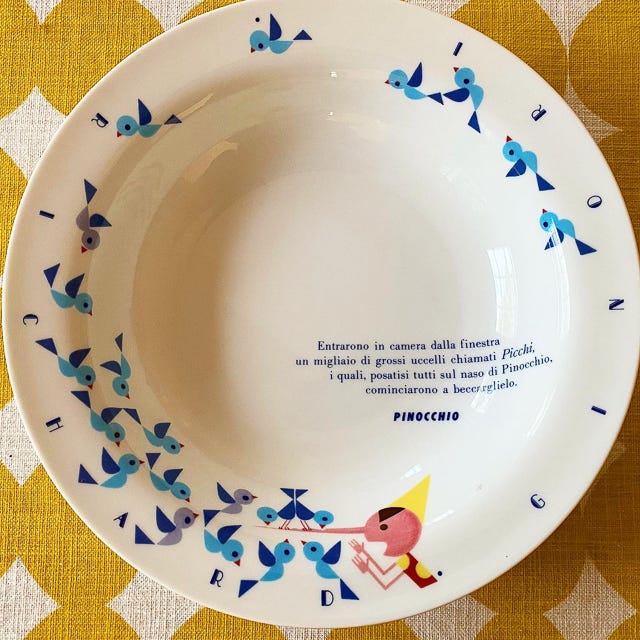 Remember last week I told you I'm doing Instagram Lives every Friday at 2 PST with interesting guests?

Well this week it was Edd Kimber, aka The Boy Who Bakes, winner of the first season of the Great British Baking Show and author of One Tin Bakes. We talked about all kinds of fascinating stuff: what Paul Hollywood was like before he was Paul Hollywood, why bakery writing doesn't get the same respect as cookery writing in the U.K., and how he comes up with new ideas for recipes. Click the picture to watch the video.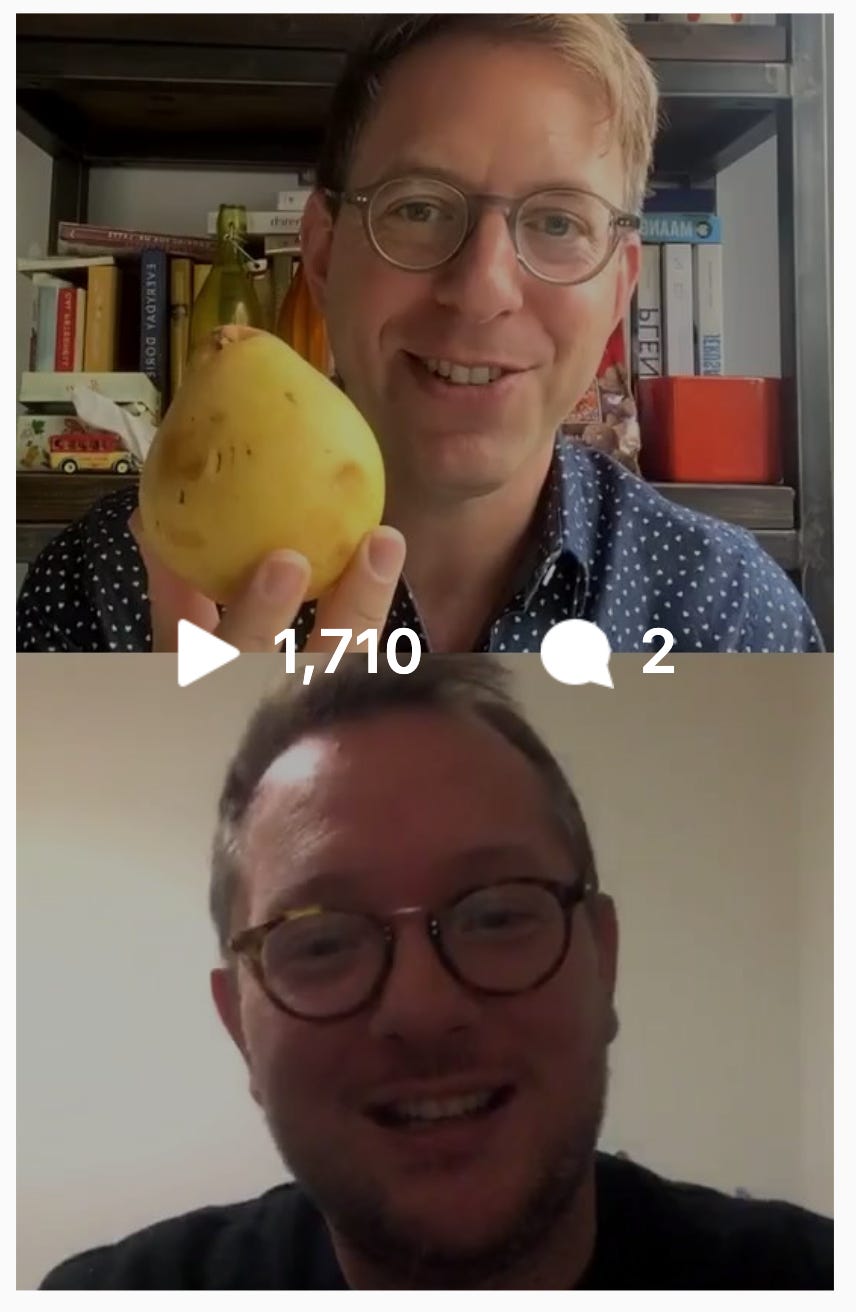 Tune in this Friday at 2 PST on my Instagram for my very special guest: NICOLE RUCKER.

What else?

I made the most incredible dinner the other night using my friend Ben Mims' recipe for tamarind lamb shanks; except, I used lamb shoulder and they came out sticky, sweet, meaty, and delicious. Here's the link to Ben's recipe and here's a pic of my finished dish.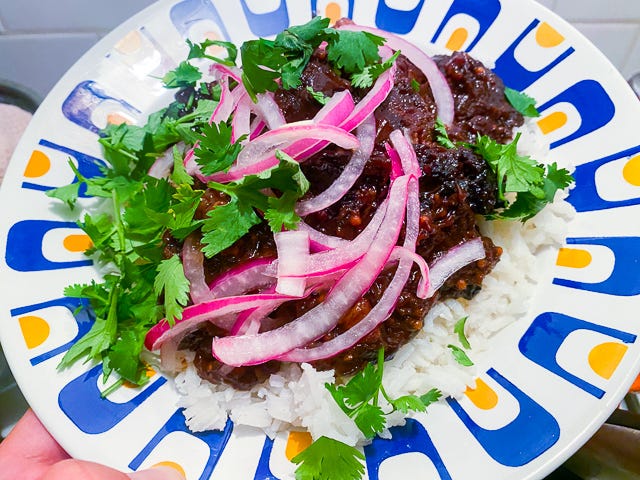 Oh, I also made a really good salad last week using Melissa Clark's recipe for Delicata Squash and Radicchio Salad with Buttermilk Dressing.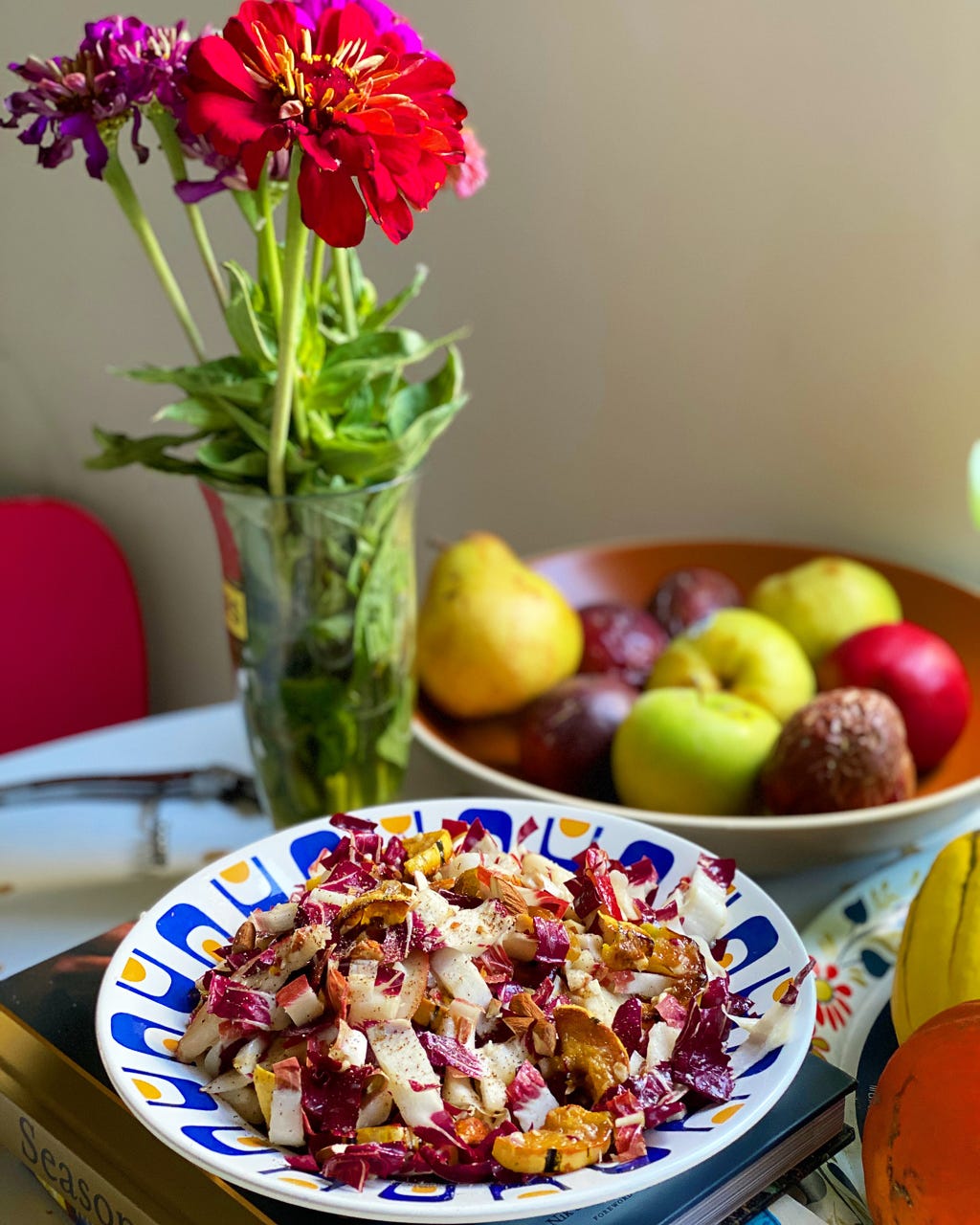 I just used the leftover delicata squash from the pork chop dinner (always a good idea to make too much).

Winston enjoyed many trips to the dog park last week while Craig is off directing a show for Netflix.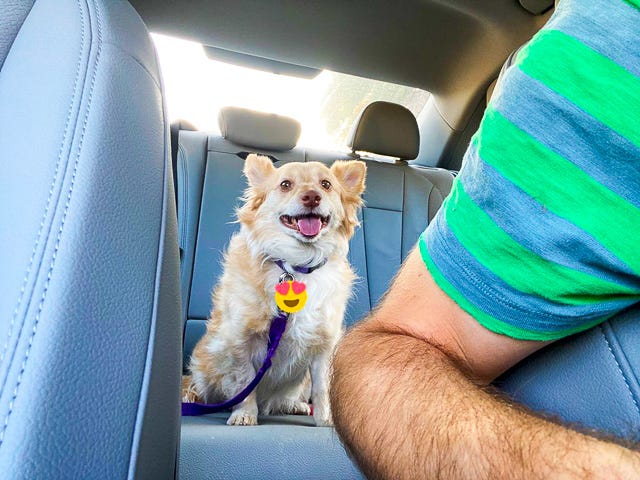 Okay, here are the links that grabbed my attention on the web this week!
Okay, that's all for this week, folks!

Until next time....

Your friend,
Adam (The Amateur Gourmet)