Nancy Silverton's Epic Eggplant Lasagna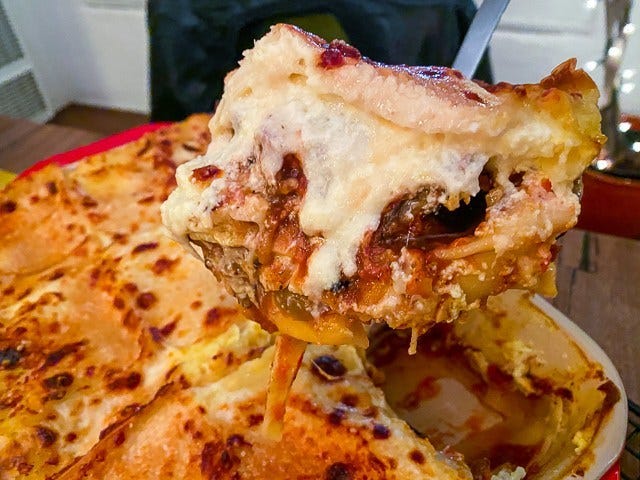 Hello my little elves,

I've been cooking so much lately, writing this newsletter feels more like an intervention than a celebration.

But celebrate we shall, especially when I tell you about Nancy Silverton's epic eggplant lasagna! I made this a few Christmases ago for a large gathering (remember those?) and I always remembered the incredible scope of it: the saucy, zesty tomato eggplant layer with the surprising addition of za'atar; the incredible cheese sauce / Bechamel with mozzarella, ricotta, and Parmesan; and then the burnished top which you finish under the broiler. It's the kind of holiday dinner that doesn't even make you think of the V-word (that V-word being vegetarian) but if you have Vs in your family, this is a terrific option. CLICK HERE for the recipe.

This weekend, I remembered that I was Jewish and went all out. We lit the menorah, I made Borscht (I'll post about that on Wednesday), and then I cooked up my usual batch of latkes.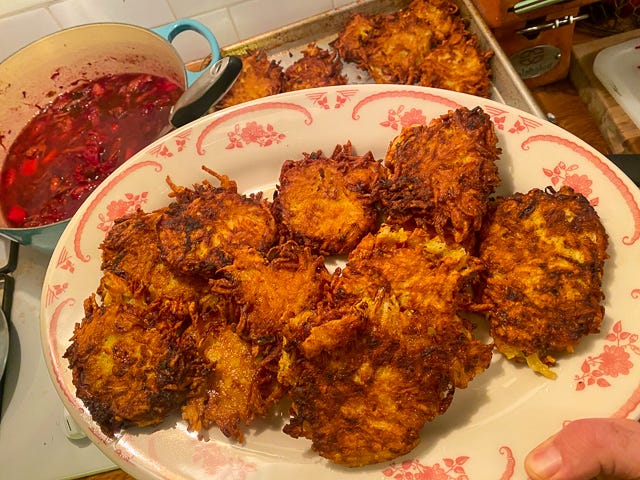 Back in the day, I used to make 300 latkes for our annual latke party... for obvious reasons, that's not happening this year. But I pretty much have the latke recipe memorized (which is a riff on Smitten Kitchen's): grate 5 peeled russet potatoes and 3 onions on a box grater (painful) or using the grating disc on a food processor (much easier). Place in a kitchen towel and squeeze out all of the liquid.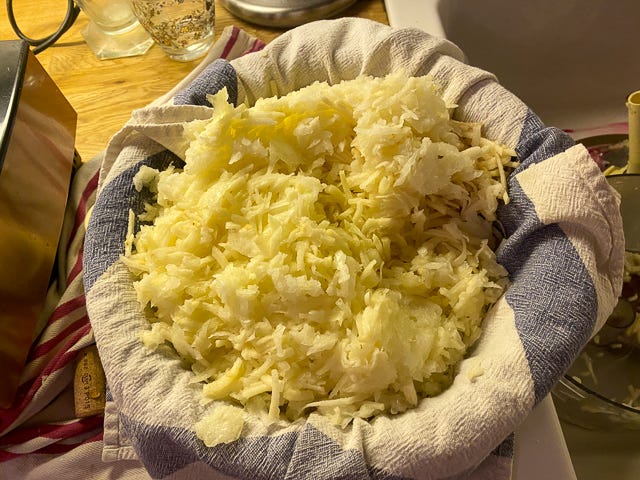 In a large bowl, crack 5 eggs, whisk in 5 teaspoons salt and 1 teaspoon pepper. Add the potatoes and onions, mix with your hands, then add 1 1/4 cups flour or matzo meal. Mix all together. Then in your largest cast iron skillet, heat a layer of Canola oil (don't skimp here... the holiday's about oil, after all!). Crank up the heat and when it's hot (add a potato shred and it should sizzle), use an ice cream scoop to drop in a few latkes at a time. Fry until golden on one side, pressing down slightly, then flip and finish on the other side.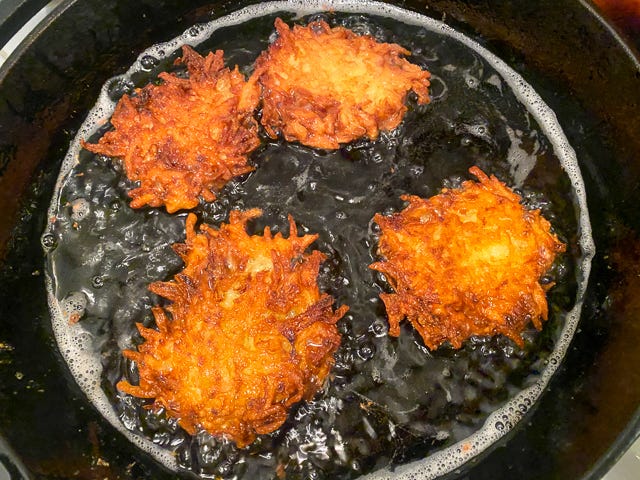 Serve with apple sauce or sour cream. My niece recently sang a song about it!

Keeping with the brown food theme, on Saturday I made Luisa Weiss's German Apple Almond Cake.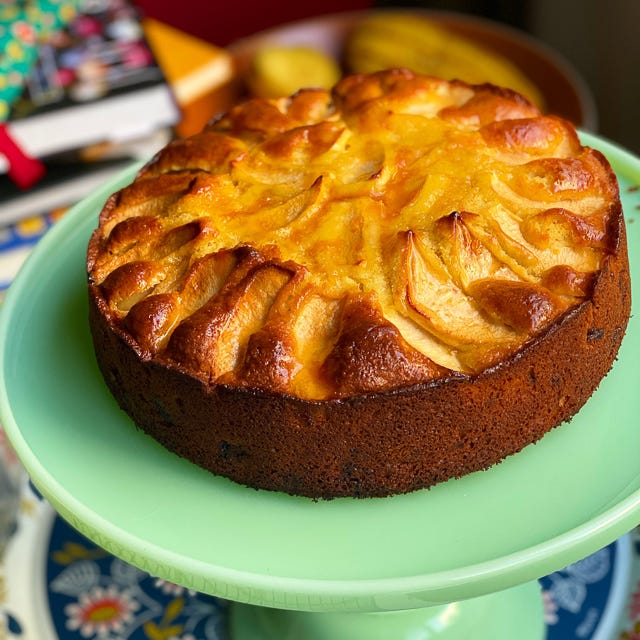 There was some debate about whether I should use an apricot glaze. Actually, there was zero debate, I was just feeling lazy, but then the recipe author herself and Iron Chef Alex Guarnaschelli weighed in, so I had no choice. And I'm glad I glazed: look how pretty it looks.

Last week, I made a pasta with Brussels sprouts and bacon, combining two recipes: this one from Bon Appetit and this one from Melissa Clark.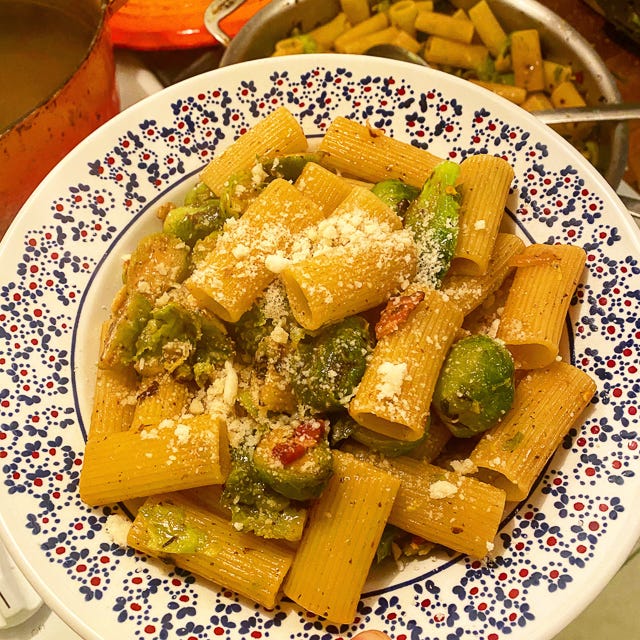 I would've gone all-in on the Melissa Clark recipe, but I only had rigatoni, and I thought the shredded Brussels would've gotten lost in the fray. So I cooked bacon, fried up Brussel halves in the hot bacon fat, added garlic, white wine, and finished with lemon zest, lemon juice, and lots of Parmesan. Okay, and a little butter. It was dreamy.

Our friend's dad didn't want his CSA fruit box, so it was gifted to us... I think this is all I'll be eating this week.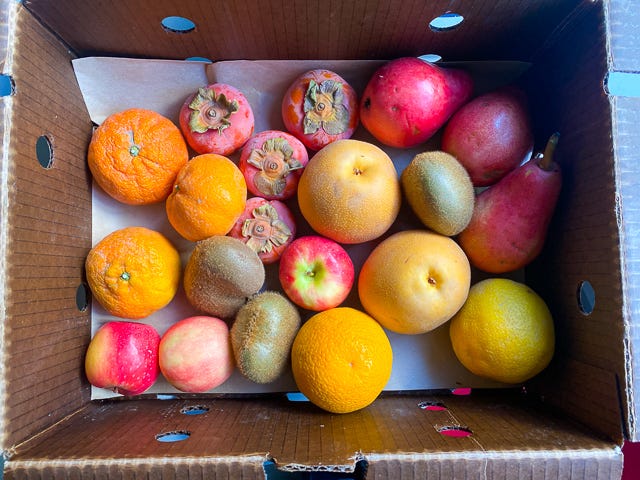 Oh, and don't be too jealous, but look what my parents gifted me for Hanukkah. (That's a 7-quart Le Creuset in Caribbean blue.) Even better than the time they got me a Nintendo with Duck Hunt!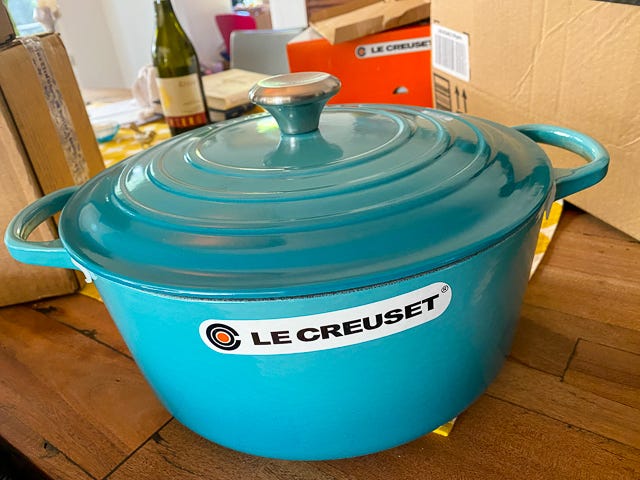 Now for what caught my attention on the web recently:
That's all for this week folks!

Until next time....

Your friend,
Adam (The Amateur Gourmet)