Lemon Tree Chess Pie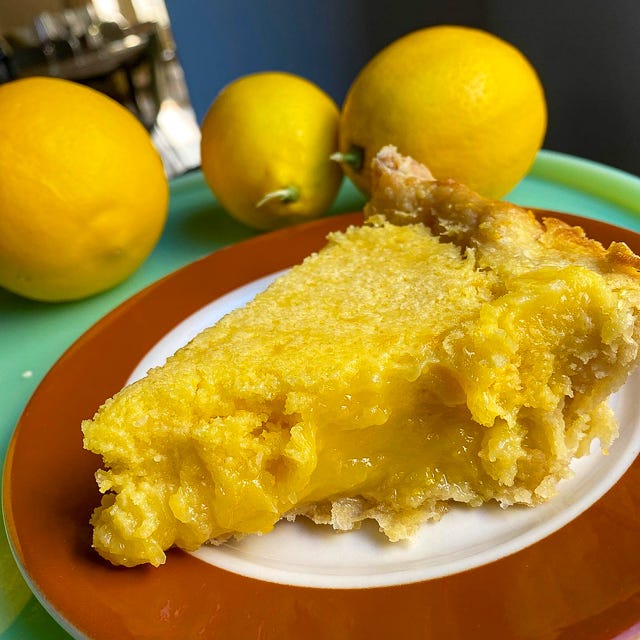 Happy New Year everyone!

Boy, was that a shitshow. No, not 2020 (though that was one too)... our first few nights of 2021. Winston ate up a bunch of pie crumbs from the pie you see above and made himself sick. That's all I'm going to say about that, but the vet says he's in good health, he just needs to eat rice and plain chicken for the next few days... which he loves.

So what's the deal with this pie? Well there's a Meyer lemon tree next to our apartment building that's full of lemons right now.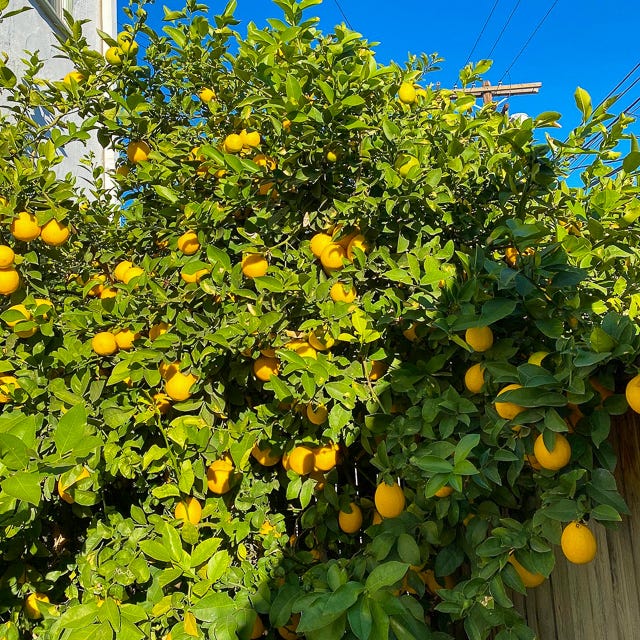 Unsure of what to do with them, I opened Nicole Rucker's wonderful cookbook Dappled and found her recipe for chess pie. It's pretty simple: you make a pie crust, you bake it with pie weights (I used lentils and rice), then fill it with a mixture of lemon juice, lemon zest, eggs, melted butter, and sugar. Since I already shared a few recipes from her book, I don't feel right sharing this one... So you'll have to go and buy it. It's a great recipe.

How were your holidays?

Craig spent his first Christmas away from his family, the responsible thing to do considering the circumstances. I tried to keep things cheery by making a festive dinner. The secret ingredient? White truffle butter. It wasn't that expensive -- maybe $10? -- and I slathered it all over my usual roast chicken. But wow, what a difference it made. Four stars!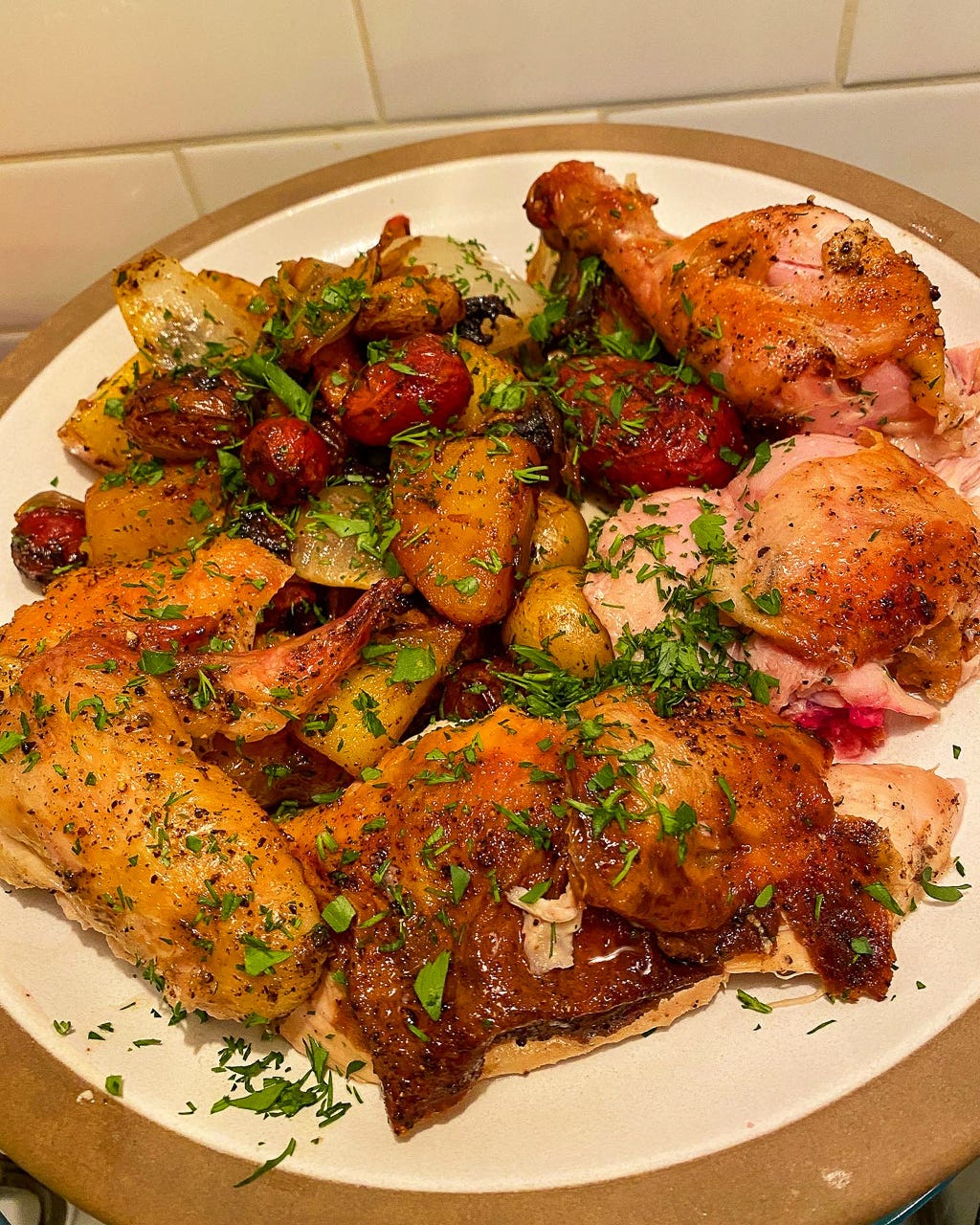 For dessert that night I made apple pie (using Craig's dad's recipe).

Then, for New Year's, I decided to buy a nice bottle of champagne and make deviled eggs as a first course.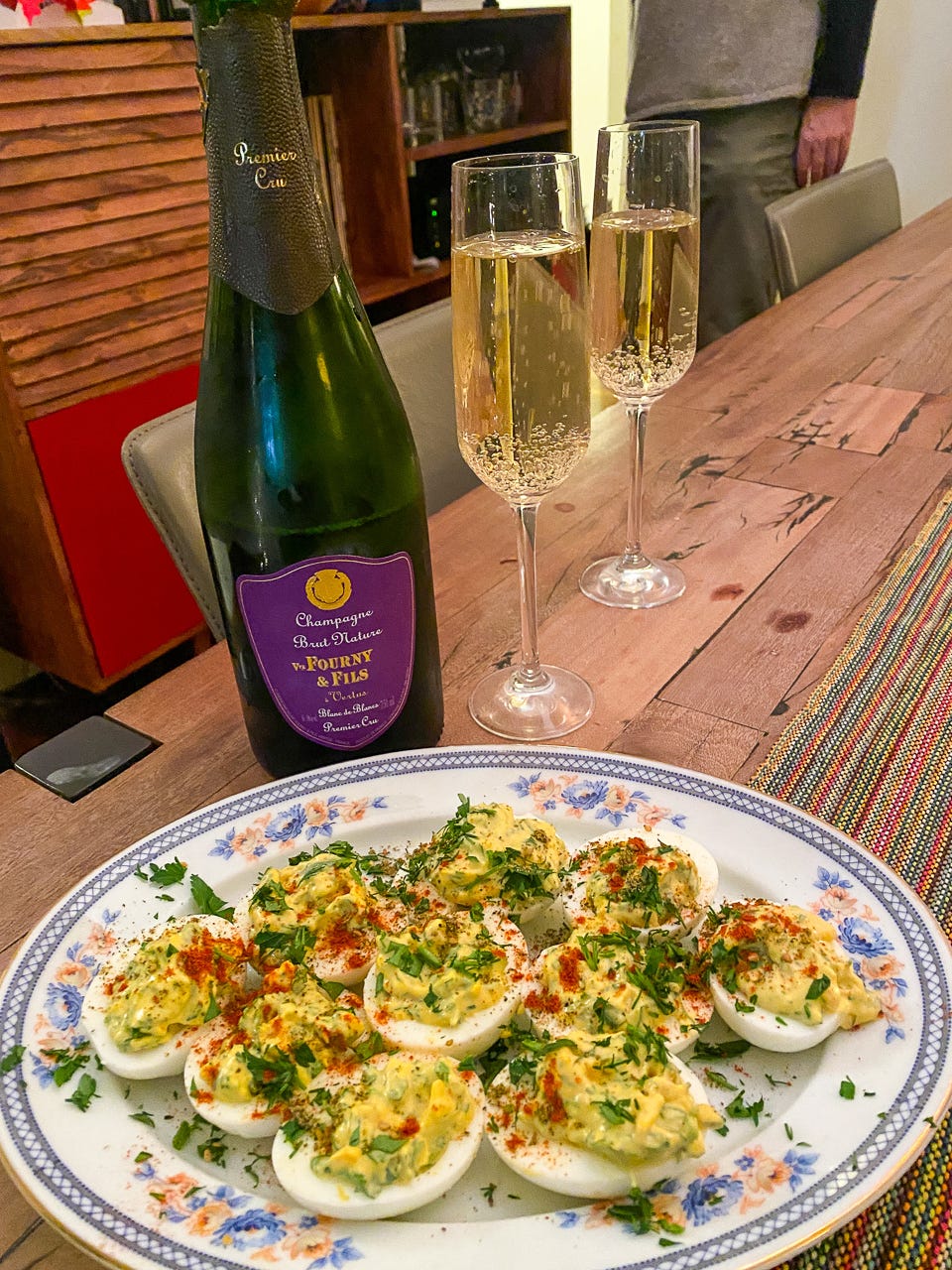 I used this recipe from Bon Appetit, a real winner, though I improvised with lots of herbs (parsley, dill).

For our main course, Ben Mims gifted us his legendary lasagna, which comes from this recipe in Saveur.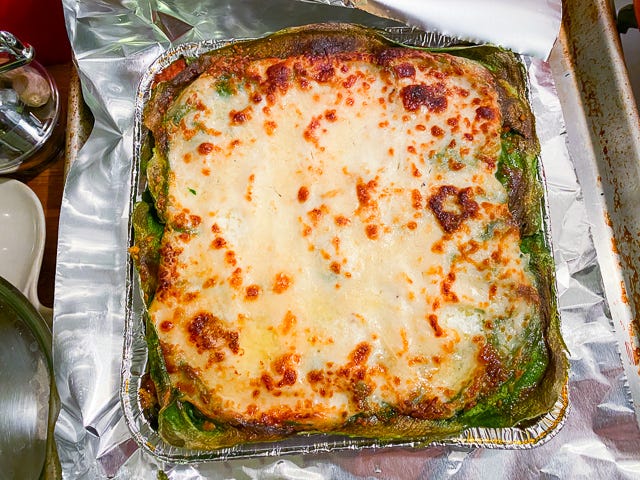 And for dessert we had the previously mentioned lemon pie.

Oh, I forgot to mention that for Christmas dinner we started with leeks vinaigrette... which Craig requested because he loved eating it in Paris two years ago.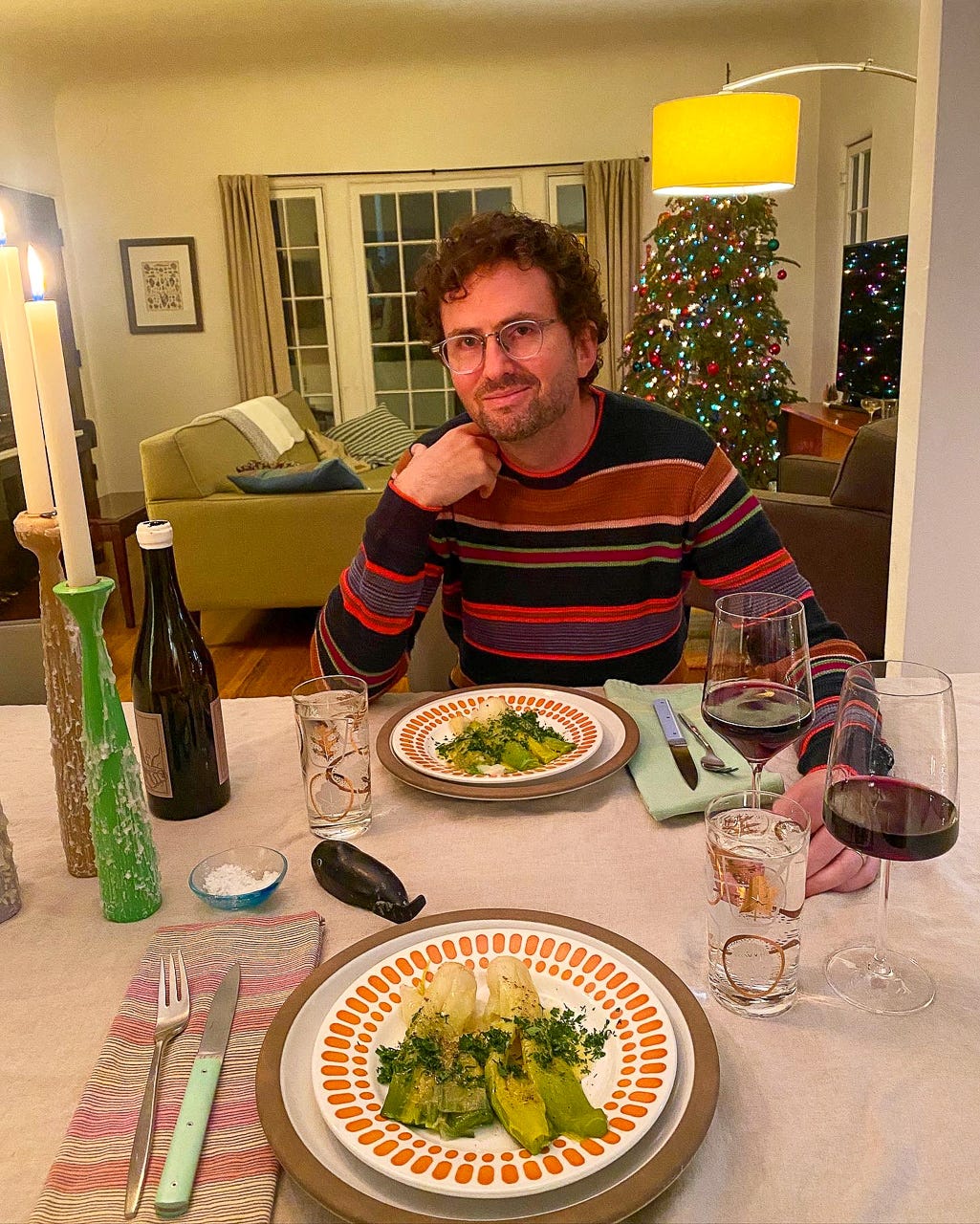 I thought they'd be tricky to make, but you just boil leeks in salted water until a knife goes through easily, pat them very dry. and dress with a mustardy vinaigrette. I topped with good olive oil, lemon juice, and lots of chopped parsley.

For Christmas, Craig got me a Nintendo Switch, so I've been spending a lot of time gardening...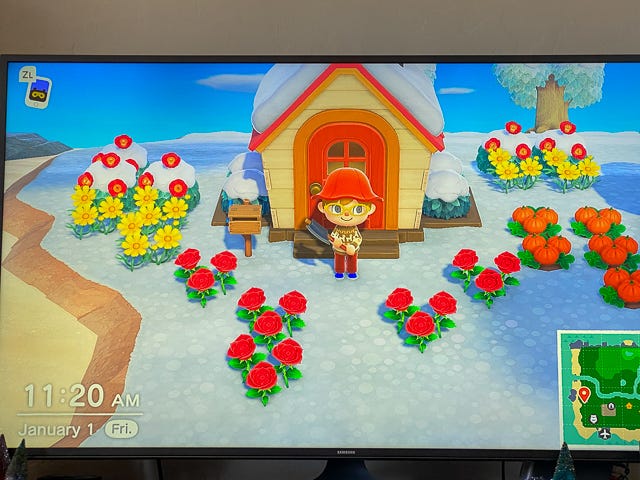 ... and cooking in Zelda.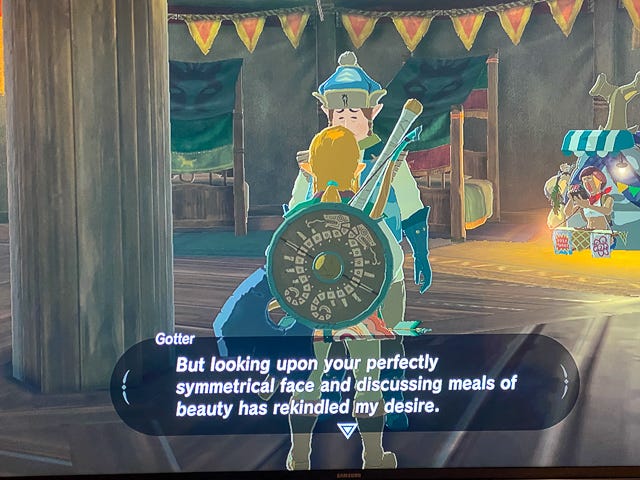 (I just learned a great trick for making money by selling cooked steaks.)

Here's what caught my attention on the web over the past two weeks:
That's all for this week folks!

Here's hoping we get a better night's sleep tonight and that Winston feels better. I mean, how can anyone be annoyed at that cute face?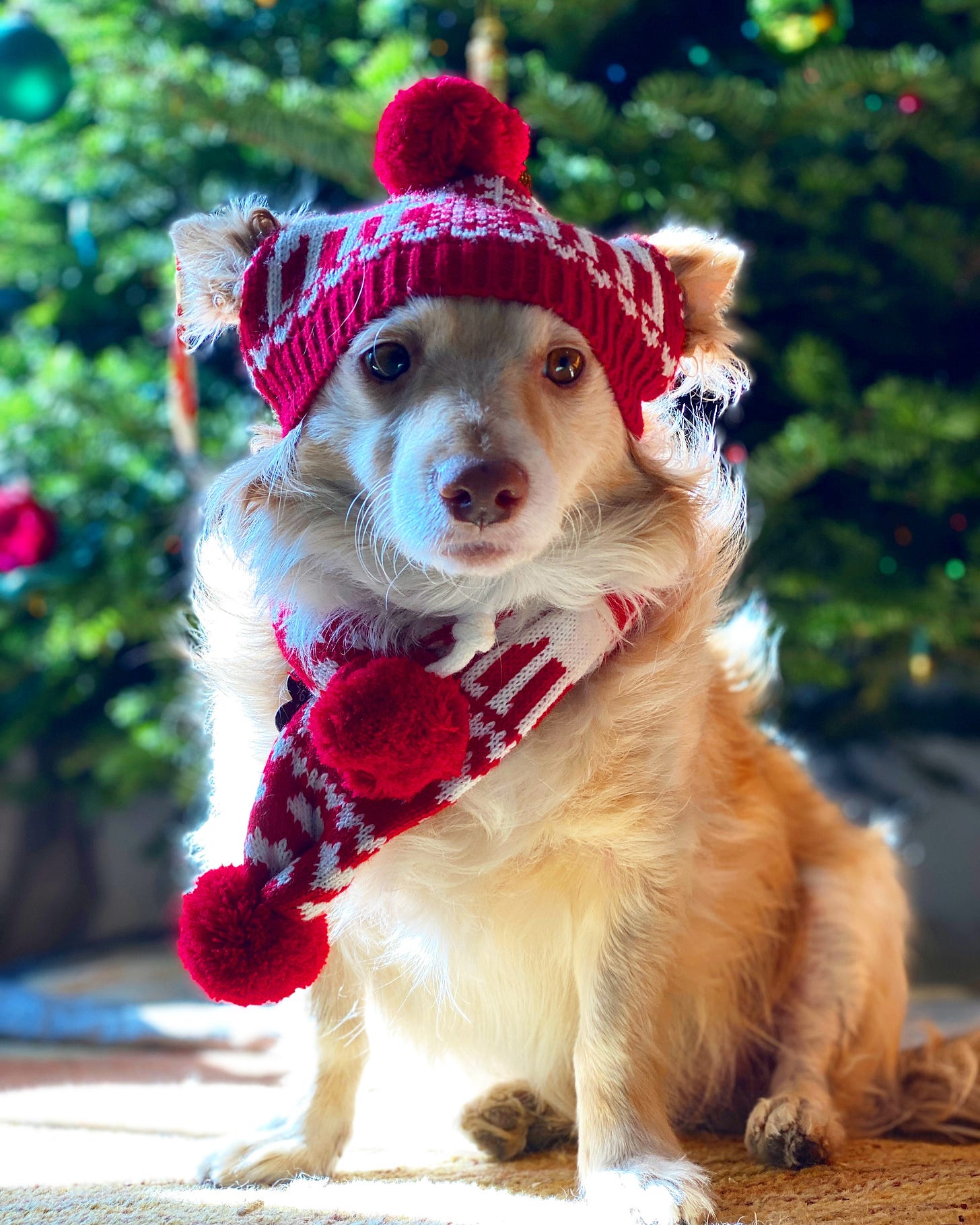 Until next time....

Your friend,
Adam (The Amateur Gourmet)