A.G. Newsletter #69: Bouchon, A Wet Green Burrito, Square One, Mexican Hot Chocolate & The Golden State Burger


Dear A.G. Newsletter Fans,

Prepare to be awed! Your old friend The Amateur Gourmet made Bouillabaisse from SCRATCH for his last dinner party (it's a dish that justifies me talking about myself in the third person). It took SEVEN HOURS and cost THOUSANDS OF DOLLARS. (Ok, maybe not thousands, but it felt like it.) Here's a picture so you get an idea of what I'm talking about: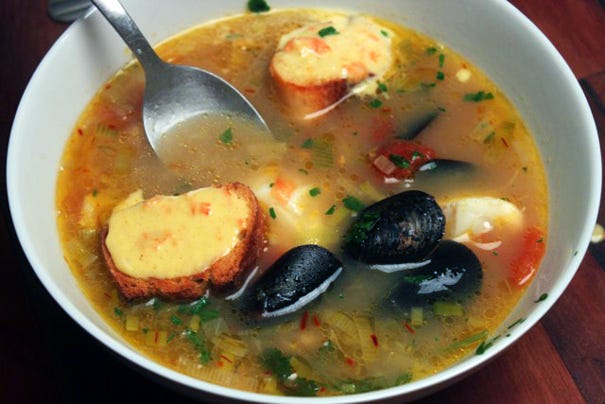 Click the following link to read all about it: Bouillabaisse! A French Seafood Odyssey at Home.

Also: last week I wrote and recorded a country song called WAITER, DON'T TAKE MY PLATE AWAY. Click that link and allow me to serenade you, with a Southern accent.

My parents completed their visit to L.A. last Monday and I met them for lunch at Bouchon, Thomas Keller's casual cafe that's a bit more formal than the one in New York (that one mainly serves sandwiches and salads). This one has a full French menu; so it's a great opportunity to experience classic French dishes prepared under the tutelage of one of America's (and the world's) greatest chefs.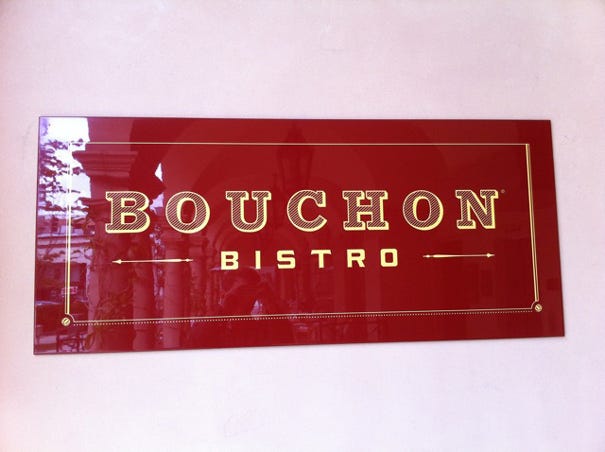 The room reminded my parents of EPCOT and I could see their point---there was something slightly synthetic about it (it fails where Keith McNally's Balthazar succeeds at evoking a traditional French bistro):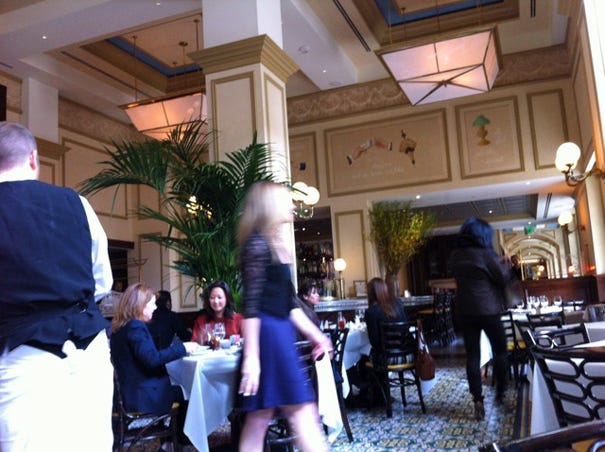 But that's a minor quibble (and I, for one, love EPCOT so I see that as a point in Bouchon's favor); I really liked how the table came with the bread placed directly on it (I need to find a place to buy paper table-covers so I can achieve the same effect at my next dinner party):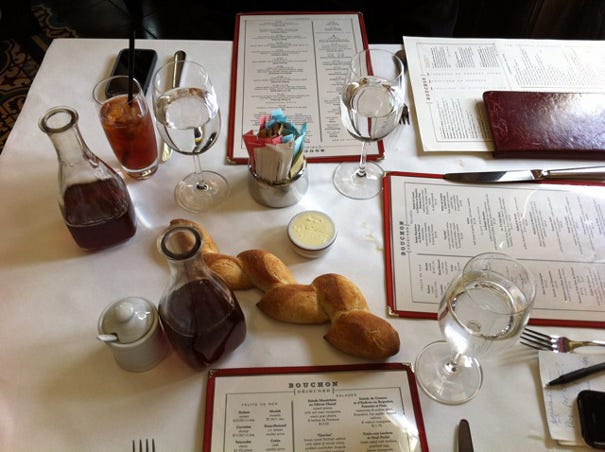 My parents are really into two-course lunches lately (I could never handle that on a regular basis) so we all started with soup. Dad and I each had the soup of the day, something called "Soup Du Jour" that tasted like fennel. (Ok, that was a joke... I know that Soup Du Jour means "Soup of The Day" I was just letting you feel superior for a second). But seriously, the soup tasted like fennel because it was, in fact, a fennel soup: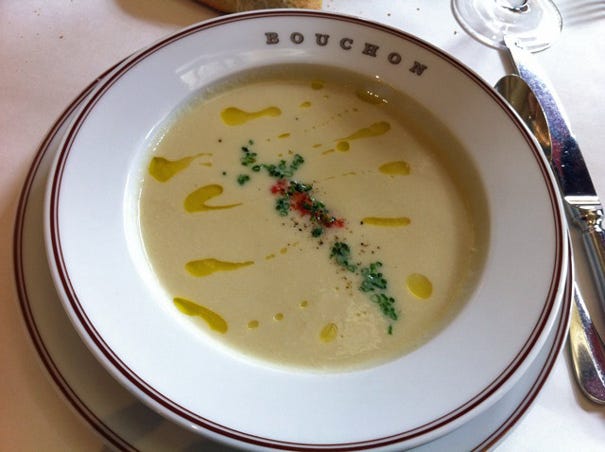 This was a very subtle, but impressively flavorful soup, that was light enough not to feel indulgent but creamy enough to feel special.

Mom, though, really picked the winner---the French onion soup was straight out of a textbook: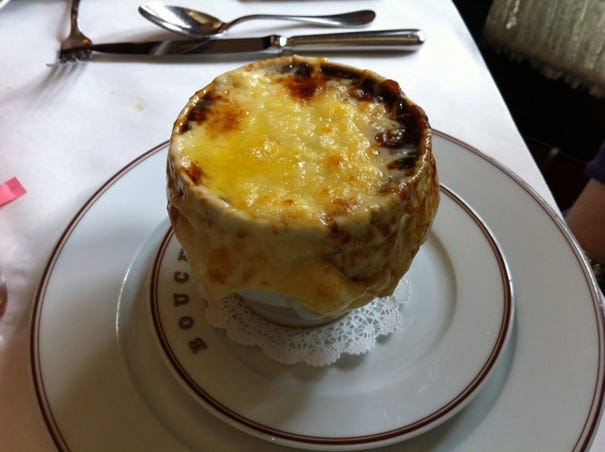 And the broth was so rich with meat stock, it almost tasted like demi-glace (which, if it had been reduced further, it would have become):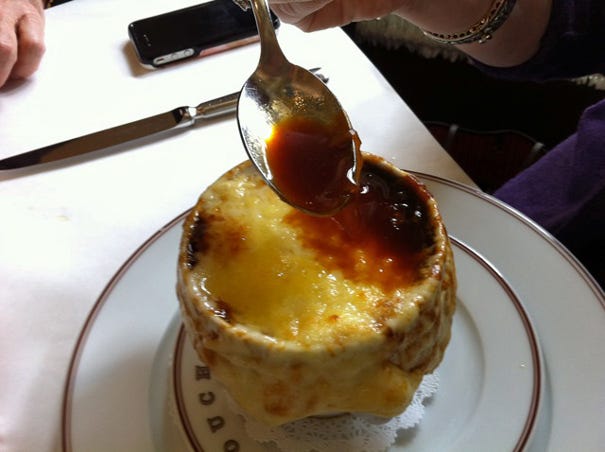 It was almost too rich for my mom, to be honest; and one spoonful for me was plenty.

Now for my one main disappointment--I ordered the Cobb salad (this was, after all, a Monday and I was trying to be just a little wholesome) and it was severely underdressed: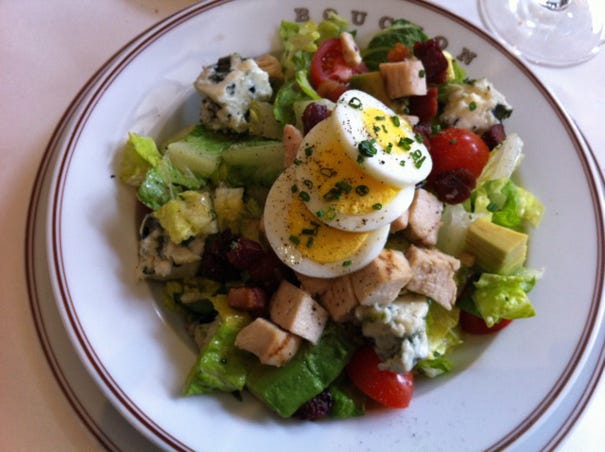 I mean, I suppose, the point might've been to highlight the natural ingredients without coating them too much in oil, mustard and vinegar. But, ummm....then you just have lettuce on a plate. I wanted more dressing so I asked for it and once added, the salad improved significantly, but it's not something I'd ever order there again.

Farewell to mom and dad---they flew out the next day---and my week continued with all kinds of fascinating food events that I'll be blogging about soon (including a dinner that my favorite cookbook author, Molly Stevens, made at a venue called Elysian; and a meal cooked by a prodigy named Andy Windak who stuffed mac and cheese into ravioli!). For lunch, one day, I went to Tacos Delta and ordered this wet green burrito: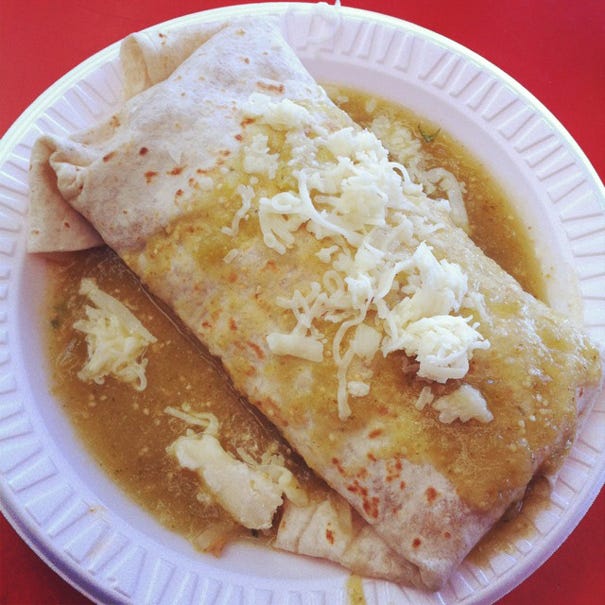 What's a wet green burrito? It's just a chicken burrito doused in salsa verde. It's terrific (and you eat it with a knife and fork).

Something unpleasant happened while I was eating it, though. I was sitting next to racists!

I mean, there I was, outside at Tacos Delta, in one of the most liberal neighborhoods in L.A. (Silverlake), and this man and his friend were saying racist things in conversation. Very loudly. They wanted to be heard and I felt like I was on that hidden camera show where you're supposed to step in and say something (and, for all I know, I was!) but these guys didn't seem like the kind of guys who'd respond kindly to an intervention of that sort. So I ate my burrito quickly and up and left.

In happier news, my college boyfriend Michael strolled into town this weekend with his boyfriend Nick and they met up with me and Craig at Square One for brunch on Saturday. Here are Michael and Nick with their plates: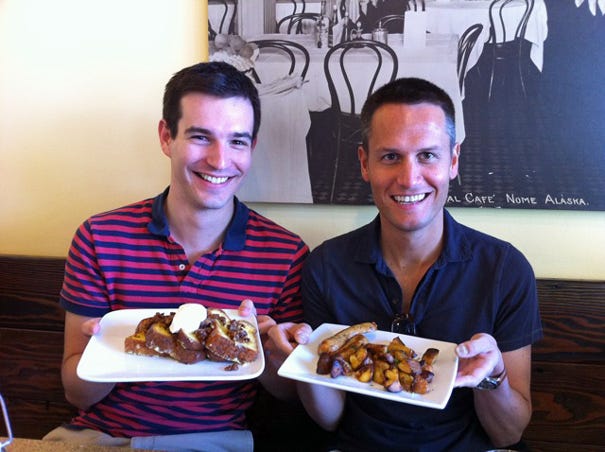 We reminisced about old times; like the time I collaborated on a musical adaptation of "Doc Hollywood" and Michael played a pig. Or the time Michael made me a grilled cheese. I'm sure this was all very exciting to Craig and Nick, but it was nice to see Michael again after all these years!

When I went to La Casita Mexicana, I bought Mexican hot chocolate next door at La Tiendita Mexicana that I finally made for myself last week. You basically melt a fat disc of spicy, cinnamon-flecked chocolate in hot milk: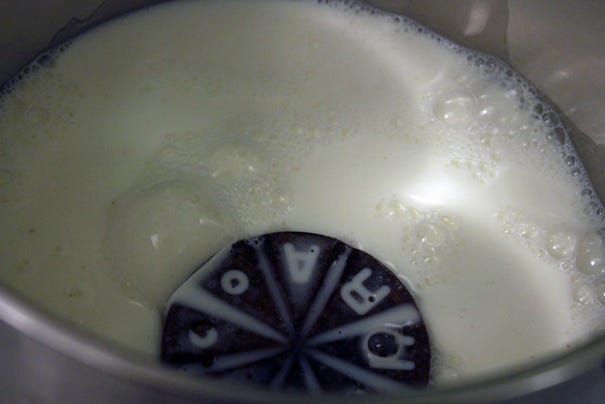 Here it is, finished in a mug, next to the box the chocolate came in: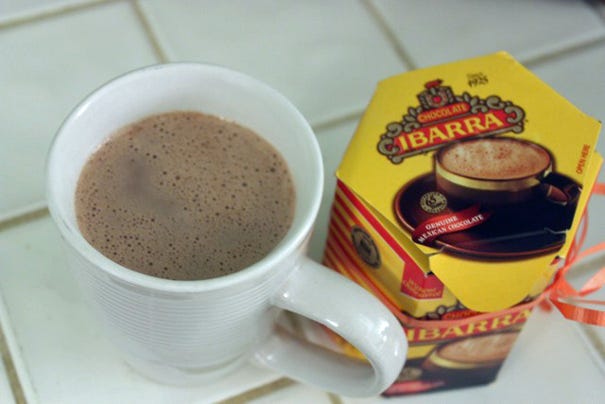 This was good hot chocolate--spicy, cinnamonny--and thick, but not too thick. I recommend buying it.

Longtime newsletter readers know the running gag of me going to Golden State for lunch, a place famous for its burger, and never ordering it. I've had their tuna, I've had their salads, but never their burger.

That was finally remedied on Saturday night when Craig and I went there and we each had their signature burger. Here's mine with a few bites taken out of it: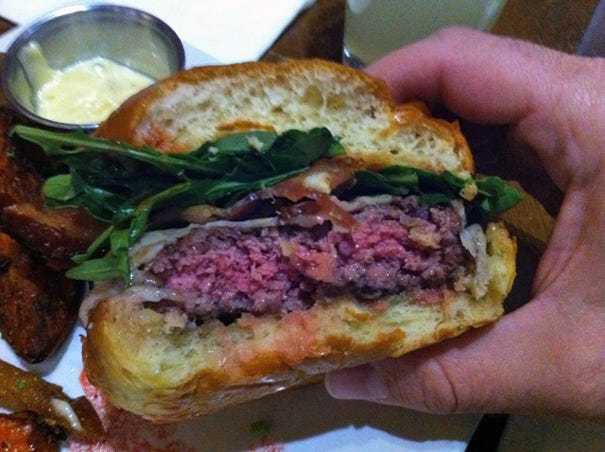 As you can see, it's a fat patty, perfectly cooked, on a lovely brioche bun. What makes it special, I think, is the fact that it's cooked on a grill with flames lapping up around it; and also, a homemade aioli that gives everything a garlicky kick.

Well folks, as you can imagine after eating all this food, I'm off to the gym! But definitely check back and read the blog this week. I have some great posts in store--those two dinners I mentioned, but also a salted caramel latte from Nancy Silverton and Lindsey Shere's famous almond tart (which I made the same night I made the bouillabaisse). Oh and a new banner that should be popping up soon.

Until next time!

Your friend,
Adam (The Amateur Gourmet)
Reading this in a browser? Get next week's in your inbox by signing up here.

Follow Me!
On Twitter
On Facebook

Recent Food Posts

Spago

Waiter, Don't Take My Plate Away

Dan Sung Sa (Korean Bar Food in L.A.'s K-Town)

Glenn Cous Cous with Albert Knobs of Feta (Plus: Other 2011 Oscar Dishes)

Back To Our Favorite N.Y. Haunts (Joe, Joseph Leonard, Bar Centrale, City Bakery, Grand Sichuan & The Burger Joint)

(Relatively) New In New York: Untitled, The John Dory & The Big Gay Ice Cream Shop

The "Welcome To New York" Tasting Menu at The 2nd Avenue Deli

Drink Champagne On Your Birthday

Chickpea Curry

How Do You Not Weigh 500 Pounds?

A Weekend in Palm Springs

LudoBites 8.0, Lemon Moon

Yellow Cake with Chocolate Frosting

Birthday Lasagna

Three Chicken Dinners: Meyer Lemon Stuffed Chicken Breast, Italian Sweet & Sour Chicken & Chicken with Lentils and Marsala Gravy

The Eggslut

Green Drinks and Coconut Water

Honey Butter Biscuits

Pig: A Restaurant (A Play)

Baco Mercat & La Casita Mexicana





*|LIST:DESCRIPTION|*

Unsubscribe *|EMAIL|* from this list.

Our mailing address is:
*|HTML:LIST_ADDRESS_HTML|*
Copyright (C) *|CURRENT_YEAR|* *|LIST:COMPANY|* All rights reserved.

Forward this email to a friend
Update your profile
*|IF:REWARDS|* *|HTML:REWARDS|* *|END:IF|*