A.G. Newsletter #94: Bouchon Pastries, Red Hill, Proof (w/Besha Rodell), Vanilla Bean Oatmeal Toppings & Gjelina's Crudo Pizza


Hey A.G. newsletter fans,

Hope you had a relaxing Labor Day weekend!

I spent yesterday writing the post that I posted today: "One Year in L.A. (A Reflection)." It's pretty much a New York vs. L.A. kind of post, but I think you'll find the results thoughtful rather than sensational. Check it out and let me know what you think.

Last week, I had a meeting in Beverly Hills and suggested we hold it at Bouchon Bakery. We ended up sitting at Bar Bouchon (because there are shaded tables there, rather than the tables at the bakery which are directly under the sun) and it worked out really well. We ordered coffee from the waiter, but we decided instead of the more formal plated desserts that Bar Bouchon offers we'd prefer to get our desserts from the bakery. He was ok with that. And I'm glad he was ok with that, because these were pretty outrageous: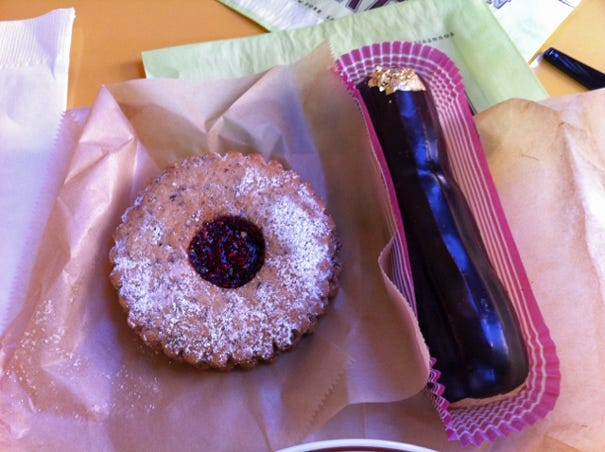 That's a Linzer cookie and a chocolate eclair. The Linzer cookie was expertly made, tender, flavorful---my kind of cookie. But that chocolate eclair was something else. The inside felt like the deepest, darkest, most chocolatey chocolate pudding you could ever imagine. It rendered us speechless.

The next day, I checked out a restaurant in Echo Park I'd walked past many times without ever really noticing called Red Hill.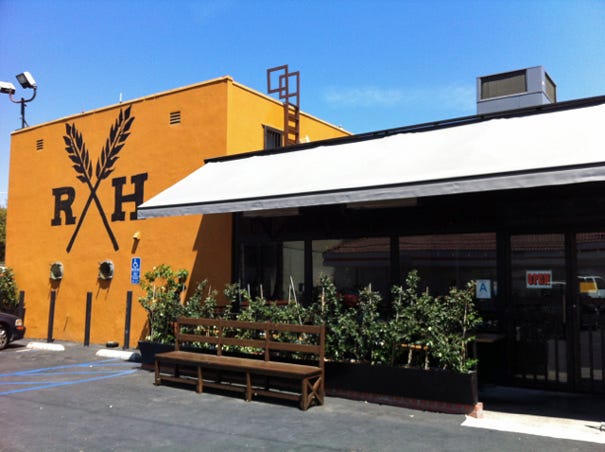 The place is very cute inside, though there's a real chair problem there. Some are normal chairs, totally comfortable and normal-looking; the others are these short, wire chairs that look like Medievel torture devices. I chose a normal chair.

The menu had lots of good-looking stuff on it. I ordered for myself a quinoa salad which came with kale and beets and other farmer's market goodies: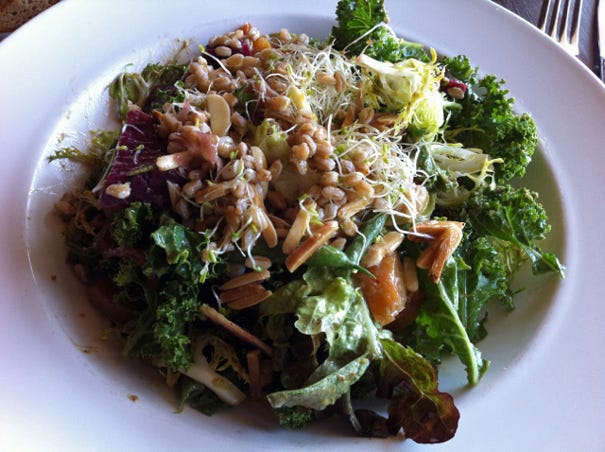 It was a really balanced salad, thoguh I wish they'd cut they kale smaller--it was a bit unwieldy.

The real star, though, was the bread that I ordered for $4. It stood out to me as I read the menu--warm bread with raspberry jam and butter--so I had to give it a try. I'm glad I did.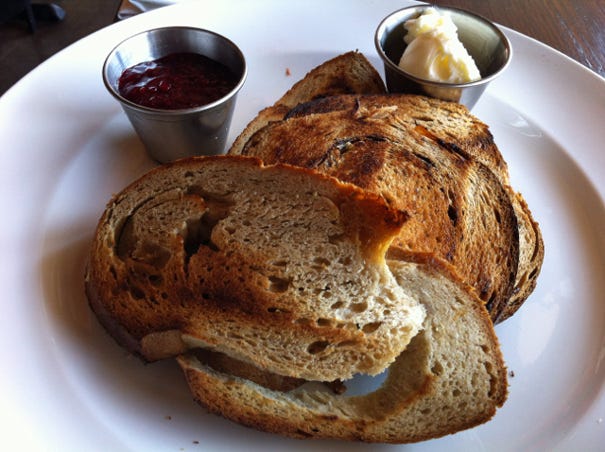 I know it really just looks like toast, but it had a warm-out-of-the-oven quality to it that made me sit up in my seat a little, eating more than I should have. As it cooled, though, it started to taste just like ordinary bread. So eat it while it's hot.

On Friday of last week, I was lucky enough to meet up with Besha Rodell, the new food critic for L.A. Weekly (replacing Jonathan Gold there), at Proof Bakery in Atwater Village. Funny enough, we ran into Tien Nguyen, L.A. weekly's resident food blogger, who joined us for this lemon meringue cake.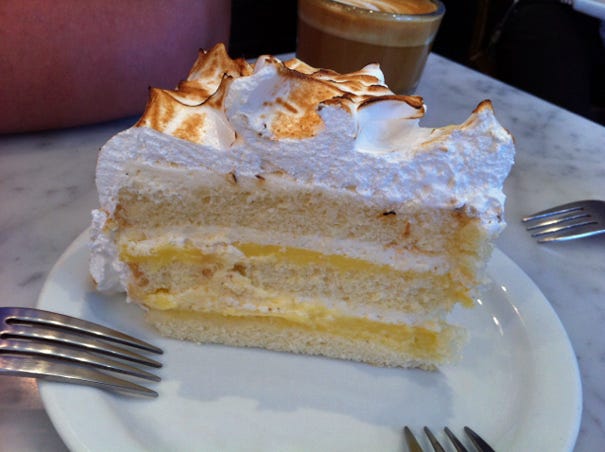 The cake was superb as was the company. I won't divulge too much about Besha (she needs to remain anonymous, after all) but I will share her two tips for where to eat in L.A. right now: L&E Oyster Bar and Mezze. I hope to check them out before I leave for New York next Friday.

Remember that Vanilla Bean Oatmeal I posted last Friday? I made it again on Saturday, only this time I topped it like a bowl of ramen, with assorted, surprising toppings.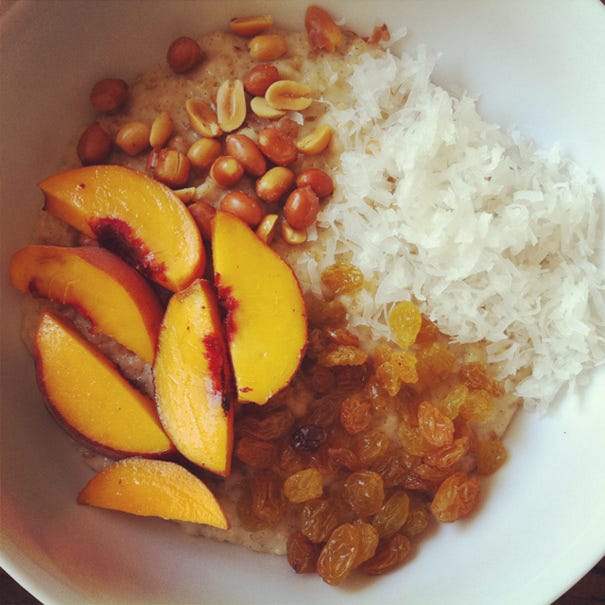 That's salted peanuts, coconut, golden raisins and peaches. I know it looks rather strange but it all worked really well with the vanilla bean oatmeal---salty, sweet, fruity, and nutty all at once. The lesson is to treat your weekend oatmeal like an ice cream sundae... it makes it more fun.

Finally, my parents are in town and I took them to Gjelina in Venice Beach this Friday because I thought they'd like it. They did, in fact, like it. We ate lots of good food, but our favorite bite (or at least mine) was this crudo pizza which came topped with heirloom tomatoes and burrata and basil...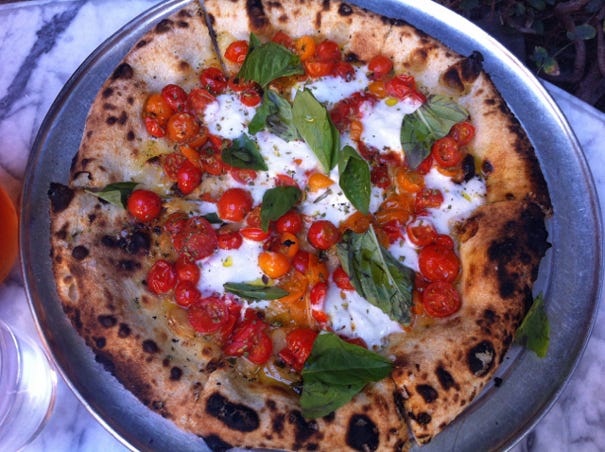 I mean, come on. That puts all other pizza to shame, doesn't it?

So that's all for this week, folks. Next week is my last week in L.A. before heading to New York for 3 1/2 months. The cat just got her bill of health from the vet, so she's good to get on the plane with me. Now I just have to figure out what cooking stuff I want to ship and what last meals I want to eat here before going away for such a long time.... I'm sure you'll hear all about that next week!

Until next time....

Your friend,
Adam (The Amateur Gourmet)



Reading this in a browser? Get next week's in your inbox by signing up here.

Follow Me!
On Twitter
On Facebook

Check Out My Cookbook!
Secrets of The Best Chefs

Recent Food Posts

Vanilla Bean Oatmeal

Chipotle Strata Brei

Park's BBQ, Neptune's Net & Marouch

Sensational Summer Salads

Seeing My Cookbook For The First Time

A Return to Sitka & Spruce

The Oyster Bar (Bellingtham, Washington)

Splashed By A Badly Designed Sink in a Restaurant Bathroom

The Northwest Washington Fair

Things I've Been Spreading on My Toast

Surfacing on Eliza Island

Heirloom Tomatoes for Dinner

A Meditation on Green and Yellow Sour Patch Kids

Drunk Blondies






*|LIST:DESCRIPTION|*

Unsubscribe *|EMAIL|* from this list.

Our mailing address is:
*|HTML:LIST_ADDRESS_HTML|*
Copyright (C) *|CURRENT_YEAR|* *|LIST:COMPANY|* All rights reserved.

Forward this email to a friend
Update your profile
*|IF:REWARDS|* *|HTML:REWARDS|* *|END:IF|*