A.G. Newsletter #103: Michel Richard in D.C., Teaism, Escabeche Sandwich at John Dory, Bklyn Fish Camp & Grand Sichuan/The Spot with David Lebovitz


Hey Newsletter Fans,

Do you enjoy roast chicken? Do you love pasta as much as I do? Now imagine those two things magically combined in a dish. That's what you get when you make Julia Moskin's Pasta with Roast Chicken, Currants and Pine Nuts, the recipe I wrote about this morning on the blog. Click that link and you have tonight's dinner all set.

And speaking of Julia Moskin, I was lucky enough to be invited by her and Kim Severson--co-authors of the delightful new cookbook COOKFIGHT--to The New York Times building last week to shoot a video that many of you watched on my blog last week. Here's what it looks like walking into the Times building: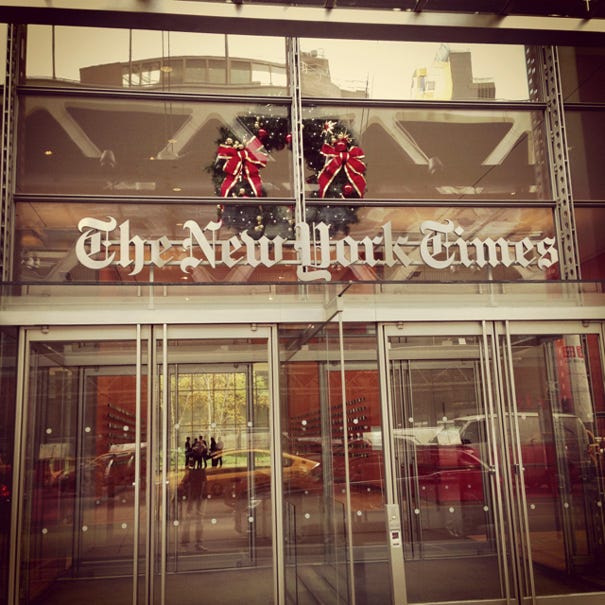 The video's a real hoot. Kim and Julia spar over such important topics as Coke vs. Pepsi, Mounds vs. Almond Joy and Grits vs. Polenta. Again, click here to experience it for yourselves.

Also: one of my posts went viral two weeks ago and I don't think I got a chance to link to it in a newsletter. That post is: 10 Signs You're in a Good Restaurant. You may get a kick out of it.

Oh, also? I posted my Google Talk. You can see me wearing a bowtie!

Now then, on to newsletter stuff...

Last week I didn't write a newsletter because I was exhausted having done a day in D.C. the day before, journeying both there and back within a 12 hour period.

I was there to do an event with Living Social featuring one of my cookbook's chefs, Chef Michel Richard of Citronelle and Central. To say that Chef Richard is a character would be a huge understatement. The guy is a real showman, lighting up a room with his good cheer and frantic energy. Here he is winning over the audience.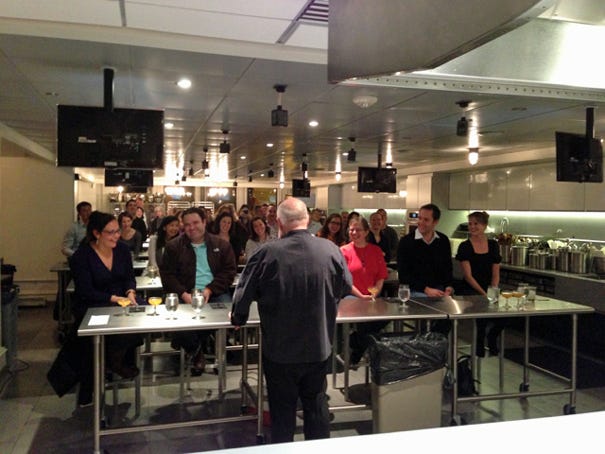 I was standing behind him cooking the food that he taught me how to make. That would be potato risotto and mushroom-crusted chicken with a mushroom jus. I've gotta say: having a world class chef like Chef Richard standing over your shoulder watching you make his food is a little nerve-racking. Luckily, I did pretty well. And Chef Richard definitely enjoyed himself. The funniest moment came when I heard him say "Nice legs," I said "thank you" and then realized he was talking to a woman in the front row. The audience found that particularly funny.

Here we are together: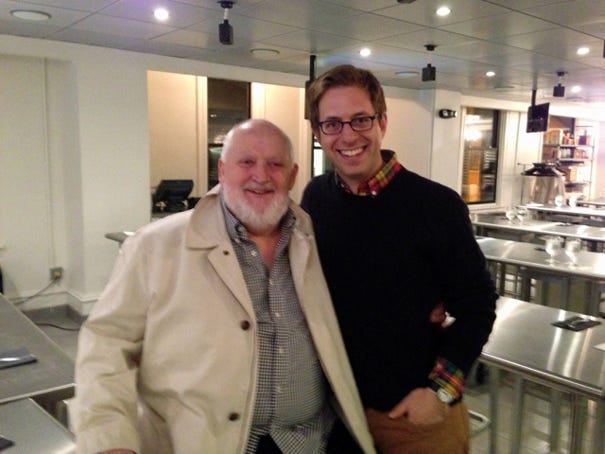 If you get a chance to visit one of his restaurants, definitely do. He really is a master chef.

Now while in D.C., I had some time to wander around a little bit. On my way back from the Mall, I realized I was craving a caffeinated pick-me-up. I went to Starbucks (the only coffee shop I could find) and ordered a Macchiato. When I looked in the cup, there was no milk---just an espresso shot. I told the woman and she poured a giant glassful of warm milk on top, which wasn't really what I was going for.

So instead of drinking it, I remembered the existence of Teaism, a place with the best Chai tea I ever tasted. I typed it into Google Maps and sure enough, it was very close to where I was standing. So there I went: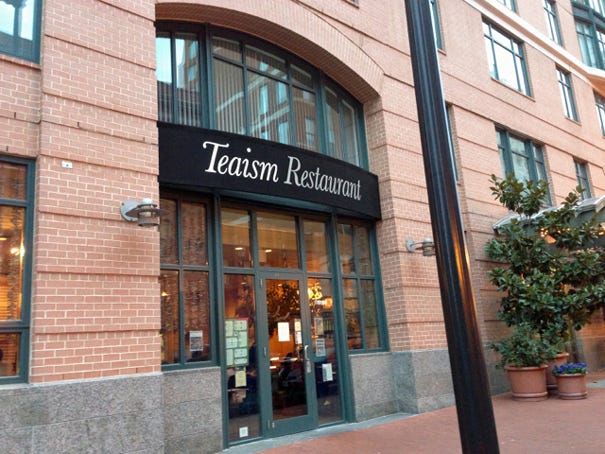 I ordered myself a Chai tea (which, I know from Asha Gomez, one of my cookbook's chefs, translates to "tea tea" because chai means tea) and absolutely loved it: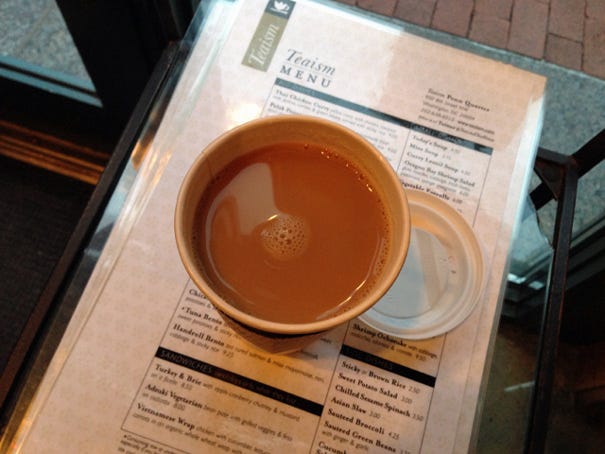 Full of spice and sweetness, this may be one of my favorite things about Washington, D.C. If you like it, you can replicate with Asha's recipe in my book! It's very similar.

Once back from D.C., I realized the next day that I really needed a haircut, so I made up my mind to go to Rudy's Barbershop next to the Ace Hotel because that's where I go in L.A. and I really like it.

It was a good decision: James did a great job cutting my hair.

Afterwards, I was hungry and wandered over to the John Dory, where I had the most incredible meal last year on my birthday.

Studying the menu, which is (admittedly) expensive, I settled on a sandwich: an Escabeche sandwich with smoked mackerel. Check this thing out, it's a work of art.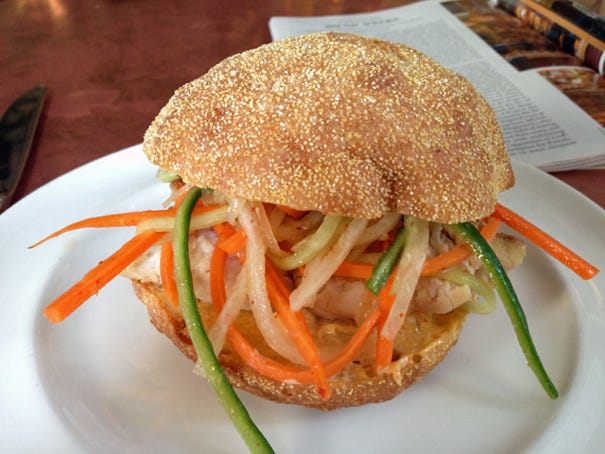 Everything about this was spot-on. From the acidity of the pickled vegetables, to the soft freshness of the bread, to the oily, almost-too-fishy-but-not-quite quality to the fish. I devoured it in 0.38 seconds while reading the New Yorker food issue.

Clearly, though, I hadn't had my fill of fish sandwiches because a few days later I joined my friend Patty and her beautiful baby Audra for lunch at Brooklyn Fish Camp. Here they are together, looking adorable: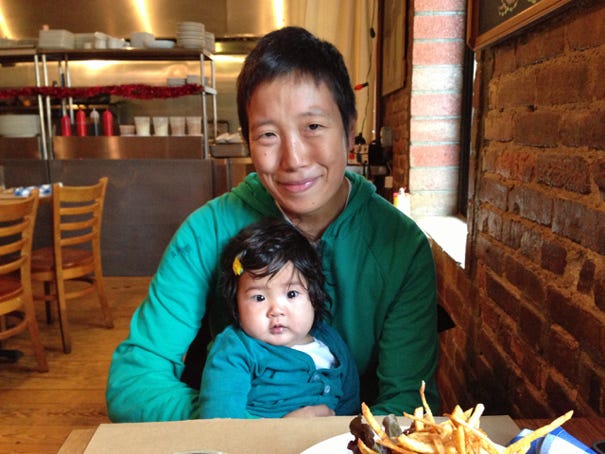 Patty and I shared two sandwiches; a fried oyster roll with fries that was totally naughty but so, so good because of that: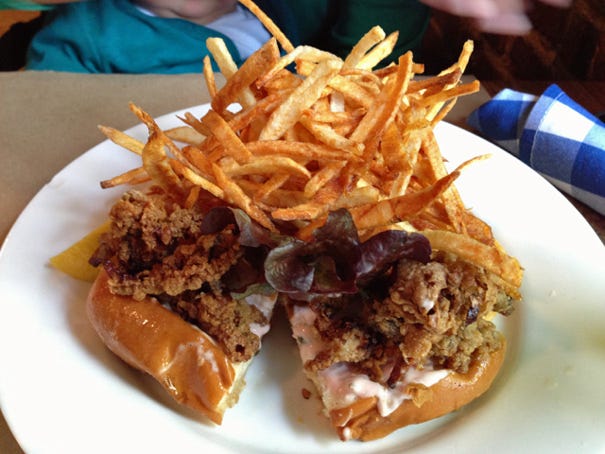 And my favorite sandwich at Brooklyn Fish Camp, a smoked trout BLT: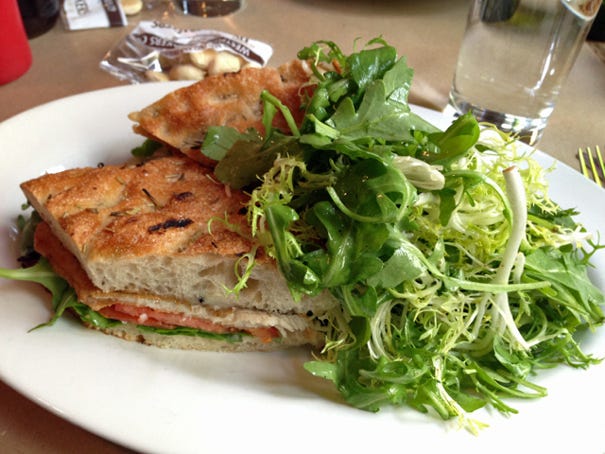 I've always loved this sandwich, from back in the days when I lived in Brooklyn. Something about that combination of focaccia bread, smoked trout, a rich aioli and bacon makes for a sandwich you want to eat again and again. Maybe I'll try to recreate it when I'm back in L.A.

Finally, world famous celebrity author and food blogger David Lebovitz was in town this past week and I joined him for lunch on Friday at Grand Sichuan. David had never been there before, so I was excited to share with him their terrific soup dumplings... Here's David taking a picture of them: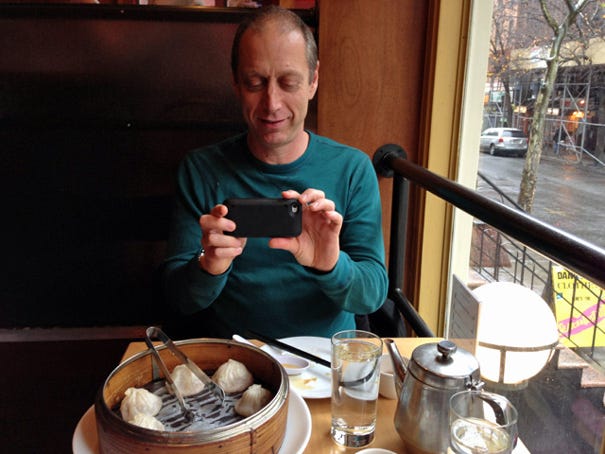 And two of my other favorite dishes there: the ChongQing spicy chicken (which is a giant platter of peppers studded with chicken pieces) and their dry-sauteed string beans with pork.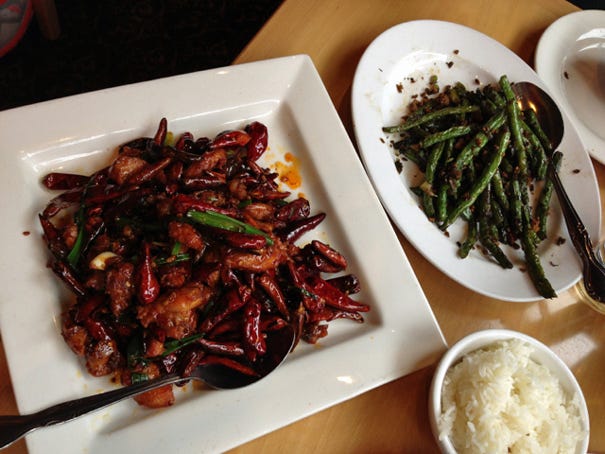 Afterwards, I remembered that Pichet Ong's dessert spot The Spot was only two doors down and I asked David if he wanted to go. Of course he said, "Yes." You can read David's account of the meal on his blog; I agree with David that the very best thing was this brioche that was cooked like French toast but then soaked in a totally intoxicating honey syrup: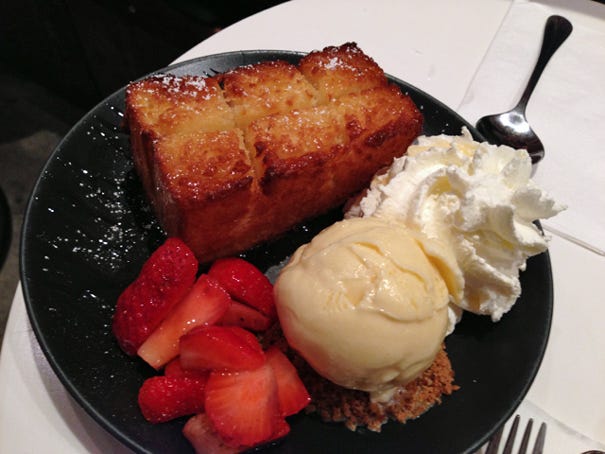 Something about the texture of that brioche was staggeringly delicious, unlike anything I've experienced before.

That's all for this week folks!

Until next time....

Your friend,
Adam (The Amateur Gourmet)





Reading this in a browser? Get next week's in your inbox by signing up here.

Follow Me!
On Twitter
On Facebook

Check Out My Cookbook!
Secrets of The Best Chefs

Recent Food Posts

Pasta with Roast Chicken, Currants and Pine Nuts* (*Unless You Can't Afford Them)

Cookfight! Kim Severson vs. Julia Moskin

Harvest Roast Chicken with Grapes and Olives

My Google Talk

10 Signs You're in a Good Restaurant

Michael's Genuine Food & Drink

Easy Tomato Soup and Grilled Cheese

Sam Sifton's Thanksgiving Pear Cobbler

Absolute Bagels (And The Best Bagel of My Life, So Far)

Secrets of the Best Chefs is Here Today! (Plus: A Look Behind The Scenes)

Let's Not Forget These Other Austin Eats

Room Service

The Real Reason We're in New York

Easy Butternut Squash Soup with Whiskey Ginger Cream

My Cookbook Makes Friends

The First Post-Sandy Dinner at Hearth

Franklin Barbecue

Uchi

Where Do You Escape for a Chocolate Dessert?

Scenes from a Book Tour

Lunch at the Googleplex

Fried Potato Bread with Fried Chicken at Bar Tartine, Dinner with @ChezPim at State Bird Provisions

Bar Tartine Sandwiches, Omnivore Books & The Tartine After Hours Cookbook Dinner

Return To Zuni

Parm




*|LIST:DESCRIPTION|*

Unsubscribe *|EMAIL|* from this list.

Our mailing address is:
*|HTML:LIST_ADDRESS_HTML|*
Copyright (C) *|CURRENT_YEAR|* *|LIST:COMPANY|* All rights reserved.

Forward this email to a friend
Update your profile
*|IF:REWARDS|* *|HTML:REWARDS|* *|END:IF|*