A.G. Newsletter #106: Almond Butter, Venice Kitchen Mat, Kristin's Napkins, Craig's Manhattans, The 50/50 Shake, Umami & Lady Gaga


Hey there readers,

I know it's Inauguration Day and Martin Luther King Day and many of you aren't working or glued to your TVs, but I decided to spend the morning creating a post about the Daube de Beouf that I made for dinner on Friday night. It's really a stunning dish, so stunning I'll show you a picture here so you're inspired to click: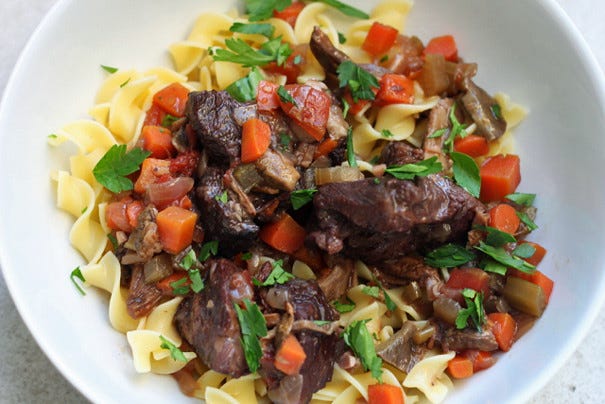 See, I wasn't kidding. Go here and read all about it.

Meanwhile, if you missed the Mexican Hot Chocolate Cookies I shared last week after my newsletter went out, you'll want to experience those too. They're pretty killer.

Now then!

Last week, I went to Cookbook, the adorable store in Echo Park and bought some fancy artisinal almond butter. Does that make me sound like a character on Portlandia? Here's the jar: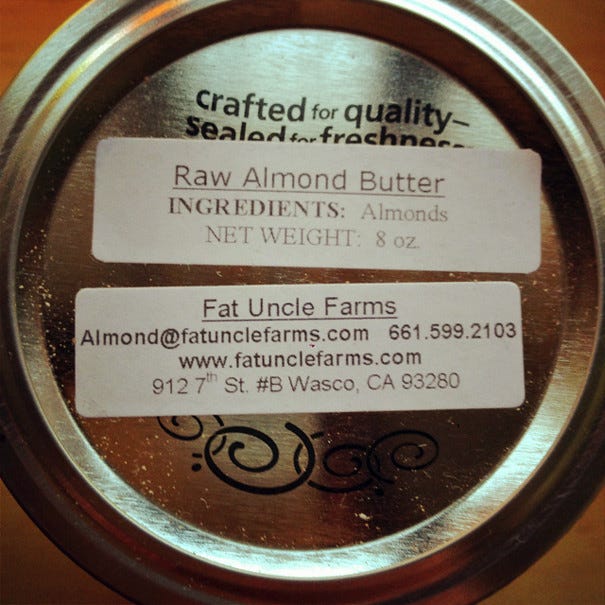 I liked that it came from Fat Uncle Farms.

Now here's the thing about almond butter: I don't really like it. Still, I thought it might be a healthy alternative to jarred, processed peanut butter (which I prefer) so I spread it on whole wheat toast with some honey and kind of enjoyed it: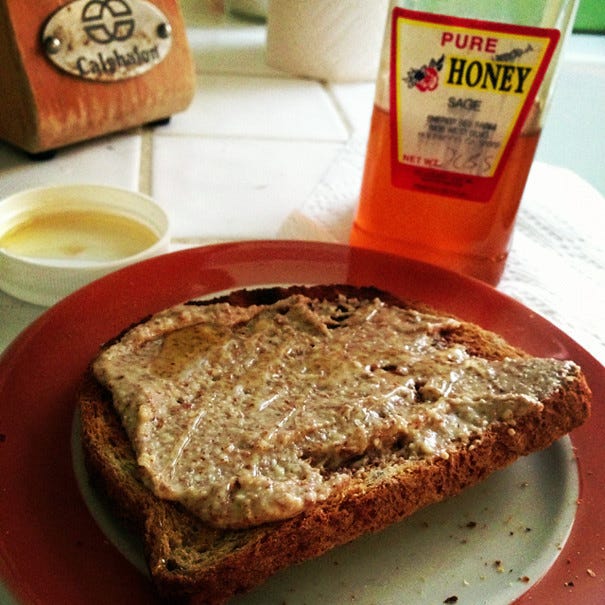 I mean, did I love it? I did not. It's so thick and not very sweet and almost chalky. But I guess it was good for me. How's that for an advertisement?

The next day, I found myself in Venice Beach, and after doing some work at Intelligentsia, I shopped around for a bit and found a kitchen mat that I liked so much I bought it and brought it home to my kitchen. Isn't it cute?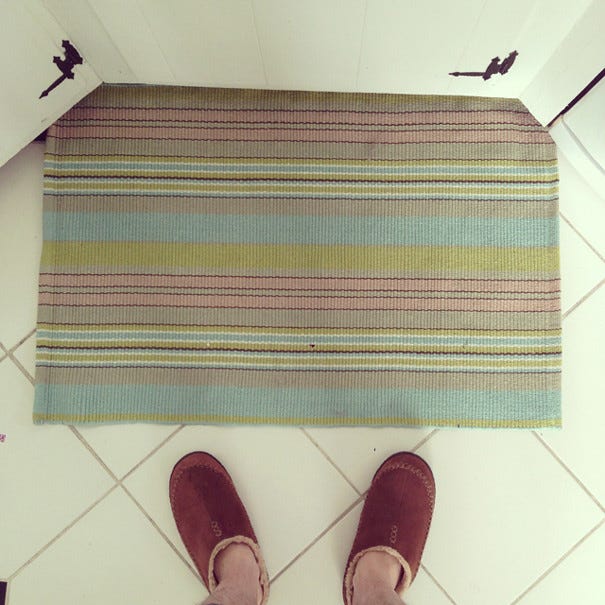 Sadly, at the rate I'm going, it'll be filthy in no time. I once had something similar from France (a gift from David Lebovitz) and a few weeks after using it, it was as if I'd dragged it through a sewer. Kitchen mats get dirty fast. But still, I'm glad I bought it.

Speaking of kitchen stuff, for Christmas, Craig's sister Kristin did the sweetest thing: she sewed me dinner napkins! This was an especially thoughtful gift because (a) I needed new dinner napkins; and (b) she made them herself. They look super nifty on my table: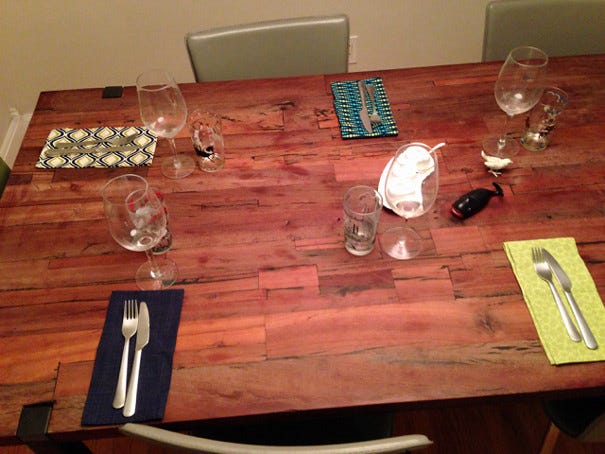 They're going to look even niftier when the Bakelite flatware I just ordered on E-Bay arrives. What am I talking about? You'll have to wait for a post about that when it arrives.

That table was set for the dinner party where I served the Daube de Beouf. When everyone arrived, Craig made Manhattans (see the post How To Make A Manhattan for his recipe) and I was down for the count: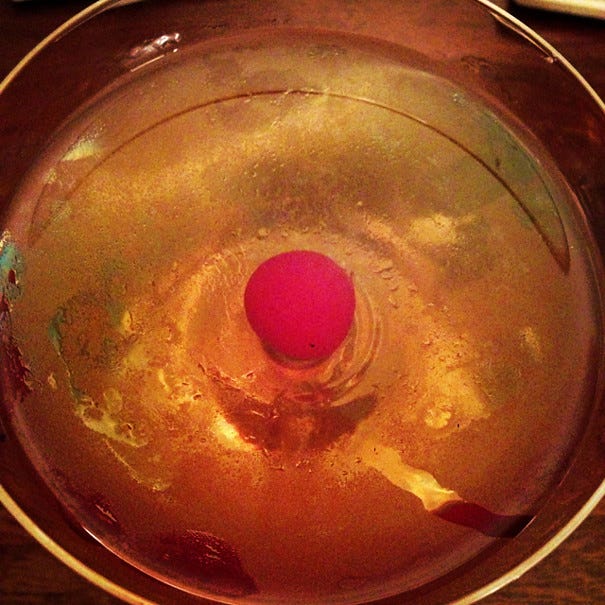 Man, these were strong. Plus there was wine. The next morning, I woke up feeling like death which is always a sign of a successful dinner party.

Still, despite feeling low-energy, Craig and I were able to take a nice walk the next day up Beachwood Canyon which has some of the best architecture in L.A. Here's Craig admiring some of it: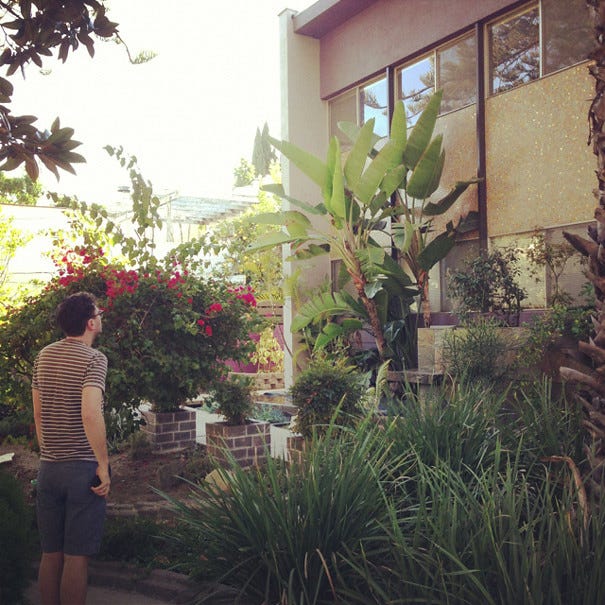 As our reward, we went to the 101 Diner where we each had a 50/50 shake, made with orange sherbet and vanilla ice cream.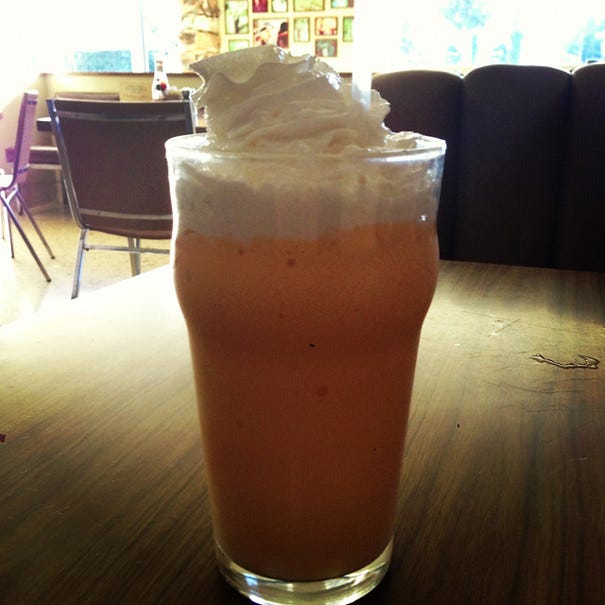 This would more accurately be called a Creamsicle Shake, because that's what it tastes like, and it's really wonderful. If you want to try it, just whip out your blender and mix one up yourself. I don't think it'd be very hard to make and it tastes oh so good.

Finally, last night was a real hoot. It started at Umami Burger where we each had a Hatch Burger (our favorite) though Craig said his wasn't very good. (Mine was.)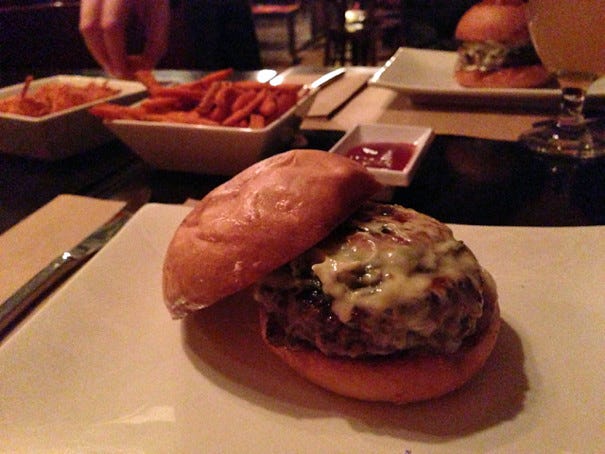 The hoot has to do with what we did after: we went to see Lady Gaga in concert!

The pre-show didn't take place on stage (though there was a D.J.) but in the entryway of the Staples Center where the people watching was totally delightful. Check out these folks lining up to get their picture taken: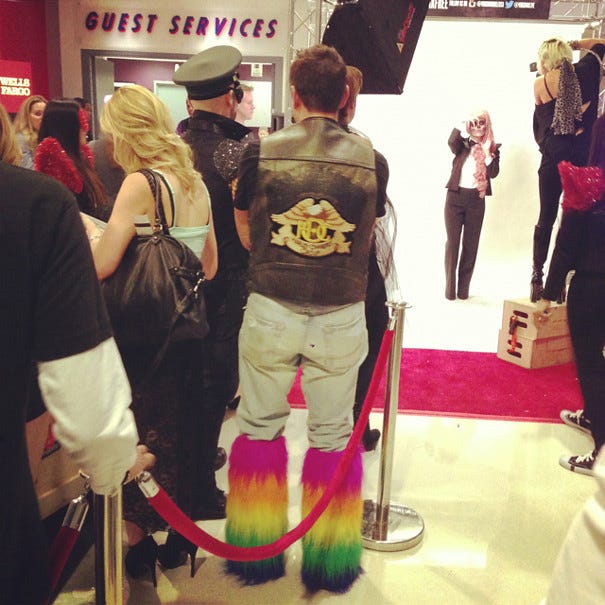 And this guy in a singlet next to girls in multi-colored ballerina skirts: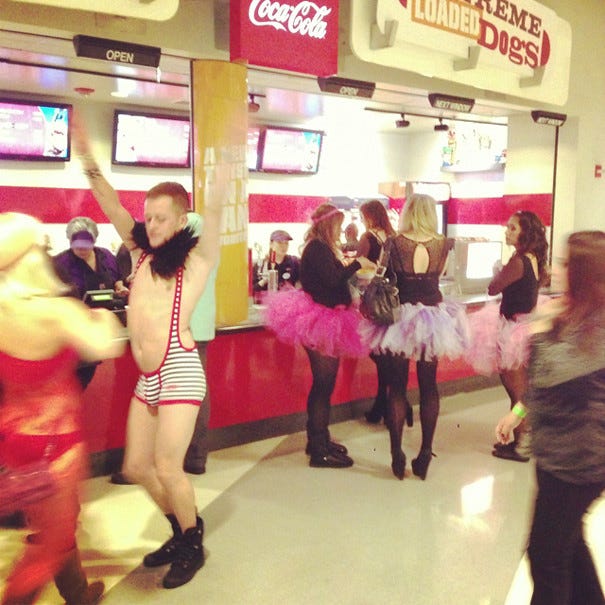 See what I mean?

But the show itself was really phenomenal. I'm not even that much of a Lady Gaga fan, in terms of her music, but damn: that woman is one hell of an entertainer. Here she is coming out of her egg (if you can see):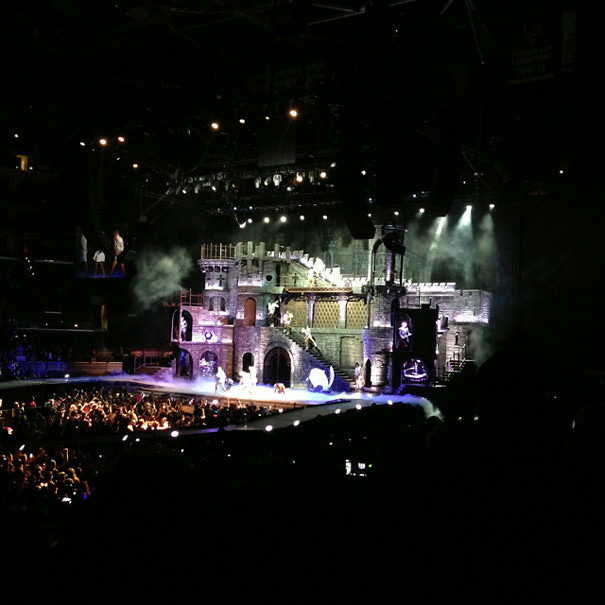 The set was an enormous castle that opened and closed and there was this floating alien head that told us Lady Gaga was going to give birth to an alien race that would take over earth. Mmmhm.

But the best part was Lady Gaga's interaction with the audience. At one point, she called one lucky audience member who'd submitted his name before the show. The guy that she called was this adorable gay kid named Kyle who'd come with his boyfriend by bus all the way from Compton. He was so tearful and delighted to get to talk to her, that Lady Gaga offered to have a drink with him after the show backstage. The crowd went crazy.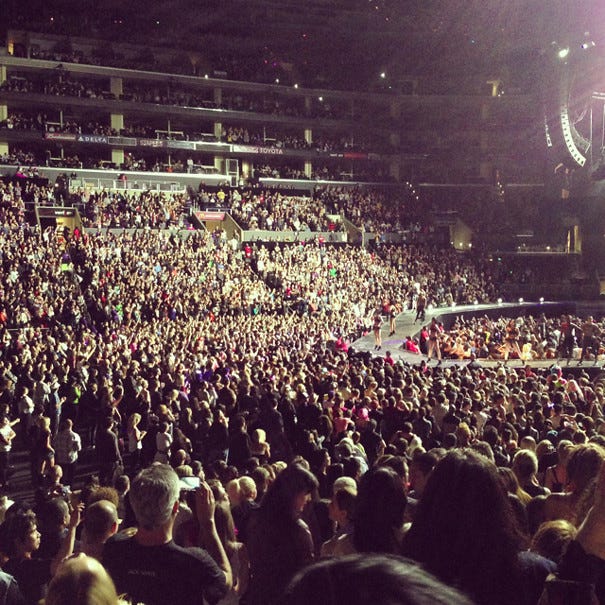 She then serenaded Kyle with a simple piano version of "Born This Way" that revealed just how very pure her talent is: she has a voice that's a force of nature. When you add her piano playing and her dancing, it's hard not to acknowledge her as a one-of-a-kind superstar. (Madonna notwithstanding.) If you get a chance to see her on tour, you really should. This is her in her prime.

And that's all for this week folks! Can you believe I worked a Lady Gaga concert review into my food-oriented newsletter? Me either.

Until next time....

Your friend,
Adam (The Amateur Gourmet)




Reading this in a browser? Get next week's in your inbox by signing up here.

Follow Me!
On Twitter
On Facebook

Check Out My Cookbook!
Secrets of The Best Chefs

Recent Food Posts

New York Brunches at Allswell and Calliope

Pink Grapefruit Halves and Those Who Love Them

Mexican Hot Chocolate Cookies

Carnitas Tacos with Green Salsa and Pico de Gallo

Nine Years

A New and Improved Recipes Page

Chicken Liver Toast and the Secret to a Good Chicken Salad

Leftover Broccoli Sauce

Lebanese Chickpea Stew

The 10 Best Dishes That I Ate in 2012

The 10 Best Things That I Cooked in 2012





*|LIST:DESCRIPTION|*

Unsubscribe *|EMAIL|* from this list.

Our mailing address is:
*|HTML:LIST_ADDRESS_HTML|*
Copyright (C) *|CURRENT_YEAR|* *|LIST:COMPANY|* All rights reserved.

Forward this email to a friend
Update your profile
*|IF:REWARDS|* *|HTML:REWARDS|* *|END:IF|*