A.G. Newsletter #129: The Kogi Truck, Canele, 13 Coins, Fiamma, In-N-Out & Dinner at John and Michael's


Well hey again, stranger,

I was gone for 9 days cooking up a big dinner in Bellingham, Washington for 8 people who paid big money for it, money that went to charity. Here's a post all about that epic meal which featured scallop chowder, porcini-crusted prime rib, and a blueberry crostata.

Then we skipped off to the San Juan Islands where I went clamming with Craig's dad, Steve, and ate lots of crab cakes. Click here to read all about that and to see my BEAUTIFUL pictures.

Also: help my friends settle a debate. Is it a BBQ or a Cookout? Discuss.

Now on to newsletter business....

Even though I cooked with Roy Choi for my cookbook, I'm embarrassed to say I'd never been to his Kogi Truck, the L.A. institution that put him on the map before he went on to open up amazing places like A-Frame and Sunny Spot. (Well I've been to A-Frame, not Sunny Spot...and I loved it.)

But the Kogi Truck! I had to track one down. So I found one in Pasadena and drove to it two weeks ago...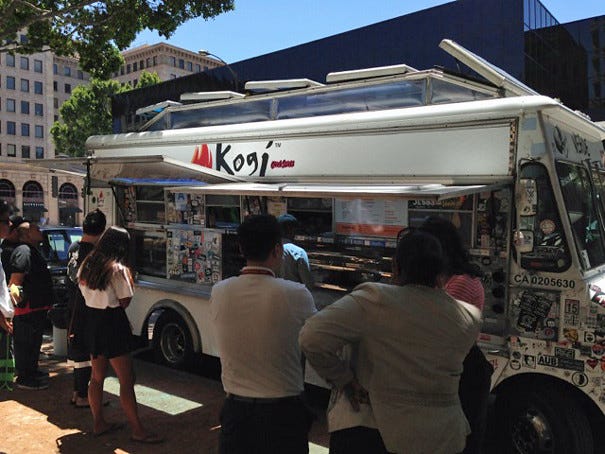 There was a crowd, but not a crazy crowd. I studied the menu: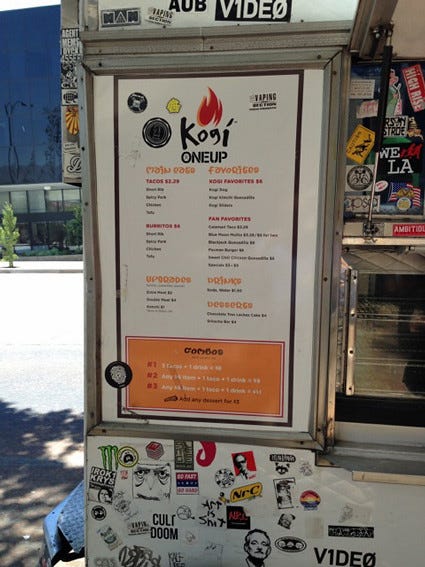 I settled on #2 which is any $5 item and 1 taco and 1 drink for $9. I picked the kimchi quesadilla and a chicken taco and a bottle of water. Here's what came out about 8 minutes later.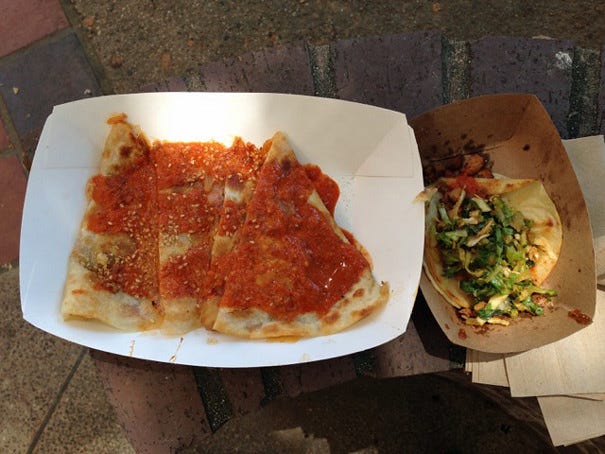 The kimchi quesadilla seemed like the right thing to order because it's the most explicit mashup of Korean culture and Mexican culture. The tortilla is filled with kimchi and topped with a fiery red sauce.

I have to say, it was a little bit too greasy for my liking. Maybe the oil wasn't hot enough went it went in? Instead of crisp, the quesadilla was soggy. Still: the flavors were exciting. And the taco was very good, though a bit of a carb-bomb with two layers of tortilla.

All in all, if I worked near a Kogi Truck I'd be really psyched; but not sure I'll make a special trip to one again.

The night before we left for Seattle, our friends Mark and Diana took us out to dinner to celebrate our engagement. We chose Canele because it's one of our favorite L.A. restaurants.

We had tasty cheese at the start of the meal: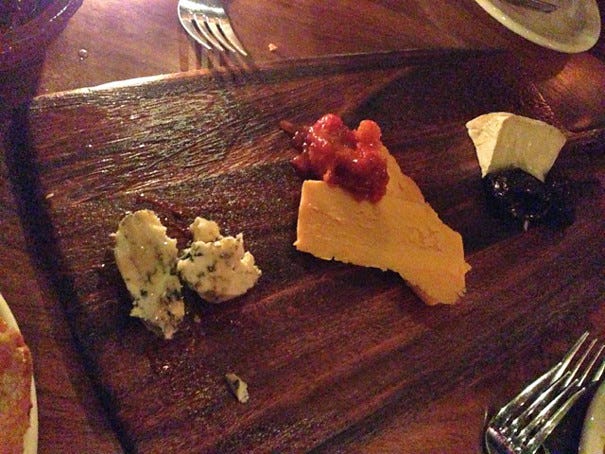 There were other appetizers but the pictures aren't good.

The entree was incredible: leg of lamb with a salsa verde (or was it chimichurri? It was almost 2 weeks ago...) that was so bright and acidic it was a perfect foil for the lamb.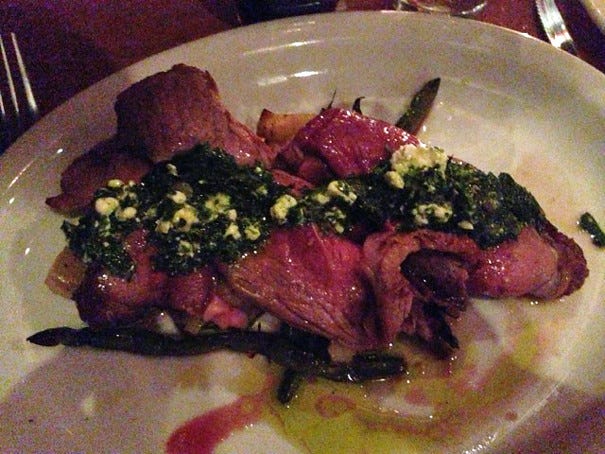 For dessert we had these profiteroles which are a classic and for a reason.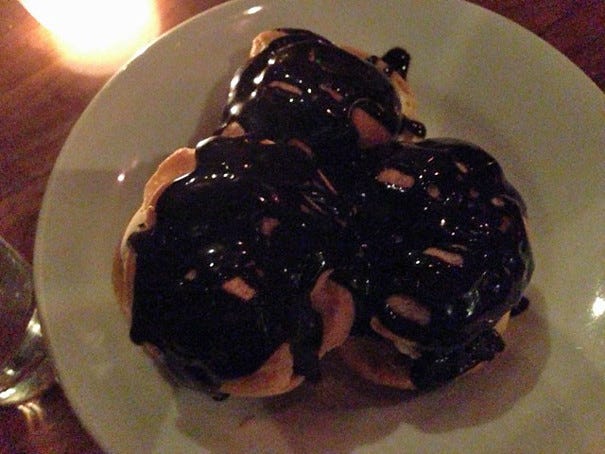 I love Canele, it remains high up in my L.A. Top 3.

When we flew to Seattle the next day, Craig's parents were at a play so we had to kill time. Craig mentioned a restaurant he used to go to growing up called 13 Coins which is near the airport in a hotel. So we wandered over there with our suitcases.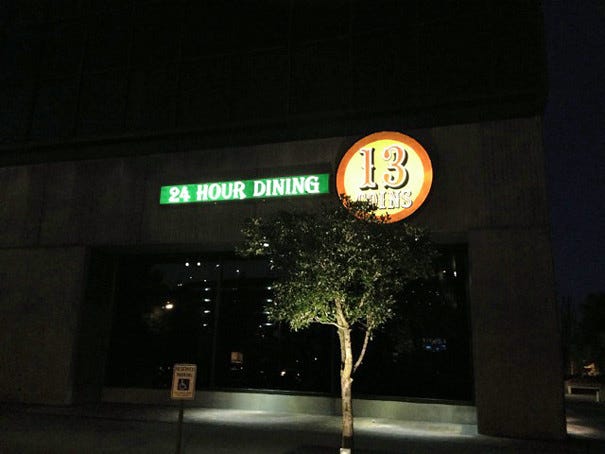 The place is a real throw-back with a lounge singer and everything.

The food isn't notable or anything, but the Caesar salad had good flavor: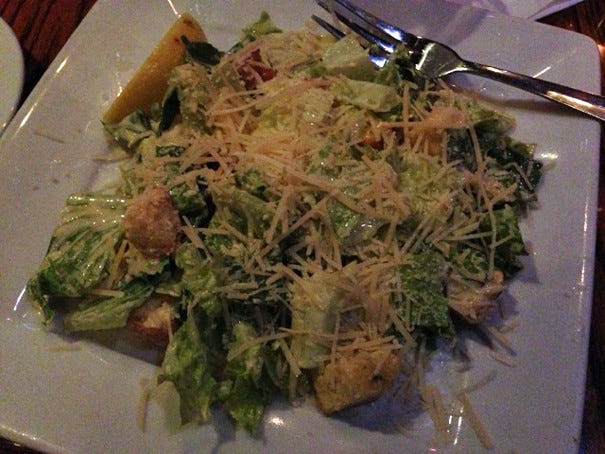 And the pasta with smoked salmon was heavy on the cream and butter but in a good, throwbacky way.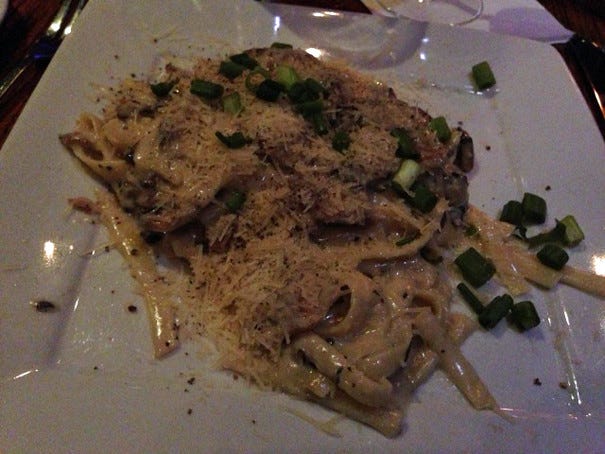 The next day I started cooking for the dinner, then it was off to Eliza Island...

...when we got back, we hit up my favorite Bellingham pizzeria, Pizza Fiamma for dinner with Craig's sister, Kristin.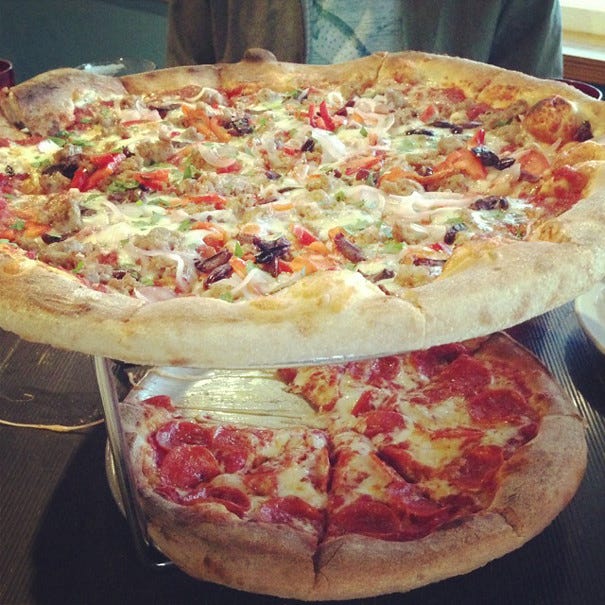 Then we had delicious ice cream at Mallard Ice Cream which has fun flavors like coffee cookies and cream, which is what I had.

The next day, Kristin drove us down to Seattle and we went to a Greek restaurant inside of a bookstore but I forget the name. Here's Craig and Kristin eating their food: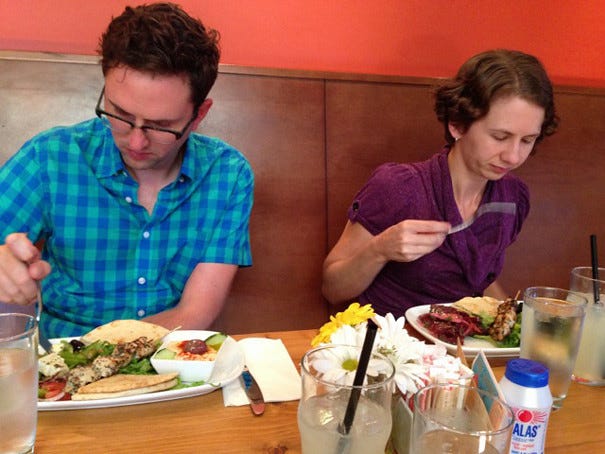 And here's a really cool picture I took of Kristin on Lake Union: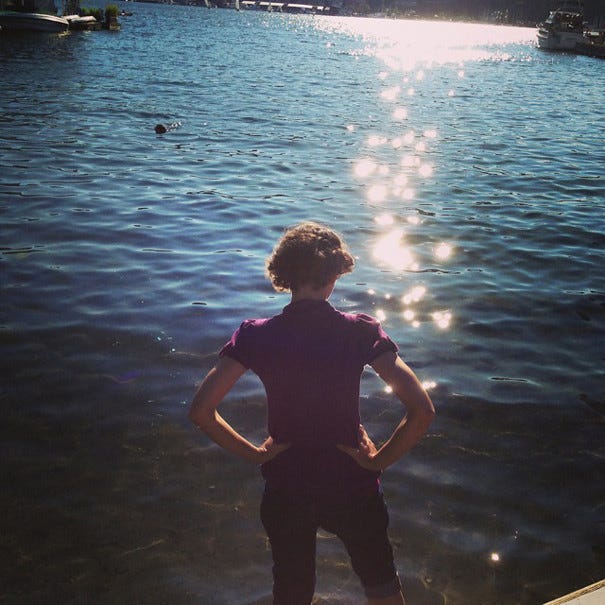 Back from Seattle on Saturday, Craig and I treated ourselves to In-N-Out near LAX which is just the best.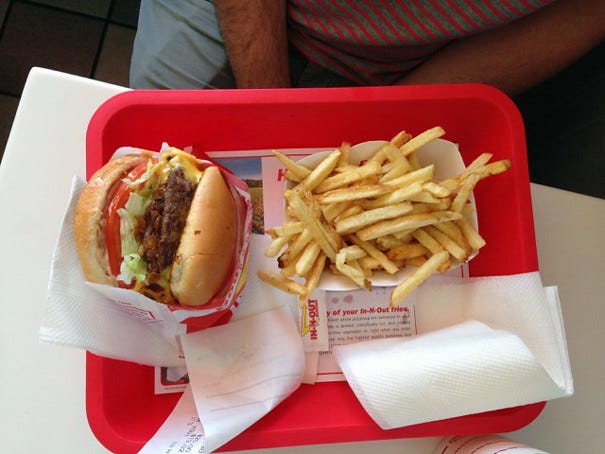 Then, on Sunday night, our friends John and Michael had us over for dinner and they made a really wonderful meal that featured bacon-wrapped asparagus, which Michael is holding here: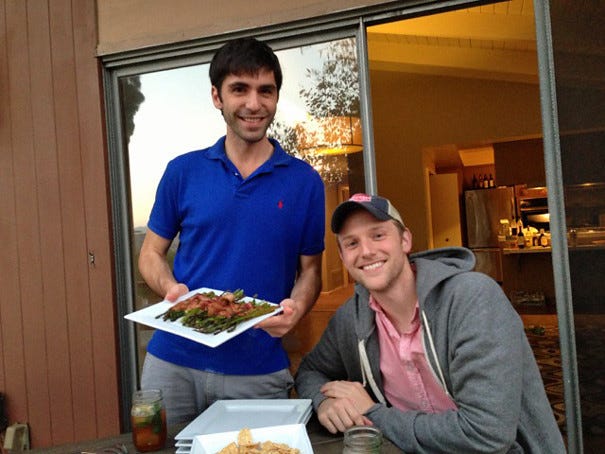 There was also homemade bread: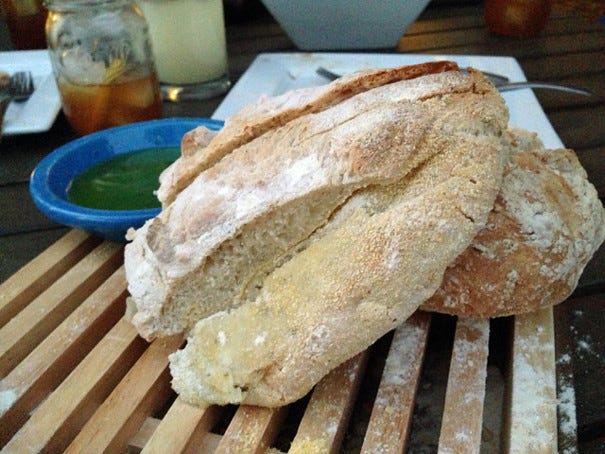 And the highlight was BBQ-ed chicken with Mexican-style street corn coated in butter and Cojita cheese and chili powder.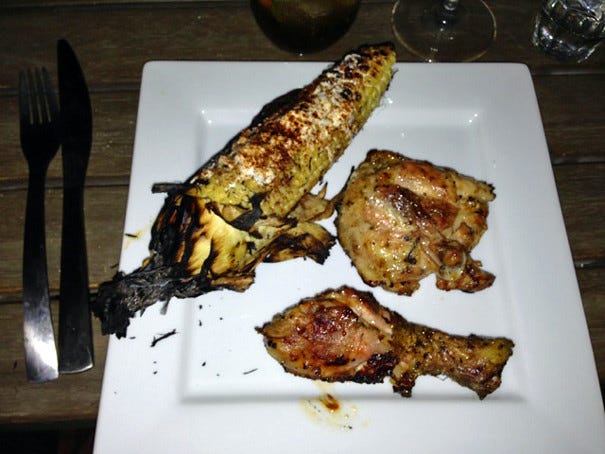 At the end of the night, we played a hilarious game called Headbands that involved us all wearing headbands and getting cards to put on them and we had to guess what was on our cards. I had the hardest time with MUSEUM, but an easy time with BASEBALL.

Here's Diana, Mark and Craig playing with Alistair the celebrity dog from "Seeking A Friend For The End of the World" that John and Michael adopted.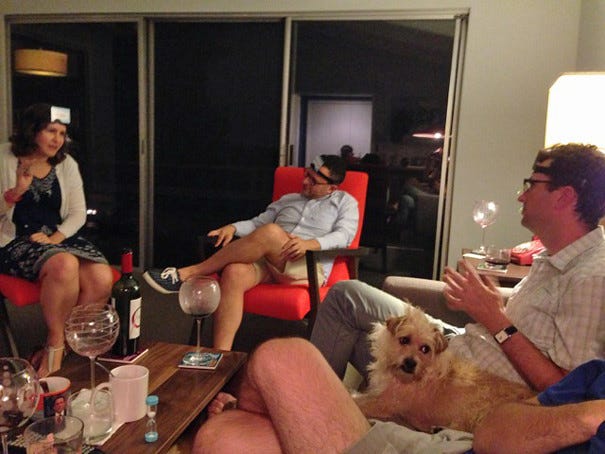 That's all for this week folks!

I'm recording a new episode of THE CLEAN PLATE CLUB tomorrow night so I'm excited about that.

Until next time....

Your friend,
Adam (The Amateur Gourmet)
Reading this in a browser? Get next week's in your inbox by signing up here.

Follow Me!
On Twitter
On Facebook

Check Out My Cookbook!
Secrets of The Best Chefs

Recent Food Posts

Clamming For The First Time

BBQ vs. Cookout

The Night People Paid To Eat My Food (A Charity Dinner in Bellingham)

Fried Rice for Breakfast

The Most Disgusting, Inedible Dinner I've Ever Cooked

Explain Yourself, Minute Maid Lemonade

New Apartment? New Oven? Buy This.

Something Happened at Rustic Canyon

Almond Cake with Plums

The Clean Plate Club Logo Contest

The Clean Plate Club, Episode #1: Besha Rodell, Rachel Shukert

Breakfast Crepes with Eggs, Bacon and Cheese

The Kingston Negroni

The Top 5 Dishes I've Eaten In My Travels

Vegans Should Eat Oysters

Oven-Broiled Eggplant Dip

The Other Side of Our New Kitchen & A Plant

Good Garlic

Pasta with Chickpeas, Bacon and Spinach

Melissa Clark's Spicy Pork Stew with Hominy and Collard Greens

Seeking My West Coast Hummus Place: The Hummus Bar & Grill

My New Cookbook Shelf

Sweet Potato Hash with Aleppo Pepper and Poached Egg

Shophouse (The New Chipotle)

Malted Waffles

I Am Not An Actress

The Art of the Cheese Plate

The Salty Turnip and Egg at Ruen Pair

Mustmayostardayonnaise

Diana's Butter-Roasted Potatoes

Got A Fat Tush? Make Fattoush

The Case of the Cat and the Water Glass

Sneak Peek: Our New Kitchen

Reader Mail: How To Entertain?

No-Bake Chocolate Peanut Butter Cookies

Kachin Chicken Curry

Rocio's Mole de Los Dioses

Foolproof Apple Pie

Cinnamon Toast French Toast

The Porch Swing

What Time Do You Eat Dinner?

My Ultimate Comfort Food: Fusilli with Bacon Tomato Sauce

Life's Too Short For A Bad Chocolate Chip Cookie

Stovetop-Charred Baba Ganoush

Mozza Moments: Spring Peas & Yogurt Cheese, Caramel Copetta with Marshmallow Sauce

Sunday Morning Potatoes

Make Your Rice Go Bling

Chocolate Chile Pound Cakes

When Your Bad Lunch Ruins Someone's Good Lunch

The Ultimate L.A. Street Dog & Big Gay Ice Cream

Sad Kitchens

Smoky Beef Chili

Jicama and Mango Salad with Jalapeno Lime Dressing

Nothing To Make For Breakfast? Make Breakfast Anwyay

Can You Spell Knaidel?

Seared Salmon with Roasted Broccoli

Pasta! Pasta! Pasta!

Toasted Garlic Couscous with Preserved Lemon

Cherries in Salad

Dear Ina




*|LIST:DESCRIPTION|*

Unsubscribe *|EMAIL|* from this list.

Our mailing address is:
*|HTML:LIST_ADDRESS_HTML|*
Copyright (C) *|CURRENT_YEAR|* *|LIST:COMPANY|* All rights reserved.

Forward this email to a friend
Update your profile
*|IF:REWARDS|* *|HTML:REWARDS|* *|END:IF|*