🍪 COOKIES VS. LATKES 🥔
Reading in a browser? Click to get this in your inbox every week!

Hey everyone,

Phew! I've been cooking up a storm. Holidays really create ample opportunities to feed people and as someone who likes to feed people, I'm taking advantage of every celebratory moment. For example: on Saturday, Craig and I went to get our tree (we always go to the tree place in the Target parking lot in Eagle Rock) and when we got back, we had some friends over to help trim it. Since I knew these friends were coming over, I decided to make cookies from the current issue of Bon Appetit: Cardamom Snickerdoodles and Raspberry Rugelach. Well, I couldn't get to the rugelach in time on Saturday so I subbed in Smitten Kitchen's Peanut Butter Cup cookies which had everyone swooning. I made the rugelach on Sunday for our friend Mark's birthday, though his daughter Phoebe preferred a Peanut Butter Cup, and who can blame her?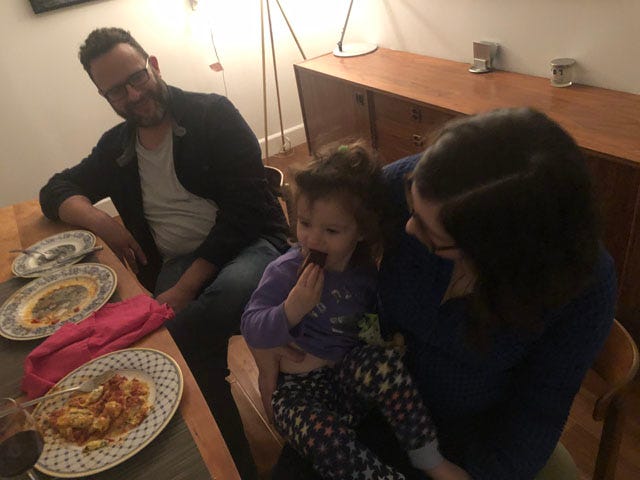 Then on Monday, on the second night of Hanukkah, I had some Jewish friends over and made latkes.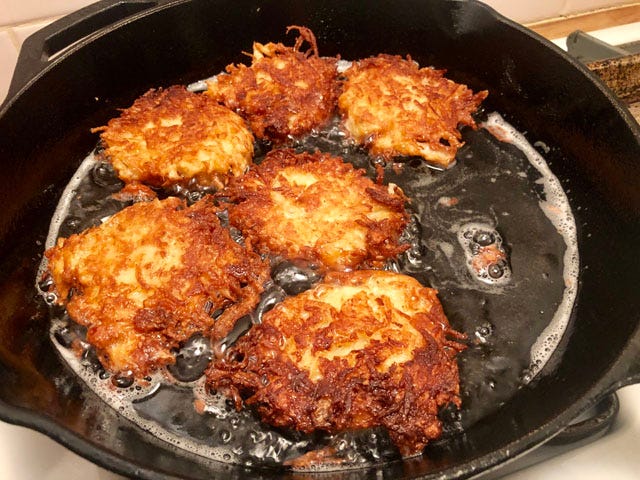 Normally, we host a latke party and I make 300 to 400 latkes for about 100 people (see here if you don't believe me). This year, though, Hanukkah came early and we didn't have enough time to plan a party. So I invited our friends Toby and Andrew over to help light the menorah and eat fried potatoes. Toby, being the great cook that he is, brought homemade applesauce AND David Lebovitz's ginger cake, which is truly a marvel if you've never had it.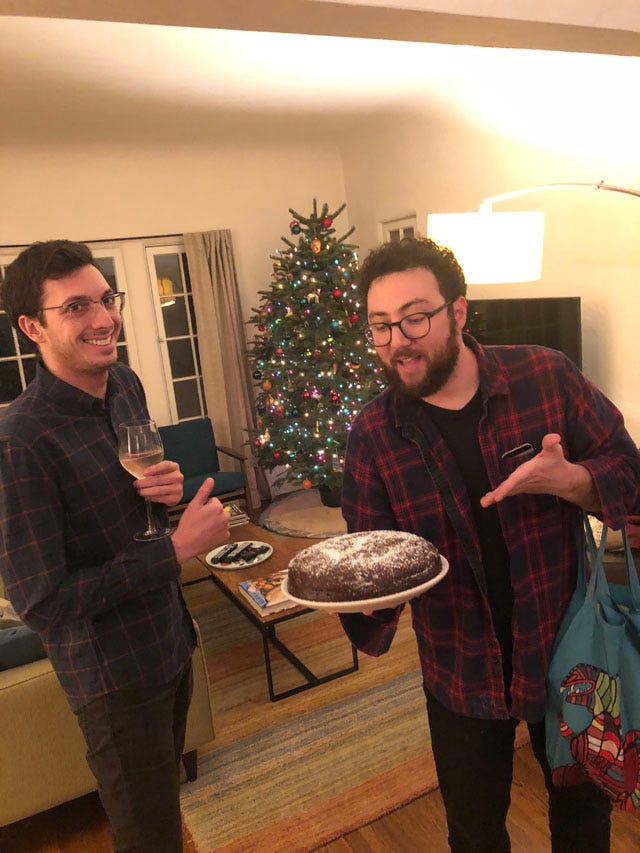 Even though I titled this newsletter COOKIES VS. LATKES, the truth is that all holiday food has the same effect: it brings people together and makes everyone fat. Gosh, I love the holidays. Now let me get into the nitty gritty...

What I've Been Cooking:

1. Snickerdoodle Party Cookies.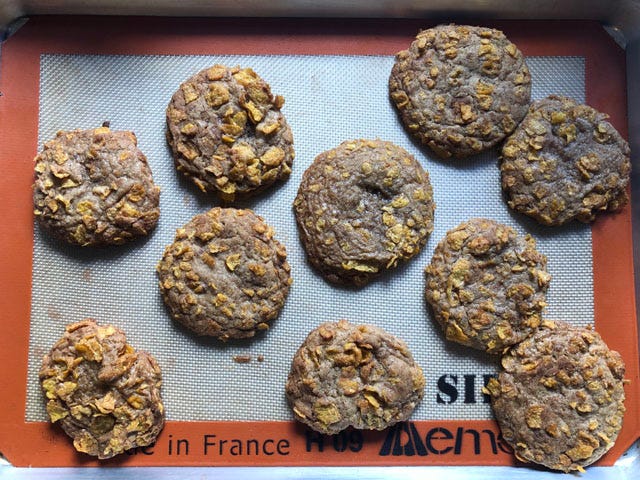 This is a pretty involved cookie recipe from the current issue of Bon Appetit (click here for the recipe link). You brown two sticks of butter; you take that brown butter and beat it with sugar, add the dry ingredients (including Cardamom), but then you're not done. You add two Skor bars that you chop up. (I didn't know what a Skor bar was until I made this recipe, but it's basically a fancier Heath bar. I found it at the checkout at Gelson's.)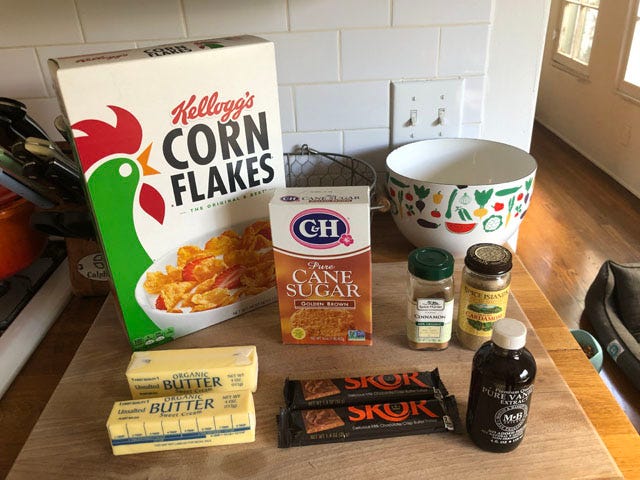 Then you're still not done: you scoop the dough into balls and drop them into a bowl of crunched up Corn Flakes. You place those balls on a cookie sheet...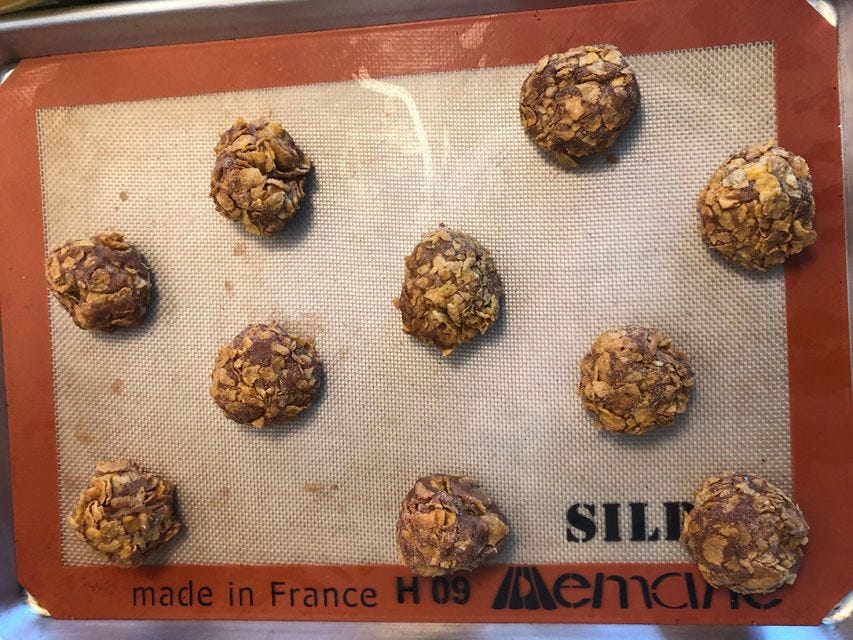 ...and bake them.

How were they? Good! I really liked the Cardamom flavor and the crunch from the Corn Flakes, though they didn't really taste like a holiday cookie. They tasted more like something you'd pack into your kids' lunch (assuming you have kids and/or that they eat lunch) or something you'd want to snack on in the afternoon. But everyone who had them liked them and that's something. (Note: you're supposed to sprinkle them with gold dust to make them more festive, but I couldn't find gold dust. Ah well.)

2. Smitten Kitchen's Chocolate Peanut Butter Cup Cookies.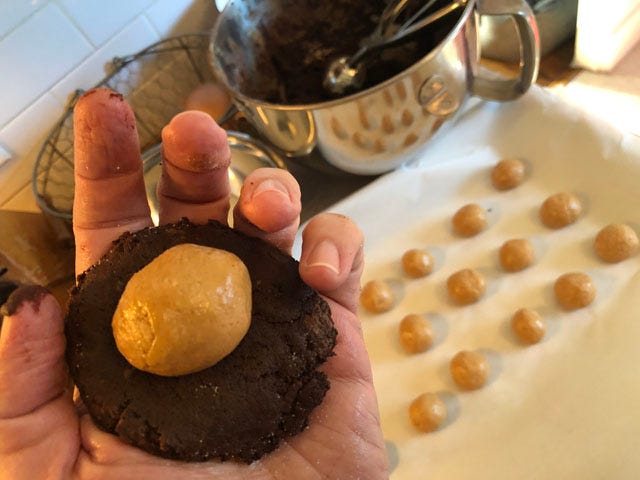 These cookies are so easy and fun to make and people will go crazy for them (here's the link in case you missed it). You basically mix peanut butter, powdered sugar, and salt together in a little bowl and make little balls which you stick in the freezer. Then you make the cookie dough which is just butter, sugar, cocoa powder, and a few other cookie things (baking powder, etc.) The only tricky part is that you have to portion out the cookie dough so that you don't use it all up before you use up all the filling balls. I screwed up and made my chocolate cookies too big so I didn't have enough for all the balls. Still, the cookies came out beautifully. Here's one with a Snickerdoodle.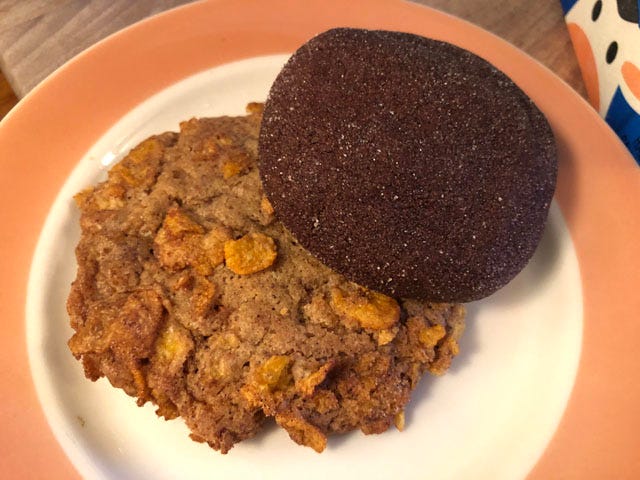 3. Eggnog.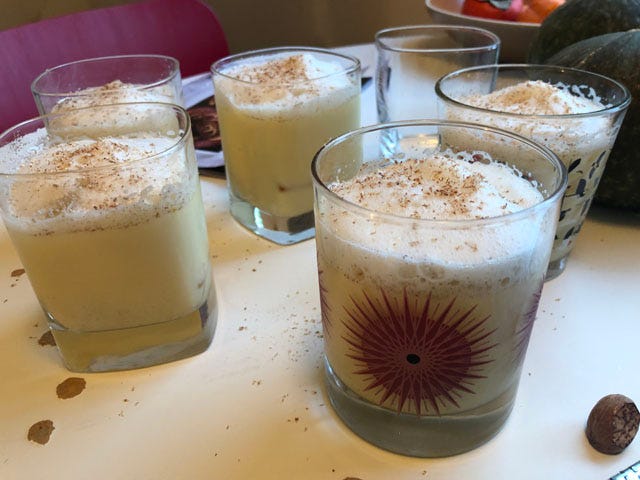 We have a tradition where every year, after we buy our tree, I make eggnog and we drink it while we trim the tree. How do I make eggnog? I always do the same thing and I think I got the idea from Michael Ruhlman's blog, though I can't find evidence of that now.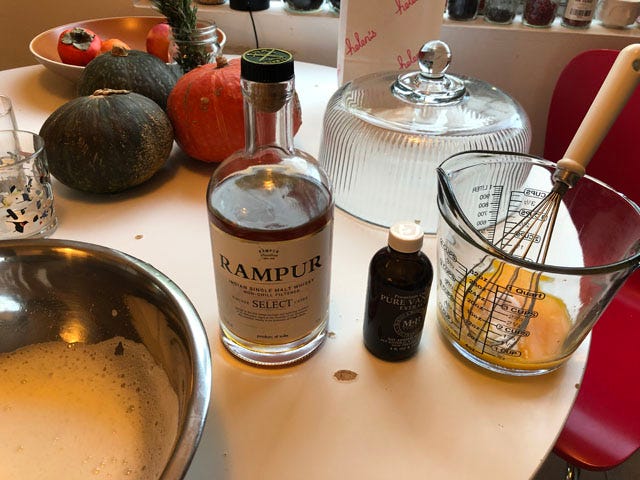 Here's what I do: I separate a few eggs (depending on how many people you're serving; I did four eggs for about six people). Whisk the egg whites until frothy and slightly thick (but not stiff) and set aside. In the bowl with the egg yolks, add between 1/4 cup and 1/2 cup of sugar, depending on how sweet you like it. Whisk that together until creamy, then slowly whisk in a bunch of milk (2 cups?). Then glug in a bunch of whiskey (it's really not scientific). Add a splash of vanilla, a pinch of salt, and start tasting. Not boozy enough? Add more whiskey. Not sweet enough? Add more sugar. I'm telling you, it's just a gut-instinct kind of thing.

Then put ice into tumblers, pour the milk/yolk/whiskey mixture on top, and then spoon the egg whites on top. Grate fresh nutmeg over everything and serve to your happy guests. Look at these contented tree trimmers!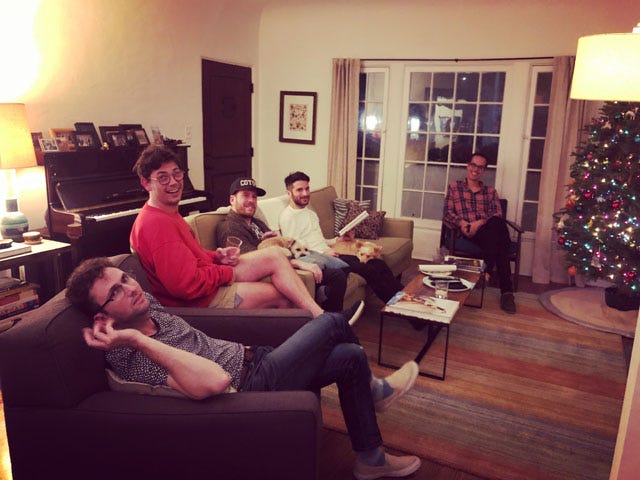 4. Raspberry Rugelach.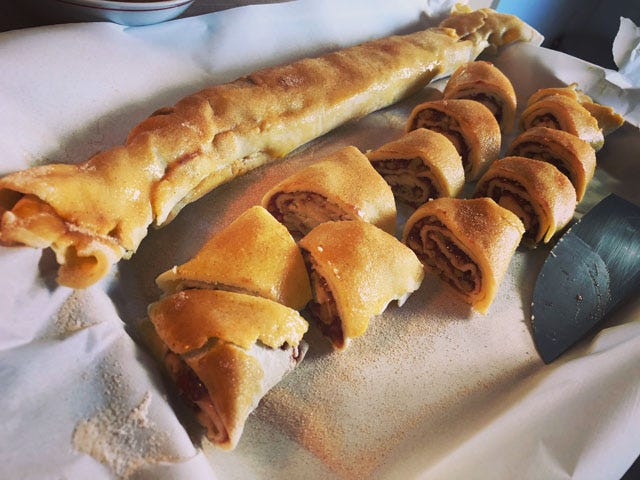 Man oh man was it a lot of work to make rugelach. (Here's the recipe.) I'd made rugelach before and I don't remember it being this hard (my friend Cary said most recipes have you make little parcels which you roll up from the corner and that sounds right; I think I made the Barefoot Contessa's and it was much easier). Here you make the dough with cream cheese (it's a pretty killer dough) and refrigerate for 40 minutes. Meanwhile, you make the filling: walnuts, raspberry jam, orange zest, and salt. (Ok, the filling was pretty killer too.)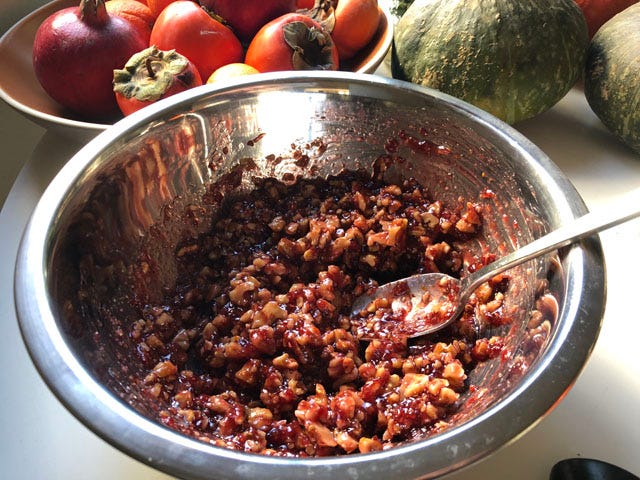 Here's where things get tricky: you have to roll out the dough into an 18 X 11-inch oval between two sheets of wax paper. I don't know about you, but I hate rolling anything out, and rolling something out to these dimensions was, to say the least, challenging. But somehow I pulled it off and got busy spreading the filling on top, then rolling it all up with the help of the wax paper.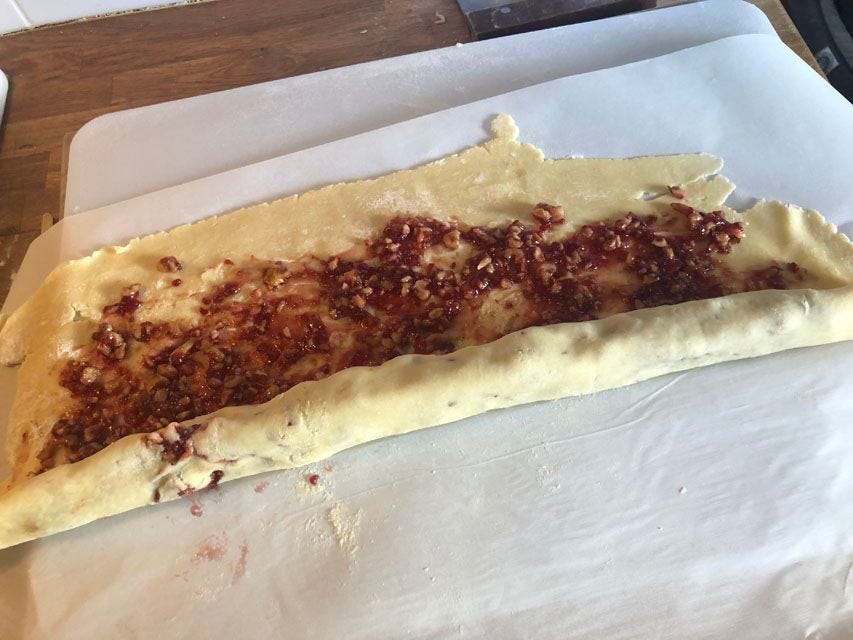 All in all, I think I did ok. Then you refrigerate the rolled up logs for an hour and, finally, you slice them and bake them for 30 minutes or so. Some (the ones on parchment) got a little burnt on the bottom; the ones on the Silpat did great. Look at my pretty rugelach.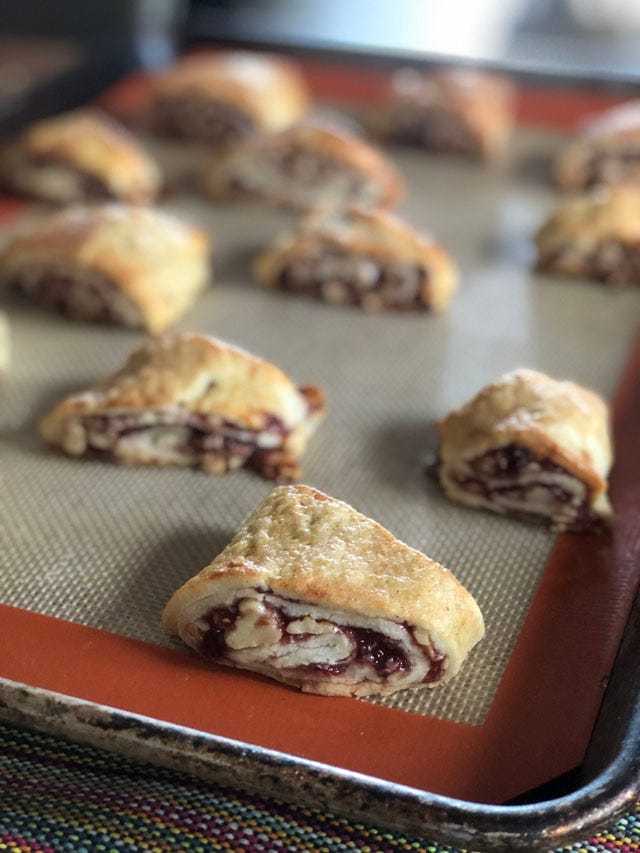 They were tasty; my friend Mark said they were the best rugelach he's ever had. Maybe if I hadn't been baking all weekend, and this was my only project, I'd have a better attitude about them. (Oh: you're supposed to grind dehydrated berries with sugar and sprinkle that on top, but I couldn't find dehydrated berries so I just did a mixture of cinnamon and sugar and that worked fine).

5. The Barefoot Contessa's Sausage Lasagna.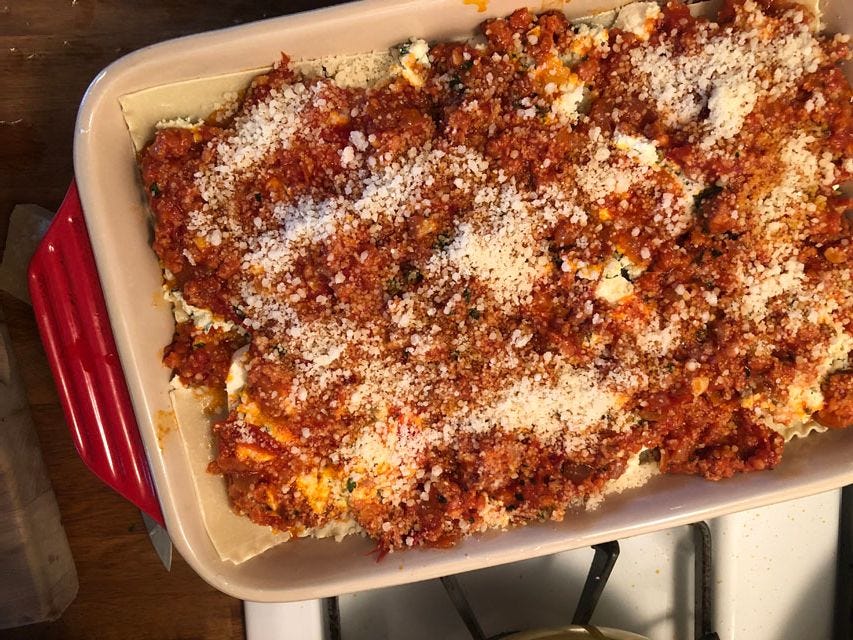 The best lasagna that I know how to make is, surprise surprise, Ina Garten's (recipe). She does hers with turkey sausage, I use Italian fennel sausage. But the process is so easy: you just make a sausage ragu (I sprinkle in some chili flakes for a little pep). You mix together ricotta, goat cheese, Parmesan, and egg. And you soak lasagna noodles in hot water (you don't have to boil them); though I season that hot tap water with lots of salt, something I think Ina should mention (sorry, Ina) otherwise your noodles will be bland. Then you just layer it all up: sauce, noodles, the ricotta mix, mozzarella, more sauce, more noodles, etc. Bake at 400 for 30 minutes and voilà.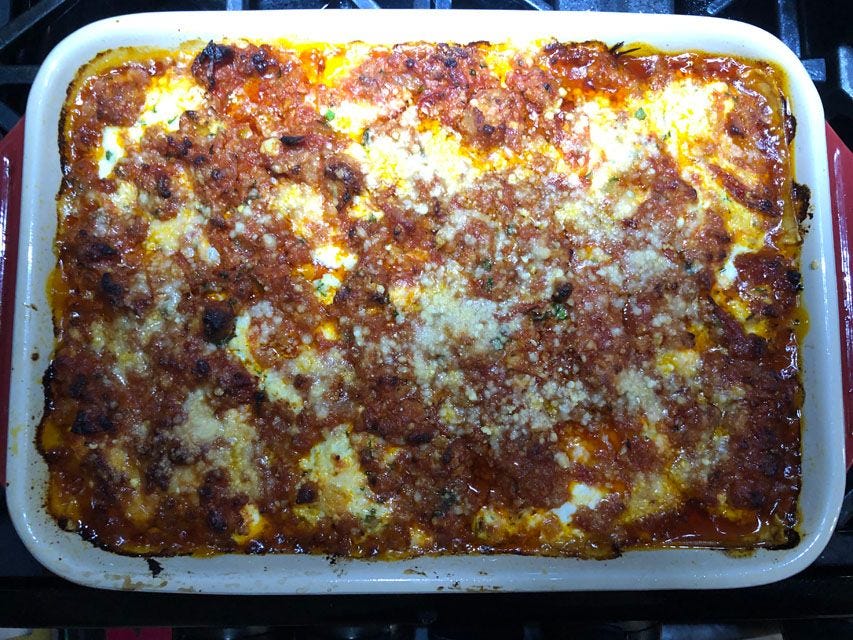 This was for Mark's birthday dinner and it concluded with a platter of the cookies you saw me make above. I'd say we ate very well that night! (P.S. Mark and Diana recently had twin boys, if you're wondering why we brought all of the food to them and they didn't come to us; lasagna and cookies travel easier than twins.)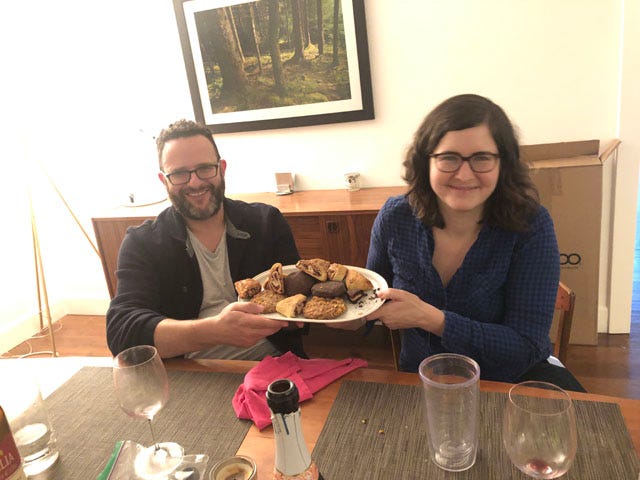 6. Latkes.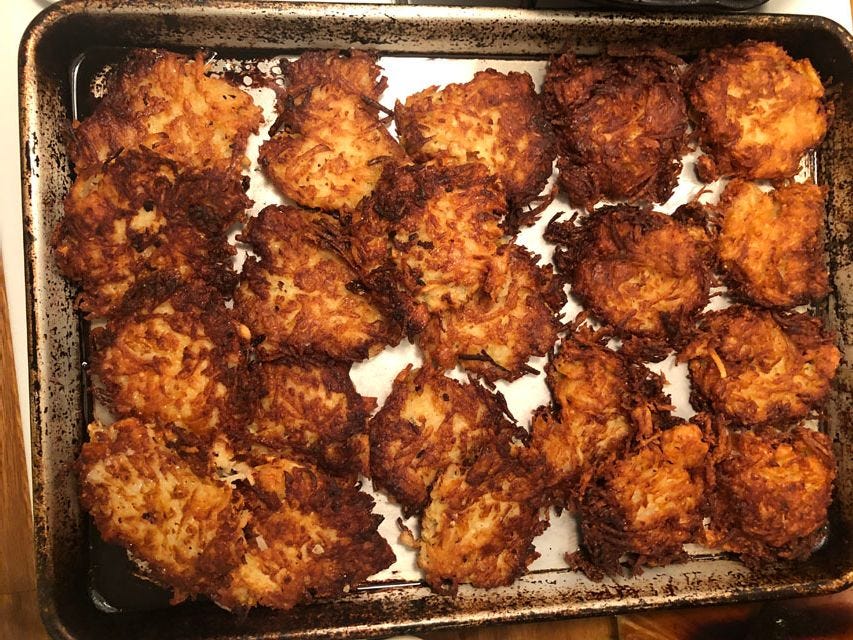 Finally, we get to the latkes. Every year I use the same recipe; I don't remember where I got this from, but it's a formula that works well no matter how many latkes you're making (20 or 200).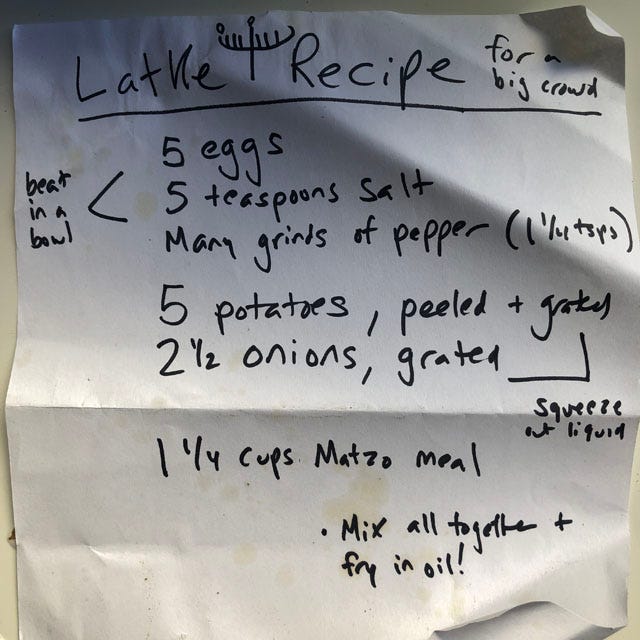 Here's how I do this: I peel the potatoes first and put them in a bowl of water. I get the onions ready to go. In a large bowl, I crack in the eggs, whisk in the salt and pepper, and then dump in the matzo meal and kind of work it in but not too much.

Then I get myself to the food processor with the shredding disc attached (I can't imagine doing this any other way; especially with the onions). Then I shred shred shred while listening to Barbra Streisand (Craig had an easier time with the onion smell than the Babs).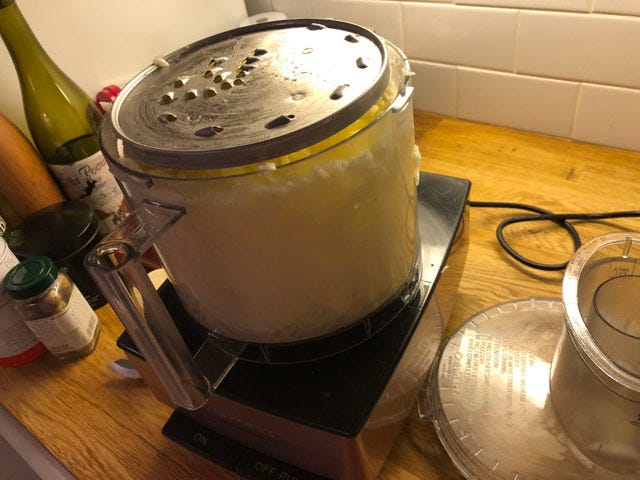 The shreds go into a kitchen towel or cheesecloth and you squeeze out all the liquid. That's probably the hardest and most important step; hard because it'll make you cry painful onion tears, important because this prevents the latkes from being greasy.

Then you mix the shreds with the egg mixture, pour lots of oil into a cast iron skillet (I use a lot of vegetable oil; it is a holiday that celebrates oil after all), crank up the heat, and start frying. Once fried, I put the latkes on a cookie sheet and keep them warm in a 250 oven.

As for the spread, I put out sour cream, creme fraiche, smoked salmon, salmon caviar (only $12!), chopped chives, and Toby's homemade applesauce.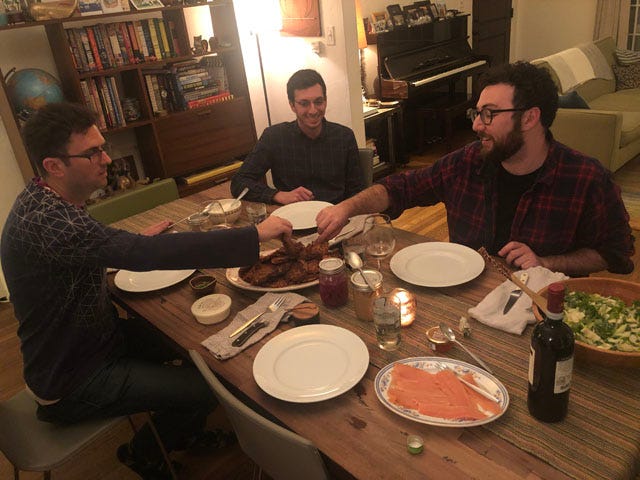 Oh, I also made a salad of apples, celery, fennel, endive, and arugula just as a contrast to all that fat and salt.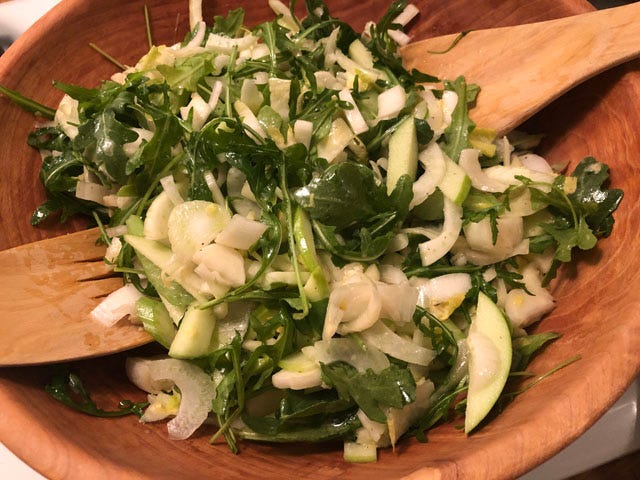 Toby led the charge with the latke combinations: he put sour cream and applesauce together on his latke and that was kind of brilliant so I copied that.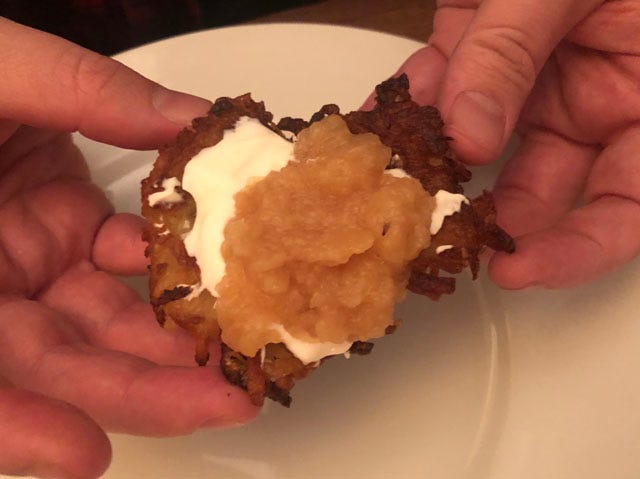 Then, for round two, I went full on decadent with some creme fraiche, smoked salmon, caviar, and chives.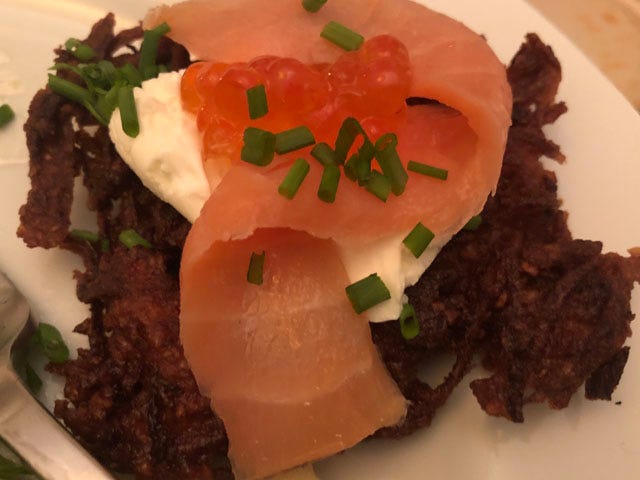 A triumphant night of latkes, indeed.

Where I've Been Eating:

1. Nancy Silverton's Grilled Cheese Night at Republique.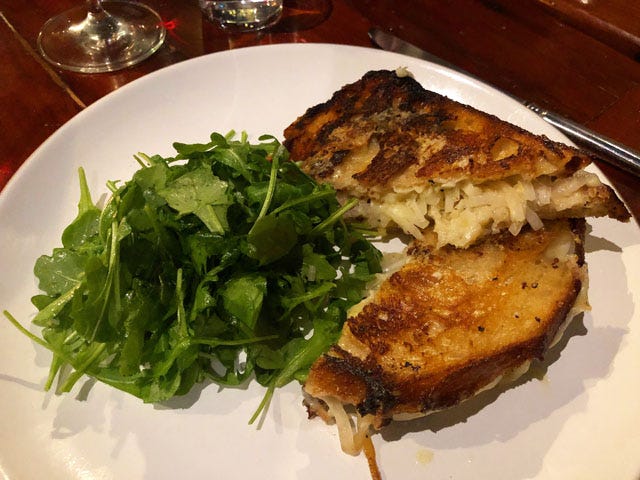 One of my favorite pieces of Los Angeles food history is the fact that Nancy Silverton used to host a grilled cheese night at her restaurant Campanile, which she ran with her husband Mark Peel in the 90s. When I bought Silverton's sandwich book in my early days of cooking, I'd fantasize about what that might've been like: eating a lovingly made grilled cheese sandwich made by a food genius using her celebrated bread from the La Brea Bakery. Well: as luck would have it, I actually did get to eat that sandwich... Campanile is now Republique and my friend Ryan texted me to say that Nancy was helping them celebrate their five-year anniversary by hosting a one-night-only Grilled Cheese Night there. We quickly made a reservation.

The place was packed with Nancy Silverton fans (I saw Phil Rosenthal and James L. Brooks, one of my heroes). The menu was actually a tasting menu with the grilled cheese as a mid-point. How was it? Pretty amazing: it had onions, grainy mustard, and Gruyere cheese and was clearly cooked in a ton of butter. We loved it.

2. Gwen.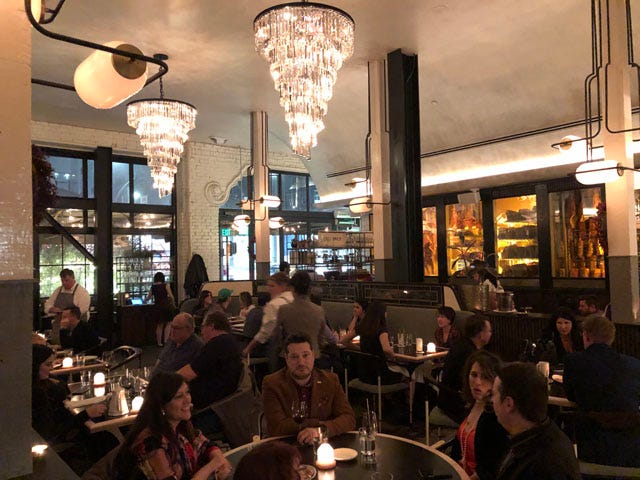 Gwen's a place we went to when it first opened and it was a little formal and a little stiff. Now it's relaxed a little; they have an a la carte option, as well as the tasting menu, and the room feels much more festive and cozy and cool.

We went on Friday with our friends Jim and Todd and decided to go for the tasting menu. It did not disappoint. First, though, my cocktail: a Negroni made with pineapple that was out of this world good (and served in a cocktail glass from the 1930s).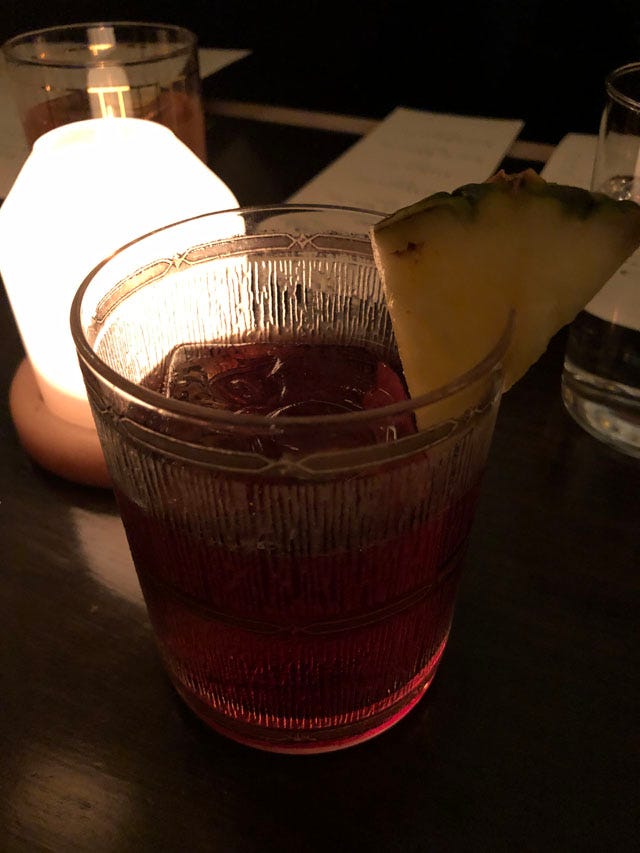 The bread was insane... like savory doughnuts.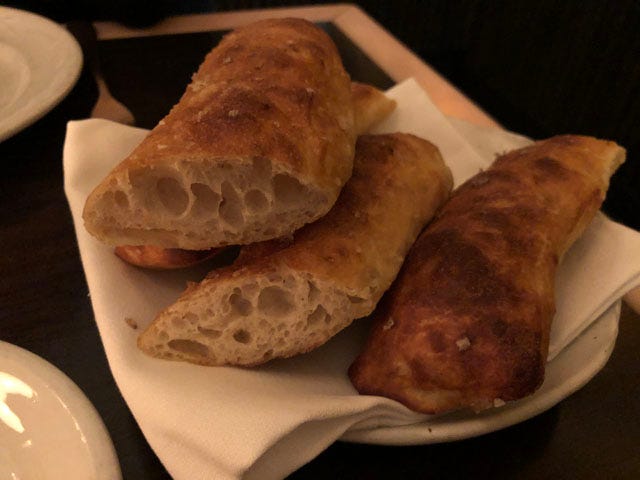 And check out this gorgeous charcuterie.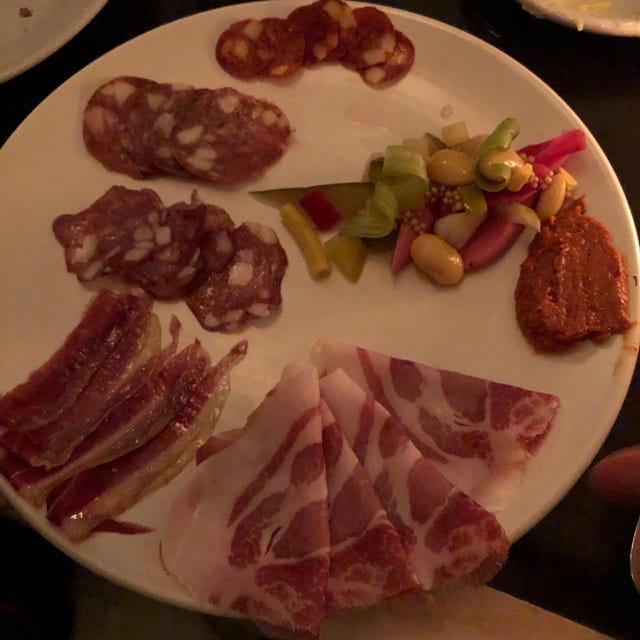 And this scallop with a persimmon hat.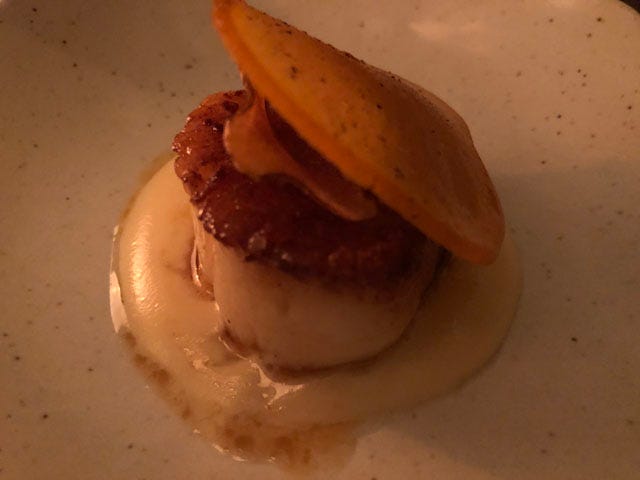 Weirdly, the steak, which should've been the highlight of the meal, was a little fatty for us (though the flavor was excellent).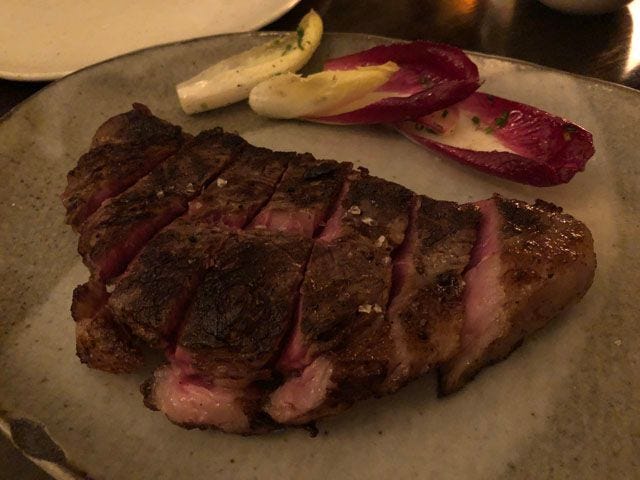 And the dessert was mwah (kiss noise).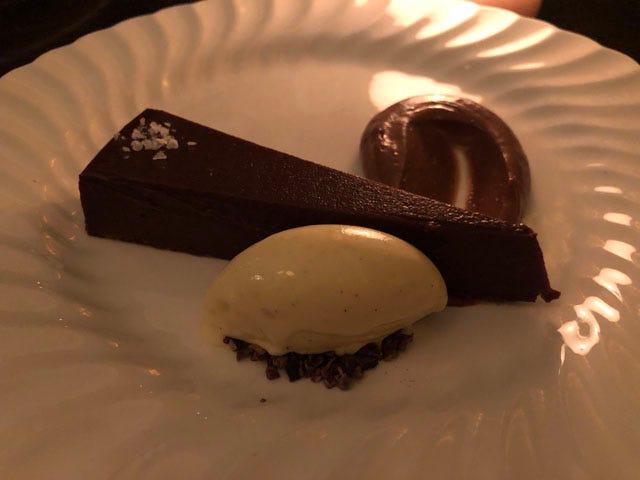 Loved our dinner at Gwen, will definitely go back!

3. Triniti.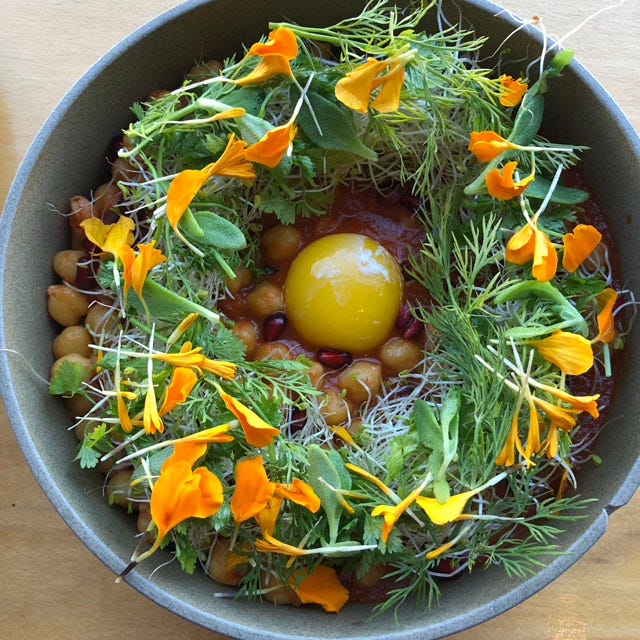 Had to show you this lunch that I had at Triniti in Echo Park. Those are chickpeas served in a charred tomato clam broth. Sadly, this was a case of a dish built for Instagram; it may be the most photogenic thing I've ever eaten, but it was seriously lacking flavor... especially in the salt department. If we really did eat with our eyes, though, it would've been a perfect lunch.

Links & Things: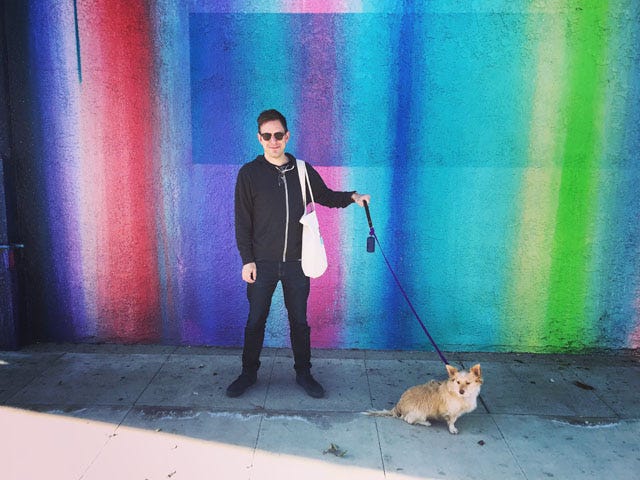 [That's me and Winston on the way back from the Atwater Village farmer's market.]

* The Definitive Guide to Tipping at Any Restaurant in America, Eater
* You Don't Want Fries With That (let The New York Times ruin French Fries for you), The New York Times
* A Sweet Potato Fry Recipe from Felicity Cloake (because they're your healthiest option), The Guardian
* How Parmesan Cheese is Made, Kottke
* Melissa Clark Serves Fondue in an Acorn Squash (that's not the headline, but it should be), The New York Times
* I Hate The Hollywood Handshake: A Great British Baking Show Song of War, The Ringer
* How To Make An Oversize Potato and Root Vegetable Latke for the Holidays, LA Times
* How To Buy Vintage Cocktail Glasses For Your Home, Eater

Didn't really watch much this week, except Craig made me watch Hoarders: Buried Alive and I'll have nightmares about the woman who kept a jar of dead roaches in her kitchen for years to come. I listened to Kenneth Lonnergan on Marc Maron's podcast and that was pretty wonderful; also listened to Bill Hader on Anna Farris's podcast, and that was good too.

OK, folks... that's all for this week! Happy Hanukkah to those who are celebrating.

Until next time....

Your friend,
Adam