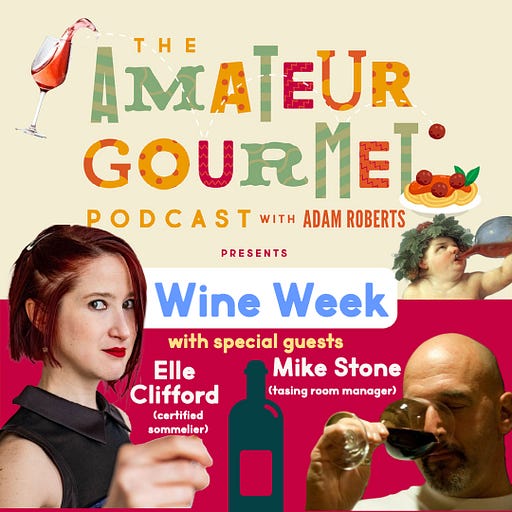 Apr 13 • 1HR 4M
A Sommelier and a Tasting Room Manager Walk into a Podcast
Wine Week! with Special Guests Elle Clifford and Mike Stone.
Are you a person who loves to cook but every now and then you screw up? You've come to the right place! Since 2004, Adam Roberts (aka The Amateur Gourmet) has been writing about his adventures and misadventures in the kitchen. He's the author of three books (including the upcoming Broadway cookbook, Give My Swiss Chards to Broadway) and the author of a biweekly newsletter for Substack. Each week on The Amateur Gourmet podcast, there's a theme, interviews with famous chefs, writers, actors, and cookbook authors connected to that theme, plus visits from friends and family, and lots of yodeling. If you like what you hear, be sure to become a paid subscriber and you'll have access to twice weekly recipes, essays, bonus podcast material (including Ten Feisty Food Questions with that week's guest), plus threads where you can engage with other Amateur Gourmet fans about food topics that you care about. Just know there's no judgment here: we all screw up in the kitchen!
Hi everyone,
I don't know about you, but I'm insecure when it comes to wine.
It's just so overwhelming. What's the difference between natural wine and regular wine? Why is some super expensive wine not worth it and some cheap wine a great bargain? How do you learn all of the things you're supposed to learn about mouthfeel and terroir and structure?
Welcome to Wine Week, my attempt to clear things up for you and me and anyone else confused by wine.
I've invited two wine professionals with wine podcasts on to walk me through all of the things that I don't understand about wine.
Elle Clifford hosts The Wine Situation, a delightful podcast that I once appeared on the day that Elle found out she passed the tests to become a certified sommelier.
With her expertise and approachability, I ask her all about her obsession with wine, how she affords drinking the good stuff, how she got interested in all of this in the first place, the way she chooses the right words to describe what a wine tastes like, and how she retains so much information about so many different types of wine.
The Amateur Gourmet Newsletter is a reader-supported publication. To receive new posts and to support my work, consider becoming a paid subscriber. You'll get bonus episodes and newsletters every Thursday.
But first, I invited on Mike Stone of The TallMikeWine Podcast on to talk about his job as a tasting room manager at Nicholson Ranch Winery.
How do you go from being a DJ to a tasting room manager? Mike has the story (and voice) for you. He also explains what he does every day at his job, how he motivates others in the tasting room to describe the same wines in different ways, and what he's currently drinking that he recommends.
In terms of what I've been drinking lately, as I mention on the podcast, I just bought a case of natural wine from Psychic Wines in L.A. and I'm working my way through it.
Which leads to the question: what wine are you currently drinking? Do you have a staple or do you go through different phases? Let us know in the comments.
Thanks for listening!
If you want to hear my Ten Feisty Wine Questions with Elle Clifford on Thursday — including questions like "What's a wine that you're supposed to like that you hate?" and "What's your favorite book about wine?" — be sure to become a paid subscriber so that you get it in your inbox.
See you back here on Thursday!
Your friend,
Adam