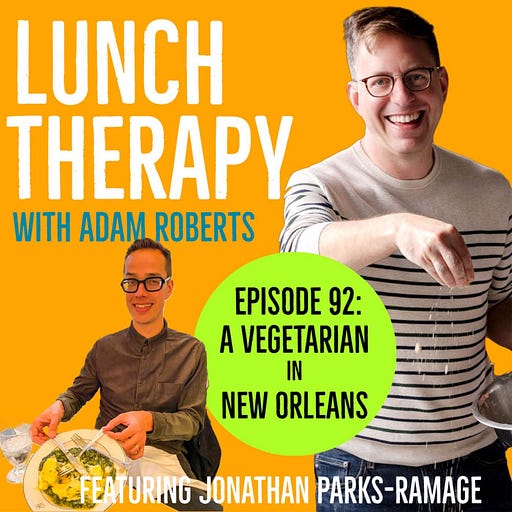 Feb 3, 2022 • 30M
A Vegetarian in New Orleans
Are you a person who loves to cook but every now and then you screw up? You've come to the right place! Since 2004, Adam Roberts (aka The Amateur Gourmet) has been writing about his adventures and misadventures in the kitchen. He's the author of three books (including the upcoming Broadway cookbook, Give My Swiss Chards to Broadway) and the author of a biweekly newsletter for Substack. Each week on The Amateur Gourmet podcast, there's a theme, interviews with famous chefs, writers, actors, and cookbook authors connected to that theme, plus visits from friends and family, and lots of yodeling. If you like what you hear, be sure to become a paid subscriber and you'll have access to twice weekly recipes, essays, bonus podcast material (including Ten Feisty Food Questions with that week's guest), plus threads where you can engage with other Amateur Gourmet fans about food topics that you care about. Just know there's no judgment here: we all screw up in the kitchen!
Hello from New Orleans! We've been having a blast and eating ourselves silly, but one of the friends we're traveling with, Jonathan Parks-Ramage (author of Yes, Daddy), is a VEGETARIAN which is pretty challenging here. So, seeing as we're in the same hotel, I invited him on today's Lunch Therapy to talk about being a vegetarian in New Orleans, how the menu at the first restaurant where we went literally had zero vegetarian options, the carrot bolognese he ate at Coquette, whether or not he's missing out on a major cultural experience, etc. We recorded over Zoom and for some reason, I sound like I'm underwater and I almost didn't post this, but it's a great convo... so try to ignore the technical issues and enjoy yourself!

---
See acast.com/privacy for privacy and opt-out information.