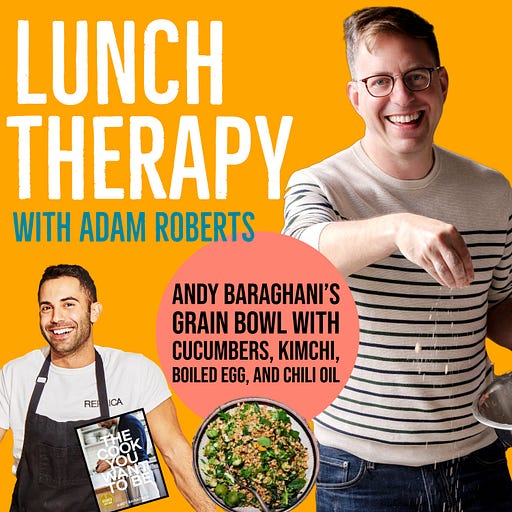 Mar 2 • 59M
Andy Baraghani's Grain Bowl with Cucumbers, Kimchi, Boiled Egg, and Chili Oil
Are you a person who loves to cook but every now and then you screw up? You've come to the right place! Since 2004, Adam Roberts (aka The Amateur Gourmet) has been writing about his adventures and misadventures in the kitchen. He's the author of three books (including the upcoming Broadway cookbook, Give My Swiss Chards to Broadway) and the author of a biweekly newsletter for Substack. Each week on The Amateur Gourmet podcast, there's a theme, interviews with famous chefs, writers, actors, and cookbook authors connected to that theme, plus visits from friends and family, and lots of yodeling. If you like what you hear, be sure to become a paid subscriber and you'll have access to twice weekly recipes, essays, bonus podcast material (including Ten Feisty Food Questions with that week's guest), plus threads where you can engage with other Amateur Gourmet fans about food topics that you care about. Just know there's no judgment here: we all screw up in the kitchen!
Hey Wednesday friends,
My Lunch Therapy patient this week, Andy Baraghani, made a name for himself at Bon Appetit with his viral videos and approachable-yet-exciting recipes.
He's now the author of a brand new cookbook, The Cook You Want to Be, which arrives on shelves April 26th.
In today's session, we talk all about Andy's sense of discipline and how it changed during the pandemic. We also cover his Iranian background, the different kinds of food his mother's family made vs. his father's family, his favorite cooking smell from childhood, his love for fancy restaurants as a kid, and how he started his career by just walking into Chez Panisse and asking for a job.
We also cover the recipe that he's proudest of: his kuku sabzi, or Persian frittata.
You'll find the full recipe below.
Enjoy the podcast above — listen for the brand new introduction! — and if you'd like to hear 10 fun rapid-fire questions with Andy, including his favorite movie theater snack, his favorite brand of olive oil, and his favorite breakfast cereal, sign up for the full Amateur Gourmet/Lunch Therapy experience below and get it in your inbox tomorrow.
Become a paid subscriber and get access to Thursday bonus podcasts (featuring ten bonus questions with that week's guest), exclusive Thursday newsletters, and subscriber community threads.
Happy listening!

Your friend,
Adam
Andy Baraghani's Kuku Sabzi
Originally published in Bon Appetit
Ingredients
8 servings
5 tablespoons vegetable oil, divided

1 medium onion, finely chopped

1 medium leek, white and pale-green parts only, finely chopped

5 large eggs

1½ teaspoons kosher salt

1 teaspoon baking powder

1 teaspoon freshly ground black pepper

½ teaspoon ground turmeric

1½ cups finely chopped cilantro

1½ cups finely chopped dill

1½ cups finely chopped parsley

1 tablespoon dried fenugreek leaves
Instructions
Step 1
Heat 2 Tbsp. oil in a 10" skillet over medium. Cook onion and leek, stirring occasionally, until very soft but not brown, 10–12 minutes. Transfer to a plate and let cool. Wipe out skillet; set aside.
Step 2
Whisk eggs, salt, baking powder, pepper, and turmeric in a large bowl. Using a rubber spatula, mix in onion mixture, cilantro, dill, parsley, and fenugreek. (Egg mixture should look thick and very green.)
Step 3
Heat broiler. Heat remaining 3 Tbsp. oil in reserved skillet over medium. Pour in egg mixture; spread evenly across pan with spatula. Cover and cook frittata until bottom is just set, 8–10 minutes. Uncover and broil, watching carefully, until top is set, about 1 minute. Let cool slightly, then slide out onto a platter.