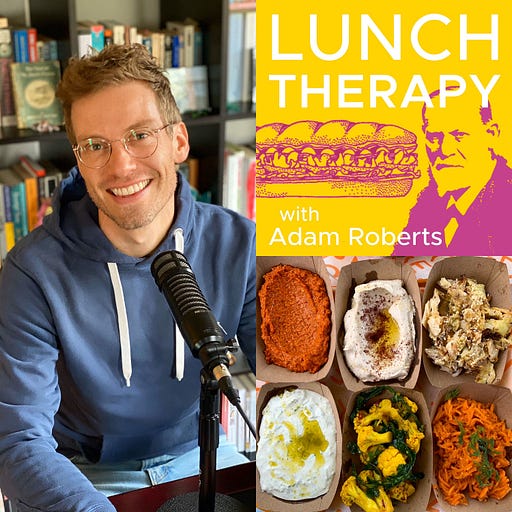 Jan 27, 2020 • 1HR 12M
Barrett Foa's Garlicky Dips
Are you a person who loves to cook but every now and then you screw up? You've come to the right place! Since 2004, Adam Roberts (aka The Amateur Gourmet) has been writing about his adventures and misadventures in the kitchen. He's the author of three books (including the upcoming Broadway cookbook, Give My Swiss Chards to Broadway) and the author of a biweekly newsletter for Substack. Each week on The Amateur Gourmet podcast, there's a theme, interviews with famous chefs, writers, actors, and cookbook authors connected to that theme, plus visits from friends and family, and lots of yodeling. If you like what you hear, be sure to become a paid subscriber and you'll have access to twice weekly recipes, essays, bonus podcast material (including Ten Feisty Food Questions with that week's guest), plus threads where you can engage with other Amateur Gourmet fans about food topics that you care about. Just know there's no judgment here: we all screw up in the kitchen!
Turn on your TV and there's a good chance you'll see Barrett Foa: he's been playing Eric Beale on NCIS: Los Angeles for eleven years. In addition to that, Barrett's been on Broadway (Avenue Q! Spelling Bee!) and he most recently played Prior Walter in Angels in America at the St. Louis Rep. In today's session, Barrett describes "The Foa Philosophy," talks about growing up in New York City, learning etiquette at fancy restaurants, his pet peeves on dates, and why it wasn't such a stretch for him to enjoy Burning Man. We also talk about him losing his mom four years ago, her own involvement in the food world (she's in the Le Cirque documentary), bulking up and losing weight for various parts, why he enjoys planning trips, and whether or not this podcast will get him a boyfriend.

---
See acast.com/privacy for privacy and opt-out information.