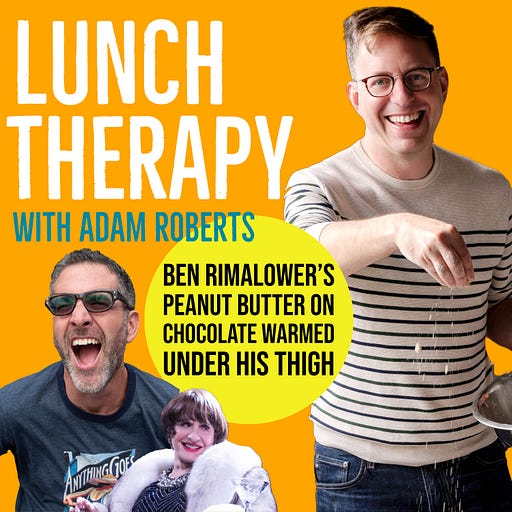 Mar 16 • 58M
Ben Rimalower's Peanut Butter on Chocolate Warmed Under His Thigh
Are you a person who loves to cook but every now and then you screw up? You've come to the right place! Since 2004, Adam Roberts (aka The Amateur Gourmet) has been writing about his adventures and misadventures in the kitchen. He's the author of three books (including the upcoming Broadway cookbook, Give My Swiss Chards to Broadway) and the author of a biweekly newsletter for Substack. Each week on The Amateur Gourmet podcast, there's a theme, interviews with famous chefs, writers, actors, and cookbook authors connected to that theme, plus visits from friends and family, and lots of yodeling. If you like what you hear, be sure to become a paid subscriber and you'll have access to twice weekly recipes, essays, bonus podcast material (including Ten Feisty Food Questions with that week's guest), plus threads where you can engage with other Amateur Gourmet fans about food topics that you care about. Just know there's no judgment here: we all screw up in the kitchen!
Hey everyone,
If you like musicals, you've gotta listen to today's episode of Lunch Therapy. My patient is none other than Ben Rimalower, the only person I know who loves Patti LuPone as much as I do — so much so, that he wrote and performed a one man show about it called Patti Issues (which was a NYT Critic's Pick!). He's since gone on to write and star in another one-man show, Bad with Money, as well as writing for outlets like Vulture, Out, and Time Out New York. You may also recognize him as Countess LuAnn's cabaret director on The Real Housewives of New York.
With his friend and frequent collaborator, Daniel Nolan, Ben is currently hosting Cast Offs, a weekly show on Monday nights at 8 PM at Club Cumming in New York where they play games like Dolly, Concert, Kill (who you'd want to see in a revival of Hello, Dolly, who you'd want to see in concert, and who you'd want to kill) and "Name That Belt."
In today's session, Ben talks all about his dislike of mayonnaise and blue cheese, his relationship with Patti LuPone (she made him veal meatballs!), his world famous salad, his obsession with Trader Joe's peanut butter cups, and the impossible meat Bolognese he made for a dinner party. We also cover his complex relationship with his dad (who came out to Ben's family in the early 90s), where he likes to eat in the theater district, his mother's very dry brisket, and what it's like being on set during a Housewives shoot.
If you enjoy today's session and you want to hear Ben talk more musical theater, paid subscribers can join us for tomorrow's bonus session when I ask Ben "Ten Musical Theater Questions About Food." Become a paid subscriber and not only will you get access to that bonus podcast, but you'll get to read tomorrow's essay all about my new healthy weekly meal plan, and have access to our ongoing Top Chef Thread. It just takes one click.
Thanks dolls! (← That's Patti speak),
Adam