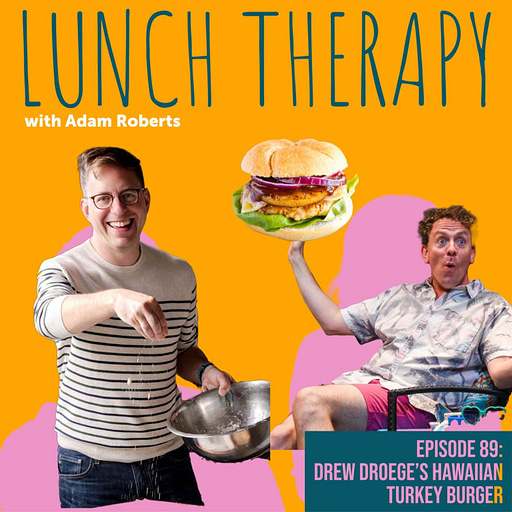 Jan 24, 2022 • 1HR 1M
Drew Droege's Catered Fit Hawaiian Turkey Burger with Pineapples and Onions, BBQ Baked Beans, and Grilled Corn on the Cob
Are you a person who loves to cook but every now and then you screw up? You've come to the right place! Since 2004, Adam Roberts (aka The Amateur Gourmet) has been writing about his adventures and misadventures in the kitchen. He's the author of three books (including the upcoming Broadway cookbook, Give My Swiss Chards to Broadway) and the author of a biweekly newsletter for Substack. Each week on The Amateur Gourmet podcast, there's a theme, interviews with famous chefs, writers, actors, and cookbook authors connected to that theme, plus visits from friends and family, and lots of yodeling. If you like what you hear, be sure to become a paid subscriber and you'll have access to twice weekly recipes, essays, bonus podcast material (including Ten Feisty Food Questions with that week's guest), plus threads where you can engage with other Amateur Gourmet fans about food topics that you care about. Just know there's no judgment here: we all screw up in the kitchen!
Whether you you know Drew Droege from his viral Chloe Sevigny parodies, his critically-acclaimed plays Bright Colors and Bold Patterns & Happy Birthday, Doug, or his numerous appearances on shows like Drunk History, Search Party, and Bob's Burgers, chances are you're a fan. In today's session, learn all about Drew's cooking habits (spoiler alert: he hasn't turned on his stove in six years), growing up in South Carolina, how his family doesn't think he's funny, and his dad's snobbery at Wendy's. We also cover his hatred for papaya, the time he was Harvey Weinstein's waiter at the Emmys, how he got his revenge when he got stiffed at a Brazilian steakhouse, and the life lessons he's learned from teaching improv at The Groundlings.

---
See acast.com/privacy for privacy and opt-out information.