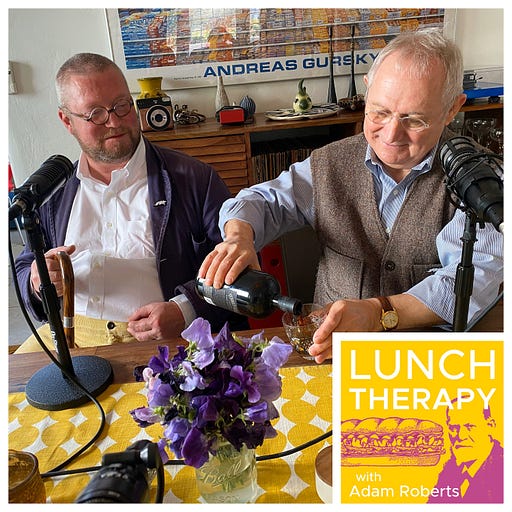 Mar 16, 2020 • 1HR 4M
Fergus Henderson and Trevor Gulliver's Hippie Sandwich
Are you a person who loves to cook but every now and then you screw up? You've come to the right place! Since 2004, Adam Roberts (aka The Amateur Gourmet) has been writing about his adventures and misadventures in the kitchen. He's the author of three books (including the upcoming Broadway cookbook, Give My Swiss Chards to Broadway) and the author of a biweekly newsletter for Substack. Each week on The Amateur Gourmet podcast, there's a theme, interviews with famous chefs, writers, actors, and cookbook authors connected to that theme, plus visits from friends and family, and lots of yodeling. If you like what you hear, be sure to become a paid subscriber and you'll have access to twice weekly recipes, essays, bonus podcast material (including Ten Feisty Food Questions with that week's guest), plus threads where you can engage with other Amateur Gourmet fans about food topics that you care about. Just know there's no judgment here: we all screw up in the kitchen!
"Fergus Henderson is the most influential chef of the last two decades, even though you have likely never heard of him." That's a quote from the late Anthony Bourdain and it helps put into perspective the craziness of today's episode of Lunch Therapy: one of the world's greatest chefs, Fergus Henderson, and his business partner, Trevor Gulliver, came to my apartment and let me ask them about their lunch. Our conversation runs the gambit from why Fergus loves offal ("I was drawn into a world of innards and extremities"), what Trevor thinks of natural wine, the link between Fergus's father being an architect and the architecture of the dishes he serves at St. John in London. We also talk about Fergus's Parkinsons diagnosis in 1997, the sense of loss in having to leave the kitchen, how his marriage works with his wife, Margo Henderson (also a celebrated chef), how he feels about their son becoming a chef, and whether or not he and Trevor are opening a restaurant in L.A. As a lunch therapist, I should apologize for one aspect of this conversation: booze may have been imbibed during the recording of this podcast. To my colleagues in the lunch therapy community, my humblest apologies. *burp*

---
See acast.com/privacy for privacy and opt-out information.