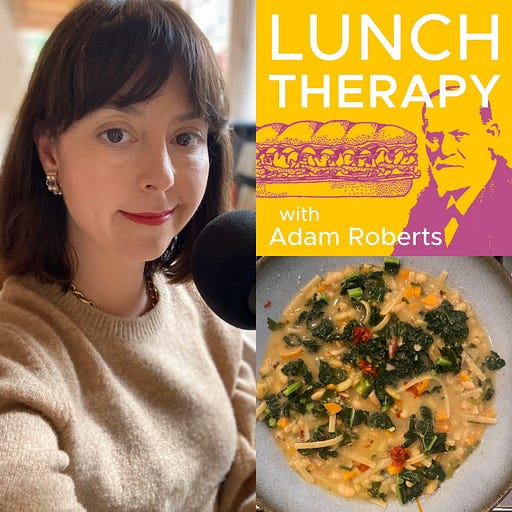 Apr 13, 2020 • 1HR 3M
Karina Longworth's Brothy Beans and Greens with Lemon Pepper Linguine
Are you a person who loves to cook but every now and then you screw up? You've come to the right place! Since 2004, Adam Roberts (aka The Amateur Gourmet) has been writing about his adventures and misadventures in the kitchen. He's the author of three books (including the upcoming Broadway cookbook, Give My Swiss Chards to Broadway) and the author of a biweekly newsletter for Substack. Each week on The Amateur Gourmet podcast, there's a theme, interviews with famous chefs, writers, actors, and cookbook authors connected to that theme, plus visits from friends and family, and lots of yodeling. If you like what you hear, be sure to become a paid subscriber and you'll have access to twice weekly recipes, essays, bonus podcast material (including Ten Feisty Food Questions with that week's guest), plus threads where you can engage with other Amateur Gourmet fans about food topics that you care about. Just know there's no judgment here: we all screw up in the kitchen!
Karina Longworth is the creator and host of one of the most popular and beloved podcasts out there, "You Must Remember This," which focuses on the secret and forgotten history of early twentieth-century Hollywood. In today's session, Karina talks about growing up in Studio City in the 1980s, her obsession with old movies from a young age, her mother cooking her way through Bon Appetit Magazine, taking over the cooking duties after her mother's death, and trying to recreate the chocolate mousse pie from the December 1981 edition. We also cover bodies as commodities in Hollywood, going to art school, going to premieres with her husband, Knives Out & Star Wars director Rian Johnson, her love for soup and soft foods, and what Jay-Z and Beyonce ate at the Chateau Marmont.

---
See acast.com/privacy for privacy and opt-out information.