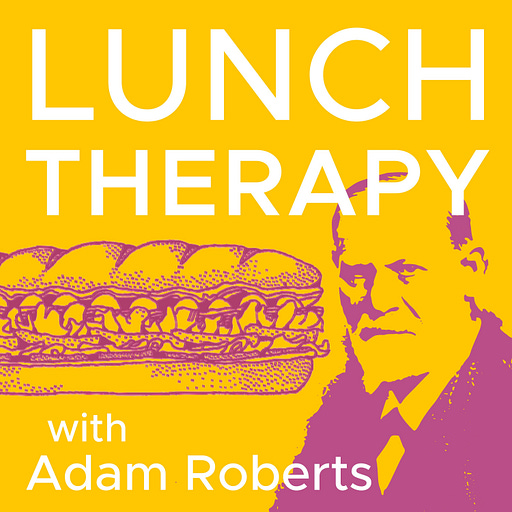 Aug 23, 2021 • 1HR 6M
Lisa Donovan's Really Sad Piece of Gluten-Free Toast with Freshly Ground Peanut Butter and Honey
Are you a person who loves to cook but every now and then you screw up? You've come to the right place! Since 2004, Adam Roberts (aka The Amateur Gourmet) has been writing about his adventures and misadventures in the kitchen. He's the author of three books (including the upcoming Broadway cookbook, Give My Swiss Chards to Broadway) and the author of a biweekly newsletter for Substack. Each week on The Amateur Gourmet podcast, there's a theme, interviews with famous chefs, writers, actors, and cookbook authors connected to that theme, plus visits from friends and family, and lots of yodeling. If you like what you hear, be sure to become a paid subscriber and you'll have access to twice weekly recipes, essays, bonus podcast material (including Ten Feisty Food Questions with that week's guest), plus threads where you can engage with other Amateur Gourmet fans about food topics that you care about. Just know there's no judgment here: we all screw up in the kitchen!
Lisa Donovan is the James Beard award-winning author of "Our Lady of Perpetual Hunger," a widely celebrated memoir about her time in the restaurant industry. She's also equally acclaimed for her baking: food critic Bill Addison has called her "one of the South's best pastry chefs" for her work at City House, Margot Cafe & Bar, and Husk, where she was famous for her buttermilk chess pie. In today's session, we hear all about her writing sabbatical in New Orleans, the difference between pleasing people and taking care of them, how her two kids represent the two sides of herself, and how Austrian pastries influenced her trajectory. We also talk about her recent diagnosis of Celiac, trying to remember how to be in love with food, developing her voice in cooking, where to eat in Nashville, and how she actually doesn't like desserts that much.

---
See acast.com/privacy for privacy and opt-out information.