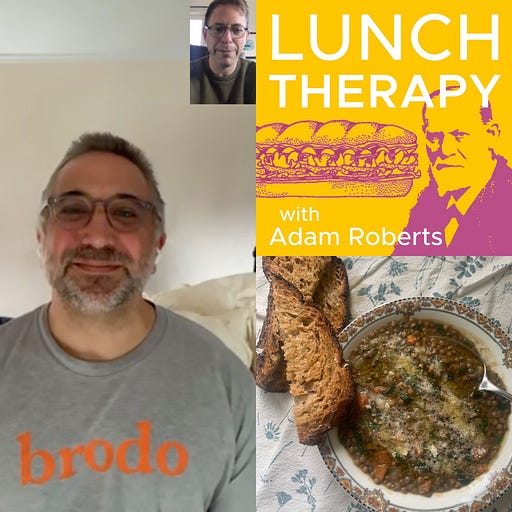 Apr 6, 2020 • 1HR 9M
Marco Canora's Cobbled-Together Lentil Soup
Are you a person who loves to cook but every now and then you screw up? You've come to the right place! Since 2004, Adam Roberts (aka The Amateur Gourmet) has been writing about his adventures and misadventures in the kitchen. He's the author of three books (including the upcoming Broadway cookbook, Give My Swiss Chards to Broadway) and the author of a biweekly newsletter for Substack. Each week on The Amateur Gourmet podcast, there's a theme, interviews with famous chefs, writers, actors, and cookbook authors connected to that theme, plus visits from friends and family, and lots of yodeling. If you like what you hear, be sure to become a paid subscriber and you'll have access to twice weekly recipes, essays, bonus podcast material (including Ten Feisty Food Questions with that week's guest), plus threads where you can engage with other Amateur Gourmet fans about food topics that you care about. Just know there's no judgment here: we all screw up in the kitchen!
Marco Canora is a true superstar chef: he's a James Beard Award winner (Best Chef New York), a celebrated cookbook author ("Salt To Taste," "A Good Food Day"), the chef/owner of one of New York's best restaurants, Hearth, and purveyor of the best broth in the country with his company Brodo. On Today's Lunch Therapy, we talk about his Tuscan mother's cooking, learning through osmosis, why real-world experience is more important than culinary school, and his early job making prepared foods at Dean & Deluca in SoHo. Then we talk the early days of Gramercy Tavern with Tom Colicchio, helping to open Craft (where the kitchen saw heavy-hitters like David Chang and Damon Wise), having his fish reviewed in The New York Times by Ruth Reichl, going out on his own to open his own restaurant, and how Hearth's identity continues to change with the times. PLUS: my friend Jonathan Parks-Ramage talks about learning how to cook in the Corona crisis during today's intro.

---
See acast.com/privacy for privacy and opt-out information.