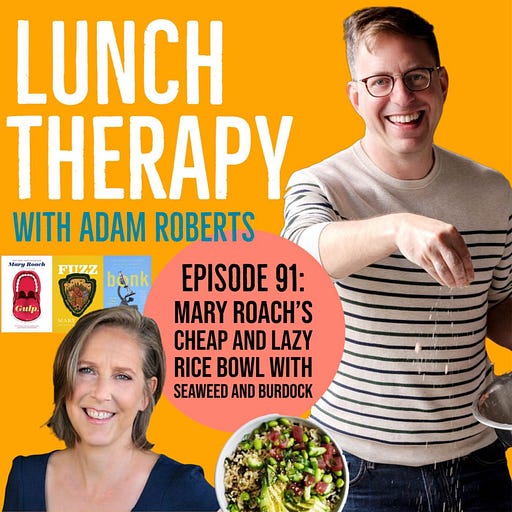 Feb 7 • 59M
Mary Roach's Cheap and Lazy Rice Bowl with Seaweed and Burdock
Are you a person who loves to cook but every now and then you screw up? You've come to the right place! Since 2004, Adam Roberts (aka The Amateur Gourmet) has been writing about his adventures and misadventures in the kitchen. He's the author of three books (including the upcoming Broadway cookbook, Give My Swiss Chards to Broadway) and the author of a biweekly newsletter for Substack. Each week on The Amateur Gourmet podcast, there's a theme, interviews with famous chefs, writers, actors, and cookbook authors connected to that theme, plus visits from friends and family, and lots of yodeling. If you like what you hear, be sure to become a paid subscriber and you'll have access to twice weekly recipes, essays, bonus podcast material (including Ten Feisty Food Questions with that week's guest), plus threads where you can engage with other Amateur Gourmet fans about food topics that you care about. Just know there's no judgment here: we all screw up in the kitchen!
The Washington Post calls Mary Roach "America's funniest science writer" and the fact that she's the author of six NYT bestselling books (including Stiff, Gulp, and her latest, Fuzz), pretty much confirms it. I fell in love with her voice recently when I picked up Gulp on a whim -- the book is disgusting, hilarious, and fascinating -- so imagine my delight when she agreed to come on my Lunch Therapy. In today's session, Mary talks about her "reckless" adventures, including the time she became somebody's "pee buddy" to study bashful bladders, the time she accidentally chatted up a Yakuza in Tokyo, eating fetal duck bills at a Chinese restaurant in San Francisco, and bungee jumping (which she says is way safer than skiing). We also cover rebelling against her traditional family, cursing at the dinner table, whether or not her mother farted (spoiler alert: she didn't), how her palate expanded when she moved to San Francisco, and what, exactly, a narwhal tastes like.

---
See acast.com/privacy for privacy and opt-out information.