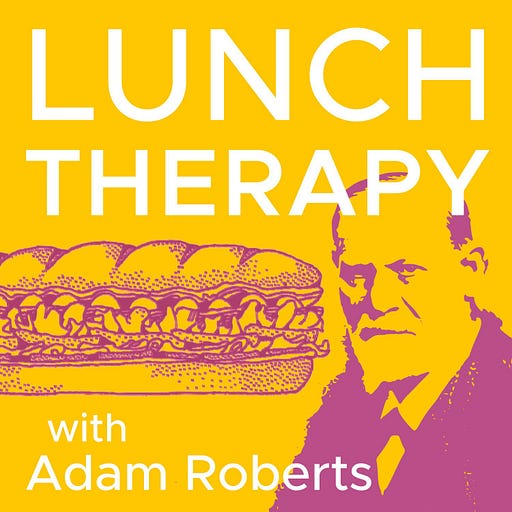 Oct 11, 2021 • 1HR 12M
Scott Peacock Really Loved His Sungold Tomato Salad and His Peach Salad with Anchovy Vinaigrette
Are you a person who loves to cook but every now and then you screw up? You've come to the right place! Since 2004, Adam Roberts (aka The Amateur Gourmet) has been writing about his adventures and misadventures in the kitchen. He's the author of three books (including the upcoming Broadway cookbook, Give My Swiss Chards to Broadway) and the author of a biweekly newsletter for Substack. Each week on The Amateur Gourmet podcast, there's a theme, interviews with famous chefs, writers, actors, and cookbook authors connected to that theme, plus visits from friends and family, and lots of yodeling. If you like what you hear, be sure to become a paid subscriber and you'll have access to twice weekly recipes, essays, bonus podcast material (including Ten Feisty Food Questions with that week's guest), plus threads where you can engage with other Amateur Gourmet fans about food topics that you care about. Just know there's no judgment here: we all screw up in the kitchen!
One of my all-time favorite cookbooks has always been The Gift of Southern Cooking, co-written by the iconic and legendary Edna Lewis -- who blazed the trail for black chefs everywhere with her cooking and her writing -- and my patient today, her friend and colleague, James Beard award-winning chef, Scott Peacock. It was such a thrill to get to talk to Chef Peacock about his time with Ms. Lewis (as he calls her), to hear how she impacted his life, helped him embrace his Southern roots, and taught him about the importance of quiet in the kitchen. We go deep about Scott's original ambivalence about the South, how it was tied to his grandmother's poverty, his sense of shame, and how all of that changed after that first meeting with Ms. Lewis over coffee at Dean & Deluca in New York.

---
See acast.com/privacy for privacy and opt-out information.