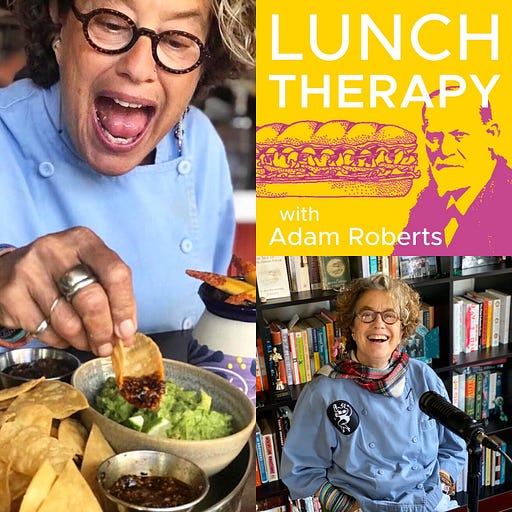 Jan 20, 2020 • 1HR 11M
Susan Feniger's Salsa Macha, Guacamole, and Chips
Are you a person who loves to cook but every now and then you screw up? You've come to the right place! Since 2004, Adam Roberts (aka The Amateur Gourmet) has been writing about his adventures and misadventures in the kitchen. He's the author of three books (including the upcoming Broadway cookbook, Give My Swiss Chards to Broadway) and the author of a biweekly newsletter for Substack. Each week on The Amateur Gourmet podcast, there's a theme, interviews with famous chefs, writers, actors, and cookbook authors connected to that theme, plus visits from friends and family, and lots of yodeling. If you like what you hear, be sure to become a paid subscriber and you'll have access to twice weekly recipes, essays, bonus podcast material (including Ten Feisty Food Questions with that week's guest), plus threads where you can engage with other Amateur Gourmet fans about food topics that you care about. Just know there's no judgment here: we all screw up in the kitchen!
Susan Feniger is a force to be reckoned with in the food world. Along with her business partner Mary Sue Milliken, Feniger has received countless awards (including the prestigious Julia Child Award and the Jonathan Gold Award), opened several legendary restaurants (including The Border Grill), co-hosted one of the first Food Network shows (Too Hot Tamales), appeared on Top Chef Masters, and authored countless cookbooks. I'm so thrilled to have her as my patient on today's Lunch Therapy and our-hour session covers her early years in Ohio, her mother's midwestern Jewish cooking, her living in a teepee that she sewed for herself in Vermont, meeting her first husband there, realizing she was gay, separating from him and then setting him up with her business partner (Mary Sue) who's still married to him today (!!!). We talk about working for Wolfgang Puck at Ma Maison (where she'd see Orson Welles on the regular), working for a closeted gay chef in Chicago, working at a Michelin three-star restaurant in La Napoule, France (where she learned a killer salad dressing), and how she began to gravitate to Indian food and Mexican food through her travels. We also cover her brand new restaurant, Socalo, where she works the line (sometimes fifteen hours a day) and still finds the time to do meaningful charity work (she's helped raise $48 million dollars for scleroderma research).

---
See acast.com/privacy for privacy and opt-out information.