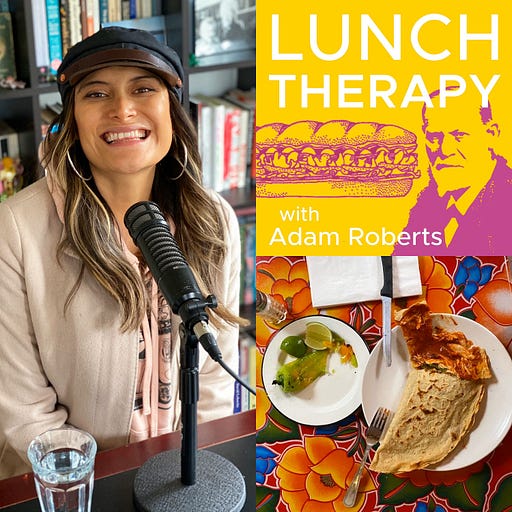 Mar 23, 2020 • 1HR 13M
Bricia Lopez's Empanada de Amarillo with a Chile de Agua
Are you a person who loves to cook but every now and then you screw up? You've come to the right place! Since 2004, Adam Roberts (aka The Amateur Gourmet) has been writing about his adventures and misadventures in the kitchen. He's the author of three books (including the upcoming Broadway cookbook, Give My Swiss Chards to Broadway) and the author of a biweekly newsletter for Substack. Each week on The Amateur Gourmet podcast, there's a theme, interviews with famous chefs, writers, actors, and cookbook authors connected to that theme, plus visits from friends and family, and lots of yodeling. If you like what you hear, be sure to become a paid subscriber and you'll have access to twice weekly recipes, essays, bonus podcast material (including Ten Feisty Food Questions with that week's guest), plus threads where you can engage with other Amateur Gourmet fans about food topics that you care about. Just know there's no judgment here: we all screw up in the kitchen!
Bricia Lopez is the co-owner of Guelaguetza, one of L.A.'s most beloved Oaxacan restaurants (a favorite of the late, Pulitzer Prize-winning food writer, Jonathan Gold) and the co-author of Oaxaca: Home Cooking from the Heart of Mexico. In today's session (recorded two weeks ago, before mandatory social distancing), Lopez talks about growing up in a restaurant, her family's journey from Oaxaca to L.A., sharing a single bedroom in her aunt's house with six of her family members (her parents and her three siblings), and why that was ultimately a positive experience. We also cover her obsession with Saved By The Bell and Full House, meeting Mario Lopez in real life, not being allowed to get sick as a kid, how McDonald's was the ultimate status symbol, and why yellow mole holds a special place in her heart.

---
See acast.com/privacy for privacy and opt-out information.