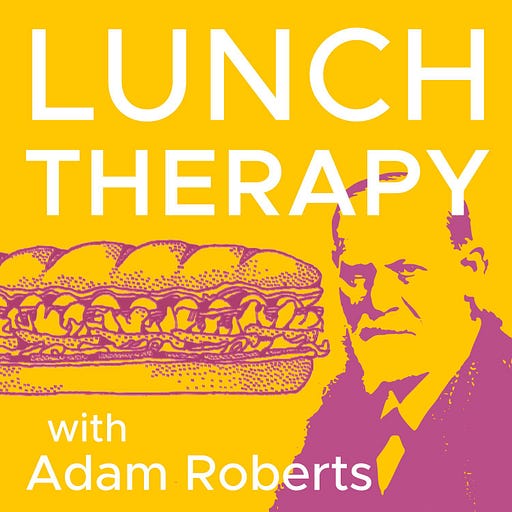 Dec 6, 2021 • 1HR 3M
Dan Ahdoot's Farmer's Market Ceviche
Are you a person who loves to cook but every now and then you screw up? You've come to the right place! Since 2004, Adam Roberts (aka The Amateur Gourmet) has been writing about his adventures and misadventures in the kitchen. He's the author of three books (including the upcoming Broadway cookbook, Give My Swiss Chards to Broadway) and the author of a biweekly newsletter for Substack. Each week on The Amateur Gourmet podcast, there's a theme, interviews with famous chefs, writers, actors, and cookbook authors connected to that theme, plus visits from friends and family, and lots of yodeling. If you like what you hear, be sure to become a paid subscriber and you'll have access to twice weekly recipes, essays, bonus podcast material (including Ten Feisty Food Questions with that week's guest), plus threads where you can engage with other Amateur Gourmet fans about food topics that you care about. Just know there's no judgment here: we all screw up in the kitchen!
Stand-up comedian, Cobra Kai actor, and podcast host Dan Ahdoot (@standupdan on social media) and I met each other year's ago at a coffee shop in the West Village, and now I'm a professional lunch therapist and he's the host of a brand new Food Network show called Raid the Fridge (premiering December 28th at 10 PM). In today's session we talk all about seeking out the best restaurants when he travels, telling his parents that he wanted to be a comedian, arranged marriages, his mother's cooking, Turmeric, and the time his dad poured pasta sauce into boiling pasta water. We also cover new sensitives in the worlds of food and comedy (specially: cultural appropriation), taking chances, making chocolate soufflés with dinner guests, and how he stays in shape while eating such delicious food.

---
See acast.com/privacy for privacy and opt-out information.